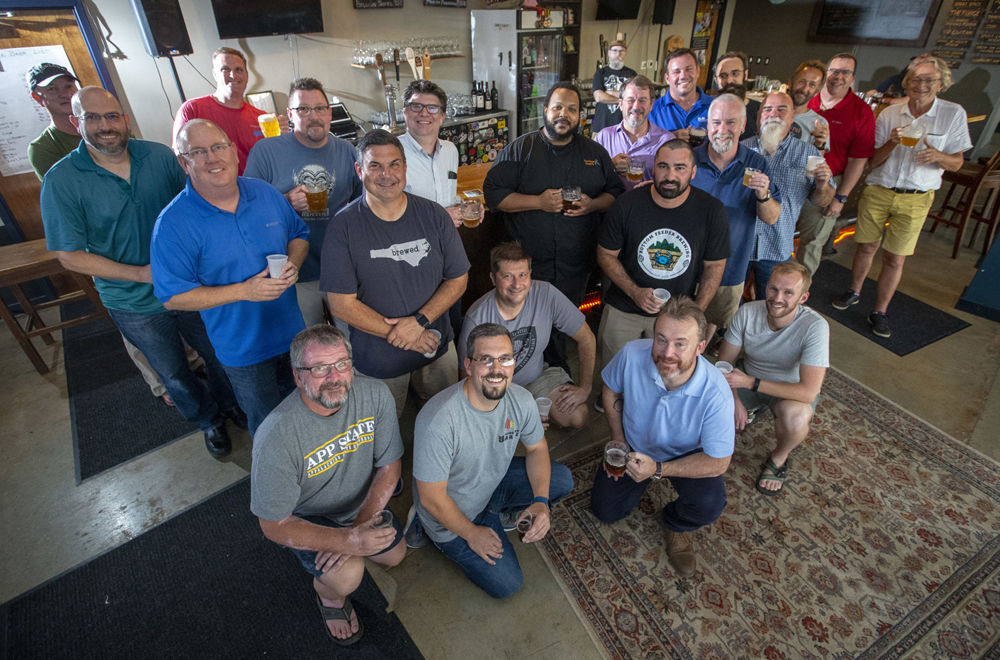 Mike Foderaro has a palpable enthusiasm for brewing beer, so much so that he competes for awards — and sometimes wins them.
"I had the itch to get feedback," he says. "Mostly, I enter competitions to see what I can improve on."
The Greensboro College lacrosse coach recently won third place in the first round of the National Homebrewers Competition for his American pale ale. He and Metts Potter, a fellow homebrewer, traveled to Rhode Island for the final round, where they met "famous people [in the industry] who've written books," says Foderaro. "It was a very awesome experience."
He hasn't been brewing long — only a couple of years, which is just as long as Potter, who won second place for his Munich Helles and English barleywine in the final round at the competition.
Much of their success comes from having a solid home base. They're part of the Battleground Brewers Guild, a Greensboro-based club that gives homebrewers the chance to try each other's brews, give feedback, and learn more about the process.
Started in 2000, the guild has had a few iterations over the years.
"We've met at restaurants, houses, bars," says long-time member Derick Shular. "Sometimes 60 to 70 members meet. Sometimes it's just three or four guys having a beer."
At the monthly meeting in August, about 20 members gathered at Gibb's Hundred Brewing Co. for a private event. Growler bottles crowded a side table with all kinds of concoctions: barleywine, lager, a hibiscus brut IPA, among others. After the initial announcements — and a vote for the next president — the guys got down to it. Cups were passed around, and they spent the next two hours tasting, talking, and generally catching up with each other.
One of the big pieces of news, though, rested right on the table amongst the bottles. It was a small wooden barrel, and on the front, a gold placard read: Gambrinus Cup 2019.
To earn the Gambrinus Club Award, part of the same competition at which Foderaro and Potter won this year, at least five club members had to enter the first round, at least two had to advance to the final round, and at least one had to win in the final round. Beyond that, the points they earned for awards went toward the total points for the club.
"It's like who has the highest batting average," says Potter, now incoming president. "[The judges] tally the number of points for everyone who submitted, which means small people like us get to compete at the national level."
"It's grueling," says Jim McNulty, who won silver in the first round for his Schwartzbier. "There's not enough time to brew between rounds, so you have to be prepared if you win."
Homebrewers from around the country submitted thousands of entries in the first round, and an average of 300 made it in each category of the final. Potter isn't kidding when he says, "We're home to some of the best brewers in the country."
Several of the guild's members have gone on to become local commercial brewers, including Mark Gibb of Gibb's Hundred, Sam Victory of Wise Man Brewing, and Aaron Wall of forthcoming Radar Brewing in Winston-Salem. And most, if not all, of the club's members credit Dan Morgan, owner and operator of Big Dan's Brew Shed and Leveneleven Brewing, and Derrick Flippin, brewer at Leveneleven, as having a hand in their accomplishments.
"Just do what they say, and shut up, and you'll be OK," Potter says.
They rely on other members' advice, too. Some, like outgoing president Aaron Miller, are certified beer judges.
The guild also hosts educational workshops, regional competitions, and an Oktoberfest for members. They also help judge at local competitions like the Summertime Brews Fest.
So the Gambrinus Cup stands for everything they've done over the years — and everything they're continuing to do.
"It's a testament to what the guys here are doing," says Miller.