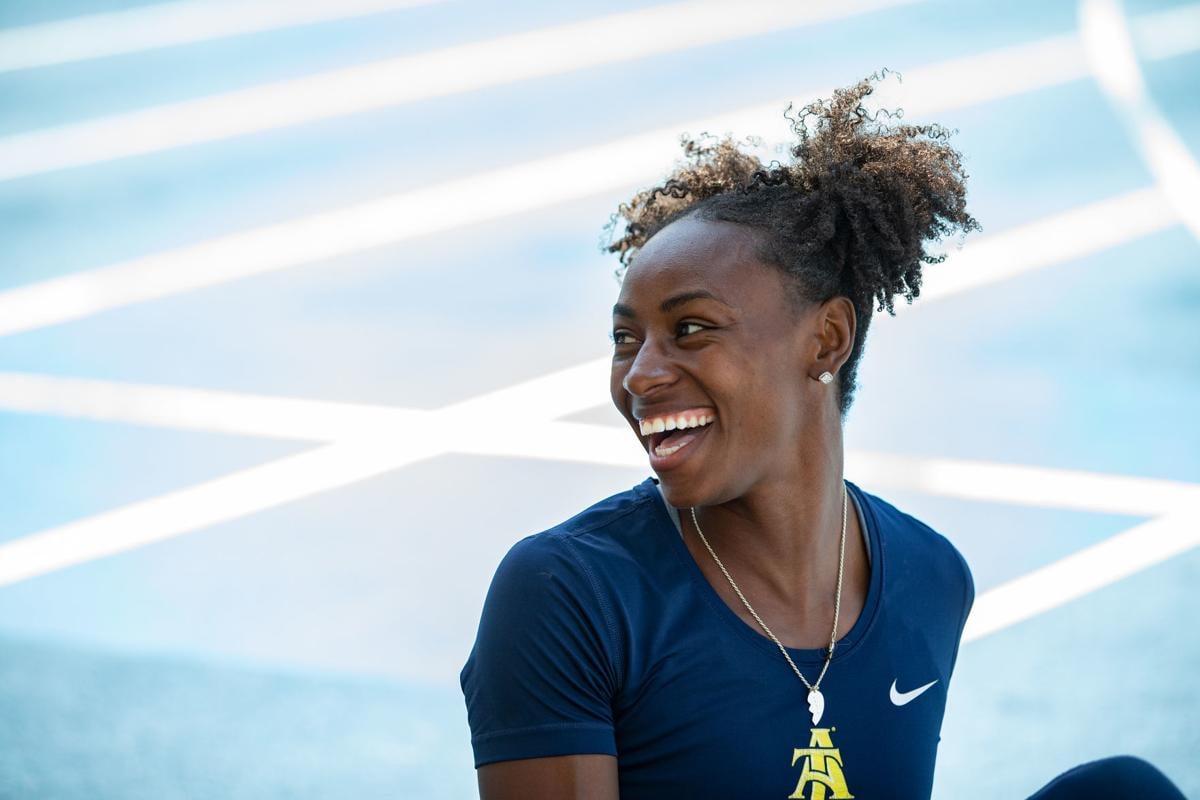 GREENSBORO — The dancer still lives within Kayla White. You can see traces of that little girl when the grown woman runs. The power. The body control. The grace.
The art. Now the art of speed, set to music only White hears.
White, the swift senior for N.C. A&T's No. 13-ranked women's track and field team, has just two meets remaining in her college career.
The NCAA East regional championships will begin Thursday at North Florida in Jacksonville, Fla. Two weeks later, Texas hosts the NCAA championships in Austin.
White, who grew up in Miami, heads back to her home state as the top seed in both the 100-meter and 200-meter sprints after a stellar senior year.
"It went by so fast," White says. "My senior year was amazing, winning a national championship in indoor, then transitioning to outdoor and having some of the fastest times in the world. It's a little bittersweet, because I wanted it to last. Now I'm trying to savor every moment before it's officially all over."
If it ended today, White would already hold a place in A&T lore.
She won her second straight MEAC title in the 100 meters this spring, running the race in 10.96 seconds. It's the top time in the nation this year, the fifth-fastest in history by a college athlete.
She repeated in the 200, too, running that race in 22.52 seconds, also the fastest time in the nation this year.
This after becoming A&T's first NCAA champion in any sport back in March, when she won the 200 at the NCAA Indoor Track Championships in Birmingham, Ala. Her time of 22.66 seconds was the fastest in the world this year.
That day in Alabama is one White will never forget.
"I got second in the 60 hurdles," she says. "And I was mad. I'm not a second-place runner. I knew I had the 200 next, so I gathered myself, and I was like, 'I'm going to win this 200, and I'm doing this for me.' I got to the starting line with a chip on my shoulder. … Once I crossed that finish line and realized I was a national champion, I thought, 'Yeah, this is what I love to do; this is what I'm supposed to do.'"
The dancer
It wasn't always that way. Once upon a time, not so long ago, White thought she was supposed to dance.
"I was serious," she says. "I did jazz, hip-hop, pop, all of those."
White never competed in track and field until her junior year at Miami's Southridge High.
"I definitely thought I was going to be a dancer for the rest of my life," White says. "I met my high school track coach (Gene Mason) my junior year, and he was like, 'You have to run track, you have to do this.' I told him, 'I kind of want to dance.' But I went out to a practice and tried it out. Ever since then …"
Her voice trails off and she shakes her head.
White no longer dances. But her years of training as a dancer has helped her as a sprinter.
"My core was always strong," she says. "My placement has always been strong. My muscle memory was always strong. And it's kind of the same in track, just running instead of dancing."
20190519g_spt_ncatwhite (copy)
N.C. A&T senior Kayla White is among the top sprinters in the nation, with a legitimate chance to win NCAA titles in both the 100 and 200 meters.
Like dancing, track is technical, particularly sprints and hurdles. There's much more to winning than pure speed, and White has improved steadily in her four years at A&T.
"Your first three (steps) out of the (starting) blocks can determine who's going to win the race down at the end," White says, "and I'm so much better at that now.
"You set your blocks. You get in and get where you feel comfortable. But not always. Sometimes you want to feel uncomfortable because that's how you know your body angle in the blocks is correct. When you come out of the blocks, you want to be powerful, you want to be strong, and you want to keep your feet low. Some people feel like they have to bring them high and come straight up. But you have to drive for at least 20 meters, then start to transition to get up and start running. I promise you, there's a lot that goes into every one of those steps."
And White has worked on those steps as if each were a dance step.
"I catch onto things pretty quickly," she says. "I caught on freshman year, and things started to come together. I was running fast times for a freshman. And every year I've gotten better, I've (set a personal record) every race since I've been here."
Choosing A&T
White came to her sport late. Thus, she was a raw talent during her recruiting years.
"Kayla fell in my lap," A&T coach Duane Ross says. "Sometimes it pays to be lucky. I'm here, and I get a call from a coach I know: 'Hey, man, there's a young lady down here in Florida, a hurdler.' … He tells me her times. They weren't blazing fast, but I thought, 'I can work with that.' Then he said, 'The thing is, she hasn't been doing this very long, maybe a year, and I'm trying to teach her how to hurdle.'"
Ross saw potential and called White. They talked on the phone, and when a scholarship offer from Alabama A&M fell through, White became an Aggie.
"It was really last-minute," White says, "like a week-and-a-half before school started. I don't regret anything. This was the perfect school for me. I can't picture myself any place else. I love it here."
Once on campus, White went to work.
A self-described "morning person," she's up at 6 a.m. every day. On weight-training days, she takes the first available spot at 7 a.m.
"I'm really good at time management," White says. "I'm an early bird, and … if I have classes, I'm already up and ready to tackle the day. My time schedule since freshman year has always been on point."
That's led to academic as well as athletic honors, and White graduated May 11 with a bachelor's degree in journalism. But a media career can wait.
First, she wants to follow former A&T teammate Christopher Belcher into professional track. It's a chance to leave the country for the first time in her life and see the world.
"When I get into my career for track, I do want to find something — not really a side hustle — but I do want to work with the MEAC, maybe covering championships," White says. "I don't want to get my degree and just run for the rest of my life. I want to put my education to use. It's been important to me. My mom has always told me, 'Get you degree first, then live your life.'"
Camera-ready
It's life in the fast lane right now.
Since the end of the school year, White and her teammates have put in long days of practice getting ready for the NCAA meets.
And White is ready for the spotlight.
Maybe it's a throwback to her dancing days, but she prefers her new sandals with the rainbow-colored marabou across the top (a graduation gift), shedding her size 8½ Nike spikes after each practice sprint to slide them on.
Her long fingernails are painted in bright colors with shiny rhinestones glued on.
"You know, that's something I've always done," White says. "I love getting cute for meets, getting myself ready. That's my favorite part."
There's a reason, and it's not vanity.
"Before we leave town for a meet, I'm definitely going to get my nails done, get my hair done," she says. "It's kind of a release, I guess. When I have my nails and hair done, it makes me feel confident and ready to go. And now, especially, since I have a lot of cameras pointed at me, I just can't look a mess."
Kayla White laughs, slips on the new sandals, and hurries to catch up with her friends. It won't take her long.
The fastest sprinter in America still moves with a dancer's grace.
Contact Jeff Mills at (336) 373-7024, and follow @JeffMillsNR on Twitter.