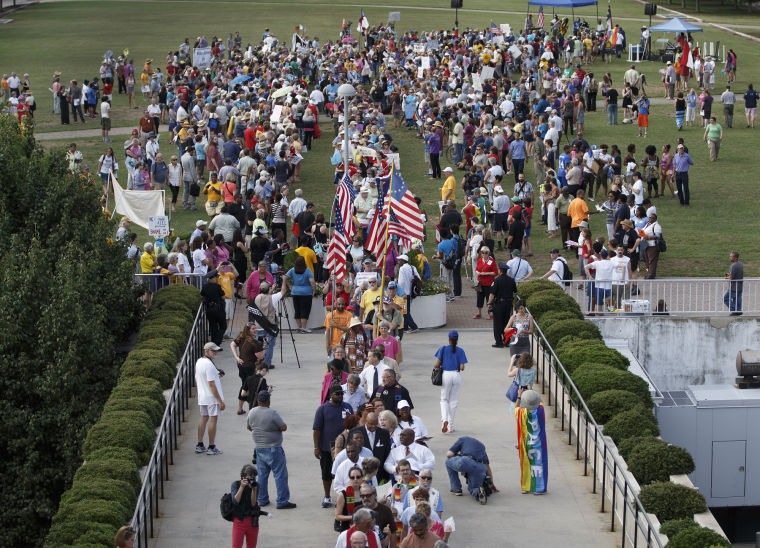 We've heard Gov. Pat McCrory and several cities complain about the legislature pushing them around.
An assembly of attorneys last week reminded me that lawmakers are also messing with the courts.
The occasion was a local Bar meeting to choose candidates to fill a vacancy on the District Court bench.
There used to be a very good process for this. Simply, when an opening occurred between elections, all the practicing attorneys within the jurisdiction would meet in public, listen to brief speeches from those who wanted the job, and vote. The three with the most votes would be recommended to the governor, who would appoint one of those three.
Members of the Bar want judges who are capable and fair. They know who's qualified. And, because so many lawyers participate in this process — usually 250 or so in Guilford County — you can be sure the candidates who lead the voting are widely respected.
The legislature changed this system last year. Now, the Bar is required to submit five names, but the governor doesn't have to choose any of them. He can appoint any other Guilford County lawyer to the bench, even one who has not come forward publicly as a candidate.
This allows the governor to pick a political crony or donor, without regard to the opinions of local lawyers about the individual's fitness. McCrory may not do this, but some future governor surely will. If you think political connections don't matter when it comes to handing out state jobs, I refer you to the recent appointment of Phil Berger Jr. to a $100,000-plus post as an administrative law judge.
Last week, the lawyers recommended, in order of their vote totals, Marc Tyrey, Bill Davis, David Sherrill, Julie Wall and Brenton Boyce. I hope the governor will make his appointment from that list. These candidates have been publicly vetted, and one of them should be selected over someone who has not.
Other changes to the courts also can have a negative impact. They include:
* Ending public funding for statewide judicial campaigns and raising contribution limits. Allowing candidates to raise more money from attorneys, political action committees and other special interests reduces public confidence in the independence of the courts.
* Less transparency in handling ethics complaints against judges. The process is now hidden from public view until disciplinary action, if any, is taken.
* The governor's appointments of special Superior Court judges are now subject to legislative confirmation. We can expect more political interference, especially when the governor is of the opposite party as the legislature.
* Three-judge panels are now required at the trial court level when laws are subject to constitutional challenge. This is a waste of resources at a time when budgets have been cut and court personnel are stretched thin. Why use three judges when formerly one handled such cases? The legislature may assume the chief justice will appoint favorable panels, but I doubt straight-arrow Mark Martin is going to play political games. One judge told me he will refuse to participate if asked to serve on a panel.
As this legislature continues to increase its own power, its adversaries are turning to the courts for protection. Those include teachers, women's groups and the NAACP, but also government.
The governor is suing the legislature for encroaching into executive branch authority. Cities are suing the legislature to stop its takeovers of airports and water systems and other meddling in local matters.
The courts are becoming a key battleground over all kinds of policies and actions of the Republican General Assembly. Some of these actions have to do with changing how state government works; others affect the balance of power among the three branches of state government or between state and local governments.
While the courts can referee some of these conflicts, they're coming under more pressure from the legislature and political interests that can put more money into judicial campaigns.
Making appointments to the District Court bench is really small potatoes, but it's indicative of a larger trend. In the past, local lawyers had the greatest say in deciding who would be seated on the bench when vacancies occurred. Guilford County attorneys knew that one of their three nominees would be chosen for a Guilford County office. Now the governor can take or leave their advice.
An aggressive legislature is rearranging the pieces of state and local governments. The courts are not immune.