GREENSBORO — "Wow! Look at this!" artist Matt Adnate said as Madison Davenport made her appearance.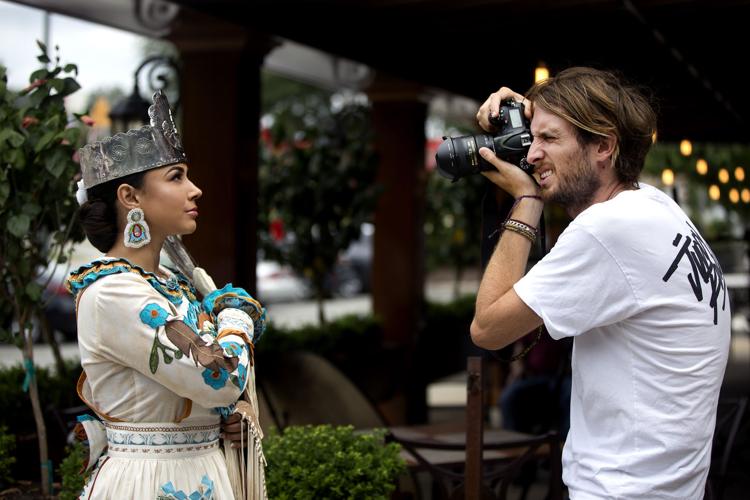 Davenport wore the regalia of her Lumbee heritage — the floral pattern representing the American Indian tribe, the hummingbird symbolizing her strength and perseverance, the intricately beaded earrings.
Adnate had just snapped dozens of photos of Tecumseh Jones in his regalia. Now he focused his camera on Davenport.
A rare offer had enticed Davenport, 20, and Jones, 19, to make the 100-mile trip north from their Pembroke-area homes.
Local developer Marty Kotis had commissioned Adnate, a renowned street artist from Australia, to paint large murals on two of his commercial properties.
They asked Davenport and Jones to pose as Adnate's subjects.
That prospect thrilled Davenport, a Lumbee ambassador and Miss Pembroke, and Jones, a Lumbee and Tuscarora Indian who recently filmed a British television series.
"I saw it as a good opportunity to put a positive look on our generation and our people," Jones said.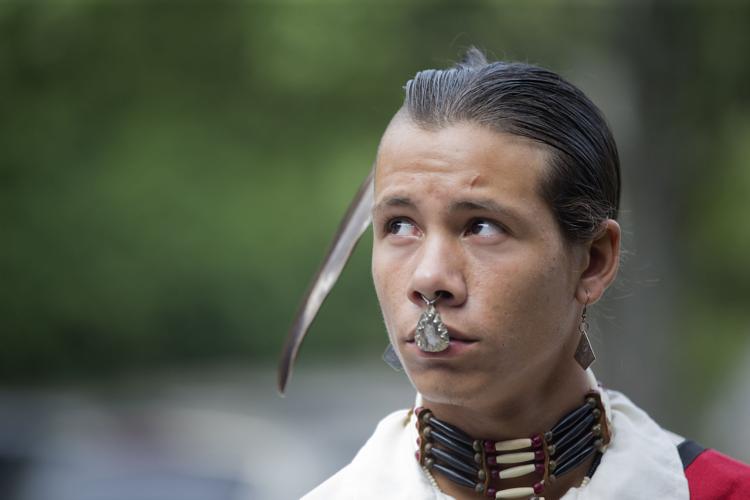 Adnate, 32, has become internationally known for his soulful, spray-painted murals of Australia's indigenous Aborigines and Tibetan refugees. He has more than 60,000 followers on photo-sharing app Instagram.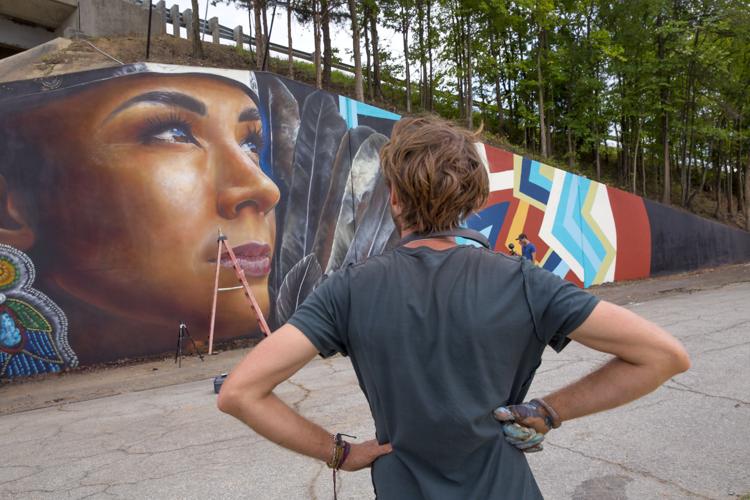 "It's an honor for my son to be painted by him," said Jeremy Jones, Tecumseh's father.
Adnate and his wife, artist Jessica Crema, arrived a week ago.
They will finish their work today.
Jones and Davenport, their families, Lumbee tribal leaders and other invited guests will come to town to see the results.
Drivers heading south on Battleground Avenue can see the portrait of Jones on the side of the Midtown Financial Advisors building, in Kotis' urban-themed Midtown district of restaurants and entertainment.
Davenport's portrait covers an expansive concrete wall in Kotis's developing Tracks Bazaar and Tracks Beer Garden projects, on 8 acres near West Gate City Boulevard and South Eugene Street.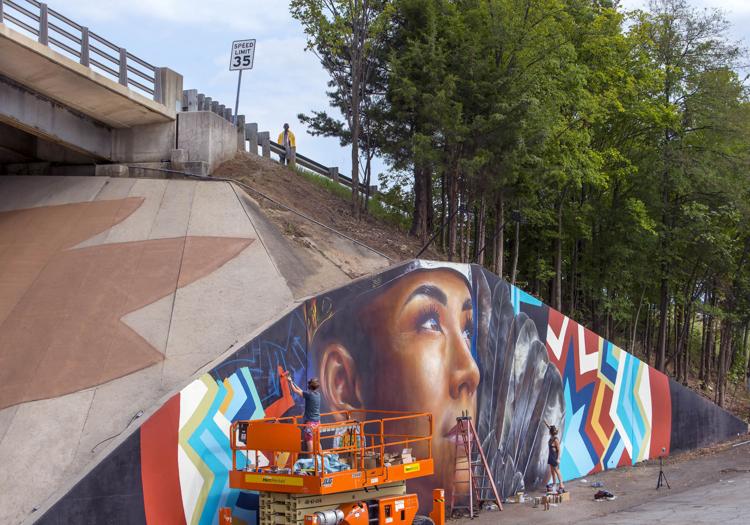 In coming months, Tracks Bazaar and Tracks Beer Garden will add Dram and Draught, a whiskey, cocktail and craft beer bar.
Kotis envisions adding an artists' collaborative, farmers market, restaurants, trendy shops, bandstand and a food truck park.
It's part of his plan to create a hip street art and entertainment district with the Tracks project, while growing the city's reputation as a street art destination.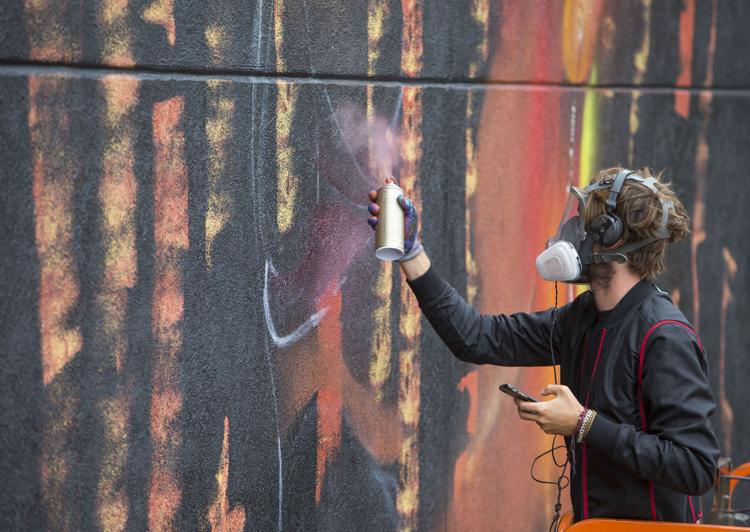 "We want to retain millennials and make the city cooler," Kotis said. "This is one way to take a step in that direction."
Walk down a new sidewalk from Fat Tuesday restaurant under the Eugene Street bridge. Pass artist Steven Darling's pine cone patchwork design under the bridge. Turn left into the Tracks Beer Garden site, and Davenport's portrait appears on the left.
Passengers on passing trains can see it, too.
Colorful murals also appear on several other Kotis properties: The downtown Bardolph Human Services Center (now Gate City Station) on Church Street and Vintage to Vogue on Davie Street, and two other Battleground sites, Pig Pounder Pavilion and The Traveled Farmer restaurant.
The Tracks Bazaar and Beer Garden projects display 15 murals — depicting images from flowers to zombies — by 13 artists, creating an outdoor gallery of art.
They appear on old structures that remain on the Tracks site: a now-closed gas station, the former Brooks Lumber Co. and Carolina American Tours.
"I have never been a fan of the idea of having art tucked away in my house that only a handful of people see," Kotis said. "I like the idea of street art, where I can invest in world-class art that everyone in the city can enjoy."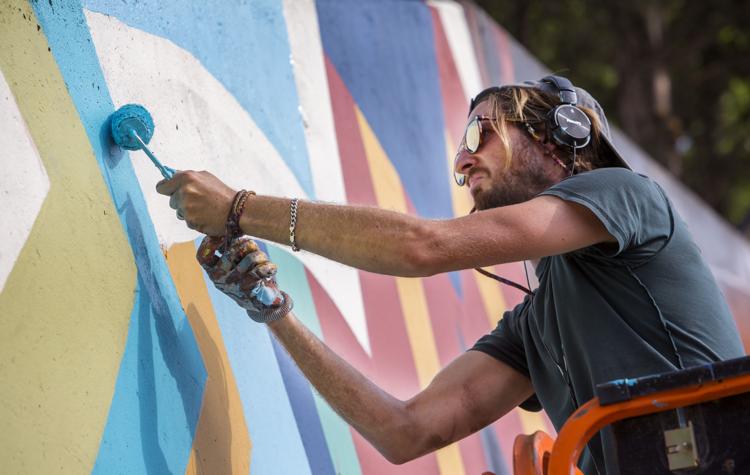 He also likes a mural's ephemeral nature.
"It will fade, so it forces people to enjoy it now," he said.
But no matter what Kotis does with Tracks sites in later years, he expects Adnate's work to stay.
For now, most murals at Tracks remain out of public view.
But when the site opens for special events, the public can see art created not only by Adnate, but by such artists as Daas, who recently painted murals on the north and south walls of the downtown Bellemeade Parking Deck. Kotis arranged for him to paint one on the Tracks site, too.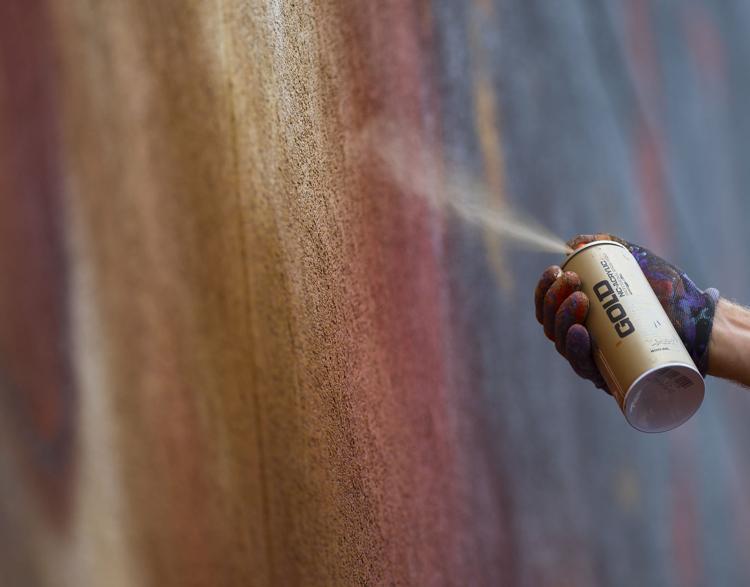 Their work joins that of Triad artists Steven Darling and Brian Lewis, aka JEKS; Spagnola and Megan Kelly of Asheville; Patch Whisky, Rock Steady Crew, Meres One and 5 Pointz of New York; Sloke One of Austin, Texas; Jesus Benitez of Mexico City; and Art of the Chase from Los Angeles.
Both the Tracks site and the Midtown Financial building lie along the developing Atlantic & Yadkin Greenway.
Kotis plans to add art to his other properties along the greenway path.
"You take the backs of these buildings that are blah, that are ugly, and now we throw in street art, and they're pretty," he said.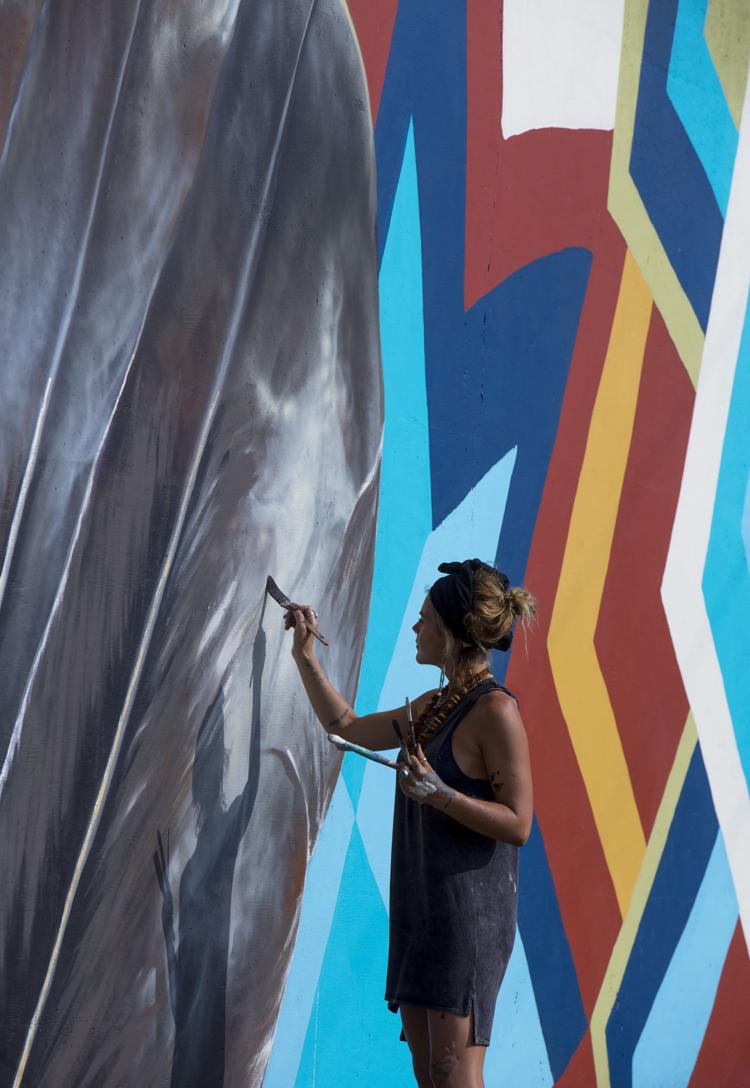 Kotis developed his interest in street art during his visits to Berlin and the United Kingdom.
In Berlin's Urban Spree artistic space, he saw a piece by Adnate, and aimed to bring him here.
He hired Ryan Saunders, a co-founder of the city's No Blank Walls project, to help add murals to his properties.
Last year, Kotis spoke as a member of the UNC Board of Governors at the historically American Indian university, UNC-Pembroke. He met Davenport and other Lumbee ambassadors.
He came away impressed with the people, the music and the atmosphere.
"It felt very relaxing and serene," he said.
After arranging for Adnate to paint murals here, Kotis suggested the Lumbee as subjects.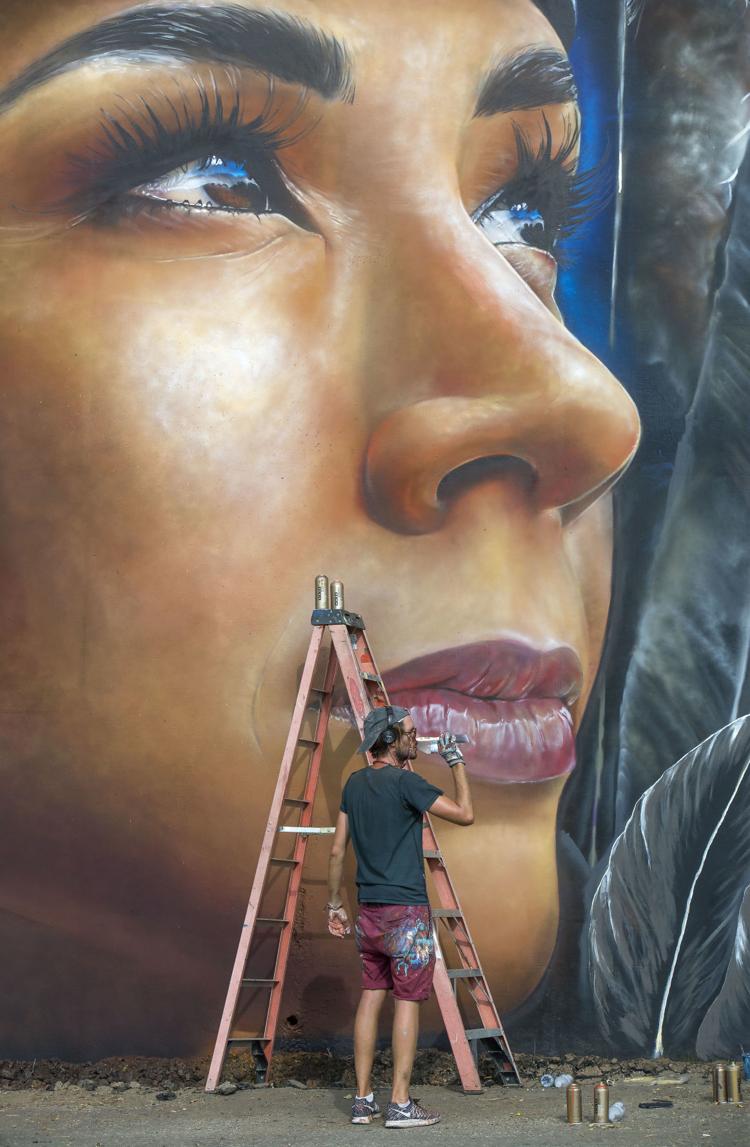 Adnate and Crema loved the idea.
"It has always been a big dream of mine to come to America and work with the Native American culture," Adnate said.
Lumbee leaders and the UNC-Pembroke chancellor agreed. Through the school, Kotis found Davenport, a UNC-Pembroke junior, and Jones, the latter of Lumbee and Tuscarora heritage.
"They are very good representatives of our people," Jeremy Jones said.
Last week, they met Adnate.
Tecumseh Jones had returned recently from Budapest, where he filmed his role as a featured extra in "Jamestown," a TV series about the first permanent settlement in the Americas.
His regalia included ornate rings and neck pieces, one displaying claws from a bear that his father killed years before. He carried a war club.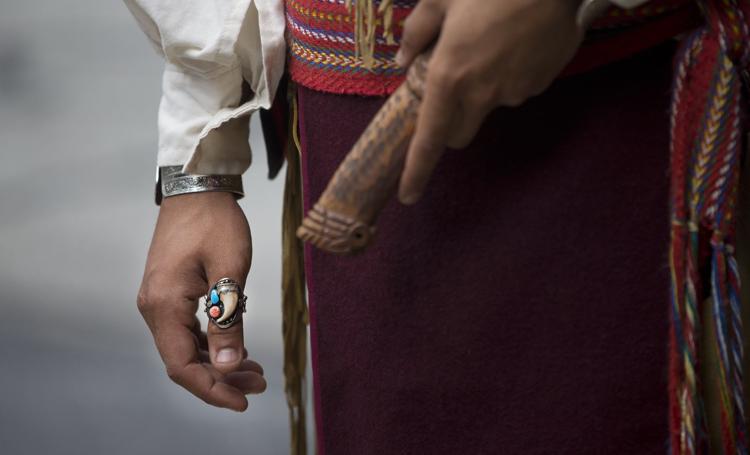 To create his murals, Adnate takes a photo of the wall, then uses Photoshop to overlay a photo of the image that he plans to paint.
He works from a photo on his phone.
He used primarily acrylic-based spray paint. Crema used latex paint to create background imagery from the regalia.
"I like to work fast," Adnate said. "If I have too much time, I think about it too much, and it doesn't make the artwork any better."
Kotis will add illumination and FM transmitters to the murals. He wants passers-by to hear American Indian flute and drum music on car radios and phones.
As she talked with Davenport and the Joneses, Crema was touched by their gratitude.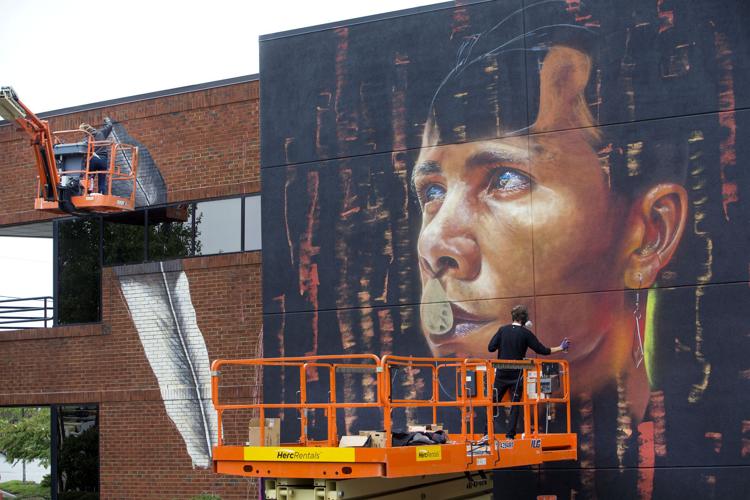 "Not a whole lot of people from our community get opportunities like this, as far as being somebody to look up to," Tecumseh Jones said.
"I'm very honored," Davenport said.