GREENSBORO — As the Downtown Greenway moves toward completion next year, so does public art along its path.
The four-mile paved biking and walking route encircling center city displays 19 completed artworks, with 12 more to come.
"Public art has been a priority for the Downtown Greenway since its inception, and now more than ever," Project Manager Dabney Sanders said.
"We see people wanting to make connections across the community during this time of COVID-19 and greater racial equity awareness," Sanders said.
Two major artworks — and two smaller ones — are now in the works.
"Our public art is an amazing way to learn about the community's history and its varied neighborhoods that surround downtown," Sanders said.
She has noticed a dramatic increase in greenway usage since the arrival of the COVID-19 pandemic, as people seek opportunities to get outside.
Radcliffe Bailey, an Atlanta artist renowned for depicting African American history and culture, will design the fourth and final Cornerstone.
The Freedom Cornerstone will sit at the northeast corner of Murrow and East Gate City boulevards. Its theme is inspired by the city's role in the Civil Rights Movement, especially the pivotal 1960 lunch-counter sit-ins that served as a catalyst to the larger movement.
Bailey's selection was announced in February. On Monday, he will speak in a Zoom webinar about his ideas on freedom and his work.
At the same time, Thomas Sayre works in his Raleigh studio on his monumental West Woods sculpture for 501 Guilford Ave., on the greenway's final section. 
Greenway planners also seek a replacement for a colorful, geometric mural that previously covered bridge supports at the Morehead Park trailhead parking area. Recent bridge repairs eliminated that mural painted in 2012.
They have another art piece in the works for Smith Street, along a completed section of the greenway. It's a series of five metal archways, painted bright orange, with string lighting and vines overhead.
"These pieces add huge value," Sanders said, "not only contributing new pieces of public art to the Greensboro community from well-respected and internationally known artists, but also enhancing the community's experience when they are out and about on the greenway."
Sanders works with Action Greensboro, an arm of the Greensboro Chamber of Commerce that has joined with the city to create the greenway.
The $43 million project, financed with public and private money, is expected to be finished next year. So far, 1.5 miles have been completed, and another 1.5 miles are under construction.
The remaining mile will run along the former Norfolk Southern Railroad tracks, from Morehead Park on Spring Garden Street to the Meeting Place cornerstone — an area created for people to congregate — at West Smith and Prescott streets.
It will cross Market Street along the abandoned railroad tracks at a traffic light to be installed there.
Sanders said she expects that construction contract to be put out for bids by year's end.
Bailey is not expected to present his Freedom Cornerstone design plan during Monday's public Zoom conversation. In addition to the artwork, he will design the entire site and oversee its installation for the $350,000 project.
He will present his plan to the greenway's art selection panel on Sept. 15, and the public will see it sometime after that. 
Bailey will join in conversation with Ayla Amon, a contract curatorial assistant at the Smithsonian National Museum of African American History and Culture and a visiting professor at UNCG.
Greenway organizers have found that virtual meetings reach larger audiences than face-to-face meetings, Sanders said. They will record it and later link to it from downtowngreenway.org.
"This was a way to allow people get to know Radcliffe a little better under the social-distancing guidelines," Sanders said. 
Sayre's $400,000 project is in the Westerwood neighborhood. Greenway planners announced his selection in April.
To create his art, Sayre forms earthcasts from the soil and earth from the ground where his sculptures will eventually stand.
He digs large shapes from the earth with a massive tree spade. Shapes are filled with concrete mixed with iron oxide, along with structural supports. When the concrete cures, it is pulled up from the earth and permanently set in place.
Sayre's West Woods earthcasting will be located on a site at Guilford Avenue and the railroad tracks. It's owned by Greensboro College and partly occupied by a theater department building.
The sculpture will stand behind the building, between the railroad tracks and the stream. It will be easily seen from West Friendly Avenue.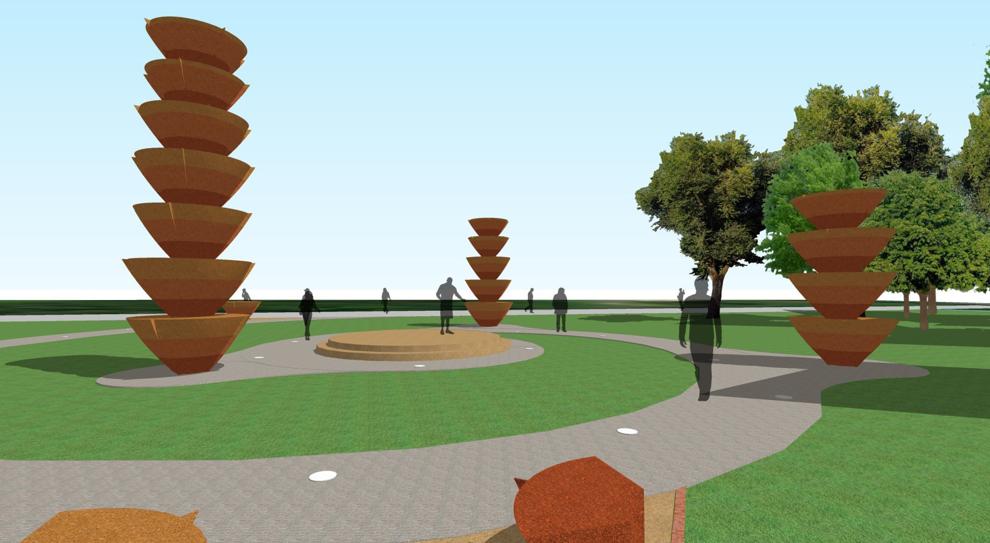 His rendering shows three cairns — man-made piles of stones made from earthcasting. The tallest cairn stands about 21 feet.
The cairns stand along a pathway and surround a raised platform that could be a performance space, or a place to simply hang out and eat lunch.
The path will feature flush stainless-steel cutouts of 16 small critters found in the College Branch stream that meanders through the site.
Sayre should be working on-site in October and November. He expects to complete the project by Dec. 1, weather permitting.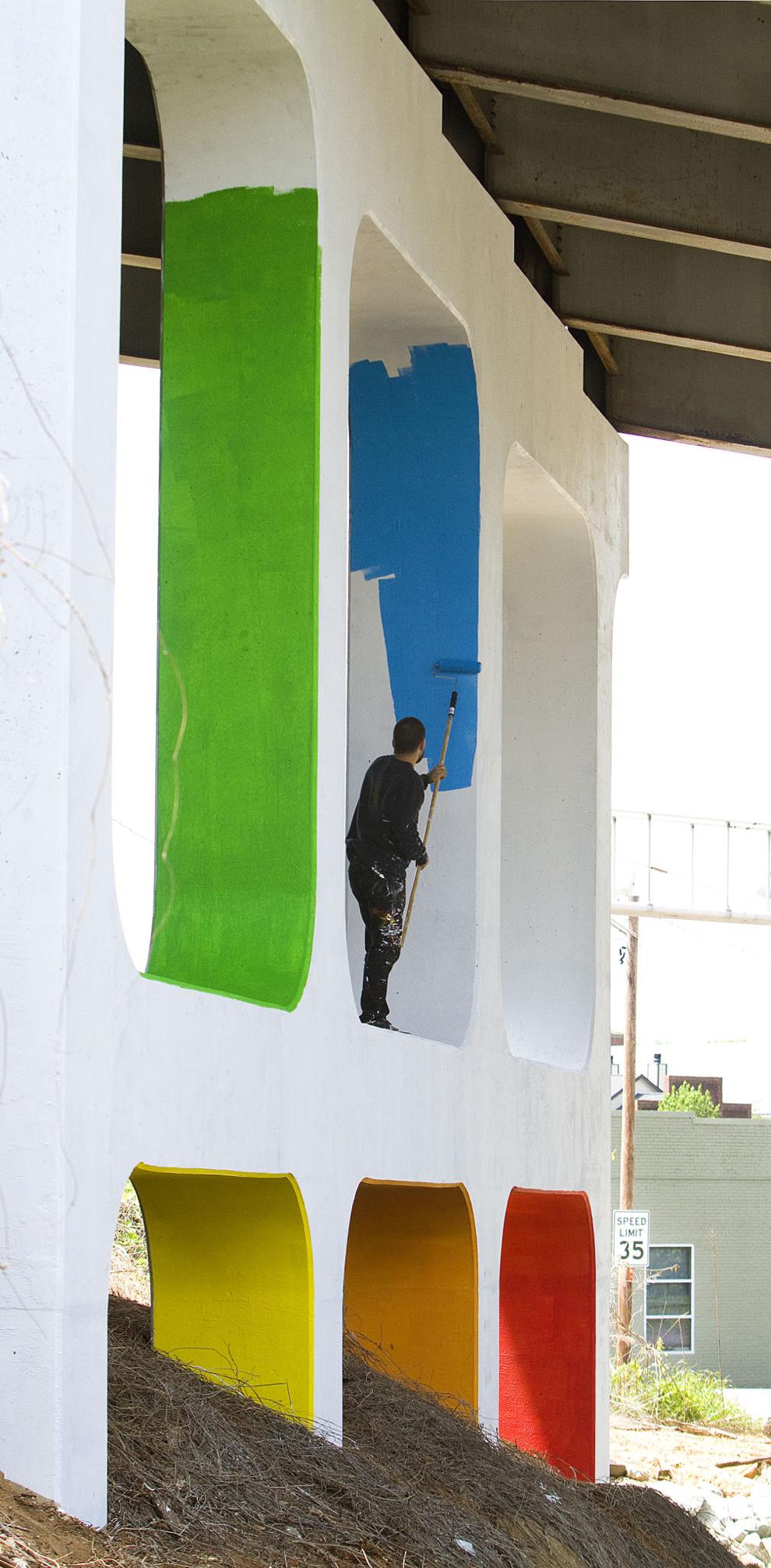 Greenway planners hope to receive proposals from North Carolina artists by Sept. 10 for another project: a mural on bridge supports at the Morehead Park trailhead parking area.
A Miami street art collective called Primary Flight painted the original mural, called ColorHaus.
"We are not asking for people to recreate that, but use it as a bit of inspiration because it had been such a popular piece," Sanders said.
The Winston-Salem landscape group, Roots First, has designed a piece to be installed along Smith Street between Prescott and Spring streets, between the Meeting Place Cornerstone and LoFi Park. Sanders expects it by year's end.
Called Northern Passage, it will feature five metal archways, painted bright orange, with string lighting and vines overhead.
The archways will go over the Greenway.
Smith Street in that section carries a lot of fast-moving traffic. "We felt we need something to soften and create a little more green space and a little more of a protected kind of feeling there," Sanders said.
And for those who see the road construction on Hill Street — between Battleground Avenue and Mendenhall Street and less than a block from the Meeting Place Cornerstone  — that's not part of the Downtown Greenway, Sanders said.
It's where three other city greenways — Lake Daniel, Latham Park and eventually the Atlantic and Yadkin — come together, she said.
Contact Dawn DeCwikiel-Kane at 336-373-5204 and follow @dawndkaneNR on Twitter.