GREENSBORO — The normally noisy, active Greensboro Cultural Center is quiet on this weekday summer morning.
In a studio empty of children at the GreenHill Center for North Carolina Art, education director Jaymie Meyer opens her week-long virtual summer camp for pre-kindergartners.
She uses her laptop, an overhead camera, her art supplies and expertise — and the internet. 
"Good morning!" she welcomes the session's lone online participant, 4-year-old Caroline.
Meyer will record today's live session. Several child care centers and others enrolled can use the recorded content at their convenience.
This camp will focus on The Big Backyard. Today, Meyer will read the book, "From Caterpillar to Butterfly" and demonstrate how campers can make a butterfly feeder from a paper plate, pipe cleaners, string and beads.
The COVID-19 pandemic has driven many local arts summer camps such as GreenHill's completely online. 
Virtual camps use online platforms such as Zoom or other video-conferencing to connect with children and teens in their homes via the internet.
"We just took what we were going to do anyway and turned it into a virtual camp," Meyer said.
Arts organizations learned lessons along the way, too.
Because the internet has no geographic boundaries, some camps attracted participants from as far as Raleigh and other states.
Early technical glitches plagued some camps initially. But organizations learned more about using technology in their future programs.
The Eastern Music Festival will consider hosting more free online conversations and seminars during its off-season.
Dance Project found its virtual summer classes for older or advanced students well attended. But many camps and some classes for younger students didn't get enough enrollment to justify offering them, said Anne Morris, executive director.
"As we look toward our fall session, we are considering what families want for their students right now — mental and physical well-being, social relationships, creative outlets — and how our dance classes can provide those things in meaningful ways," Morris said.
Here is a sample of arts organizations and their virtual summer camp experiences.
GreenHill Center for North Carolina Art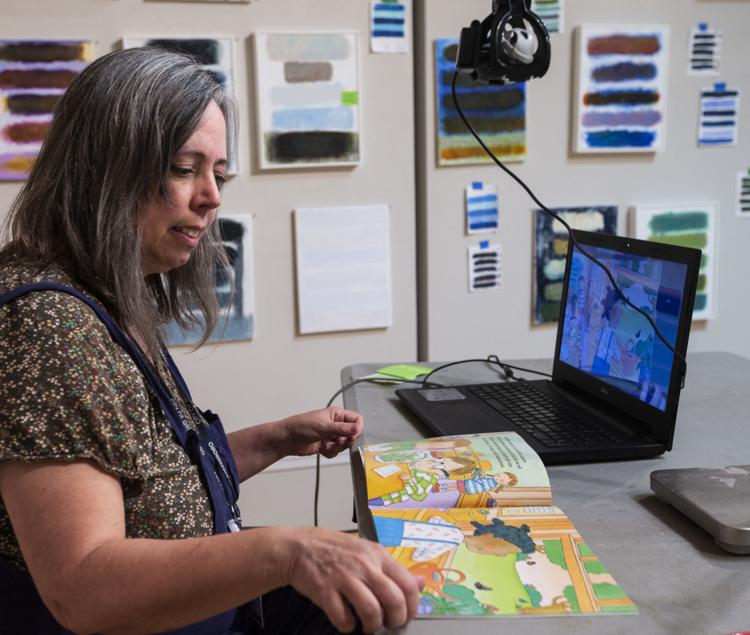 When the COVID-19 pandemic hit, GreenHill faced the prospect of canceling its summer camps.
Instead, the nonprofit that hosts art exhibitions and programs took camps online, with Meyer and Kate Roche teaching. 
They bring live, online theme-based activities into homes of children ages pre-K through sixth grade, divided by age group.
To make it easier for children and parents, GreenHill offered art boxes containing all supplies, instructions and hand-outs ready to go for an additional fee.
With a $15,000 grant from The Cemala Foundation and $1,000 from Truist Bank, GreenHill expanded the camps' reach.
They serve seven child care programs and the Guilford County Schools Summer Institute without charge, said Barbara Richter, GreenHill executive director.
GreenHill distributed art supplies for more than 150 children for five week-long camps, with the understanding that they could use the materials and instructions at their convenience or join live each day, Meyer said. Most have indicated that they are doing it daily on their own schedule.
"Typically our capacity is 15 in our studios for a weekly camp," Richter said. "We are currently engaging between 140 and 150 kids every week. That's 10 times the number that we would typically enroll."
The virtual camps have attracted children from other parts of the state, and as far as Washington, D.C., and Michigan, Richter said. 
That all has taught GreenHill the benefits of having a virtual component.
"It can amplify what we do physically in our galleries," Richter said.
Creative Greensboro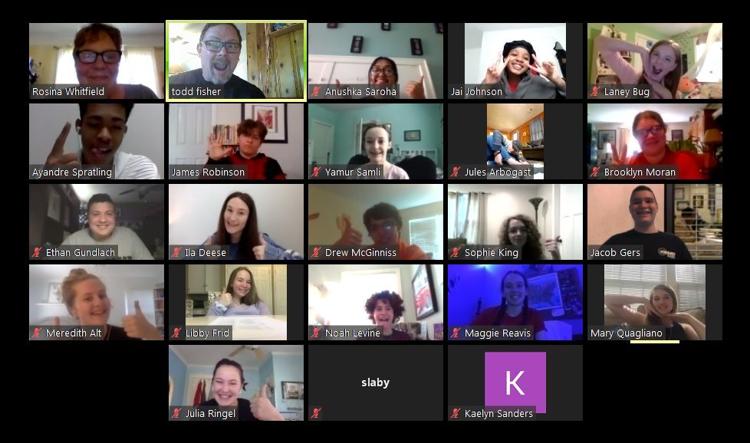 The city's theater program — formerly known as The Drama Center, now part of Creative Greensboro — offered week-long virtual summer camps for ages 7 to 15 through Friday. 
Each group met on Zoom for an hour on weekdays.
One week offered Monsters and Witches-themed camps, with a one-hour virtual horror makeup session.
This week's pirate-themed camps included a one-hour pirate costume-making session.
But it took a financial hit, said Rosina Whitfield, the city drama specialist who led camps with Todd Fisher. 
The city charged $45 per week, much less than the usual $250 for a week-long day camp from 9 a.m. to 5 p.m. It also offered private instruction in acting techniques for $25 an hour.
"Although not ideal, we met the challenge of this new reality," Whitfield said. "Our programs are providing a creative outlet for those of all ages who love the theater."
"But I can't wait to get everybody back in the theater," Whitfield said. 
Eastern Music Festival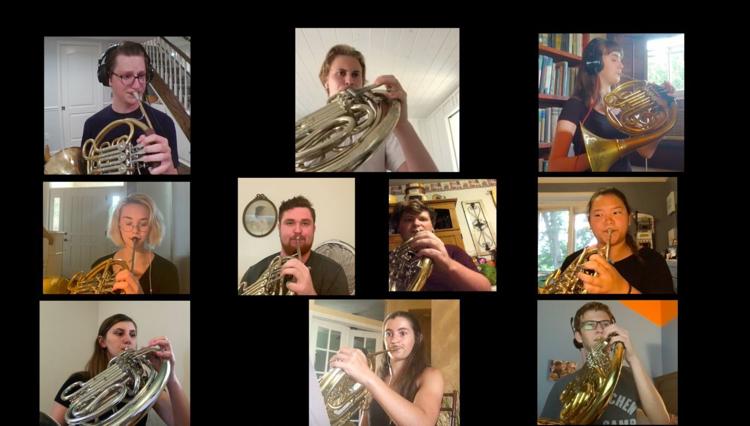 The Eastern Music Festival created online programming to help compensate for the loss of its 2020 summer season.
From June 29 through Friday, 59 faculty musicians offered virtual master classes and lessons for 100 young artists from 31 states, plus free online concerts and conversations for students and the public.
Typically, more than 200 music students from around the globe come to Greensboro to study with EMF's acclaimed faculty and guest artists.
"It was important for EMF to stay connected to our students and patrons," said Kelly Swindell, media and communications director.
"It has not been a one-to-one replacement for what we do well every summer," she said. "We have learned that we were able to pivot to the online space and it was necessary for us to stay in the game."
EMF learned lessons in the process.
It takes more time to prepare for and run an online class than expected. Breaks between online sessions avoid screen time burnout.
Live-streamed concerts can still encounter glitches. Musical performances work best when prerecorded and edited into a concert. Conversations and seminars work well in a live format; audiences appreciate the authenticity, Swindell said.
"This gives us good data for considering hosting more free online conversations and seminars during the off-season of EMF," Swindell said. "There's also an opportunity to engage with younger audiences that are enjoying the free online resources and content."
Triad Stage
This year's Summer Performance Academy went virtual for Triad Stage.
The downtown professional theater hired four teaching artists to conduct six camps using Zoom for students in first through 12th grade.
So far, camps have attracted 41 students — with enrollment continuing to rise for next week's camp.
Some students were regulars. Others joined from as far as Raleigh — campers who wouldn't have made the trip by car.
One camp was particularly timely: Arts for Change. Through image work, poetry, newspaper theater, and storytelling, the students worked through their feelings about COVID-19, the current protests and schools closing.
An August camp for grades 4 through 8 will focus on voice and movement.
Triad Stage has not previously offered a camp this late in the summer. "But we've had such a positive response from families who are telling us this is just the creative outlet their students need," said Dani Keil, learning director.
What works? Building an ensemble online.
"These young creatives were hungry to be together and work together," Keil said. "We'd put them in breakout rooms to work in small groups and when the teaching artists stop in to check on them, we see them smiling, laughing together, supporting each other."
As a result, she expanded classes from one hour to 90 minutes, and next week, two hours.
"The students go for it," she said. "They don't seem to hold back just because they're sitting at their kitchen table."
But Keil does not plan to keep a virtual component in summer camps when the theater can safely return to in-person programming.
"Families appreciate the virtual learning opportunity, the community and a creative outlet right now," she said. "But they are looking forward to being in-person again."
Want to learn more about the Summer Performance Academy? Click on the Learning link at triadstage.org.
Greensboro Children's Museum
The museum started its summer camps online in June, with the hope that they could return to in-person camps by August.
But with COVID-19 spreading, staffers realized that couldn't happen.
"Having to close our facility really pushed us to focus on our online content, which is an important part of reaching a broader audience," said Stephanie Ashton, education director.
Families can engage with the museum in two ways:
• Purchase Summer Explorer Kits at gcmuseum.com/summer-explorer-kits, ranging in price from $75 to $110 for a week of activities. The pre-assembled kits of materials and instructions followed summer camp themes. Families can participate at their own pace or with the museum's online activities using Zoom.
Families can either buy a standalone kit, or a kit plus the online small group sessions led by museum educators.
"So much of what we do centers around in-person relationship building and hands-on experiences with kids," Ashton said. "We had to think strategically about how to translate some of that into either content that families are experiencing on their own, or through virtual meetings with kids using platforms like Zoom."
They found that it was better for children to connect and learn online briefly each day than longer and less frequent online tutorials.
But the nonprofit museum has suffered financially this spring and summer, with the loss of after-school programs and in-person day camps. Administrators worry about how to continue to retain and pay the workforce.
Revenue from Summer Explorer kits helped offset some losses. "But it brings in a fraction of the income we had budgeted for," Ashton said.
The children's enthusiasm for online programming and explorer kits has lifted staffers' spirits.
"We have found a lot of joy in creating this content and meeting kids on Zoom," Ashton said. "Their enthusiasm for everything from dinosaur species to crafting is contagious."
Greensboro Ballet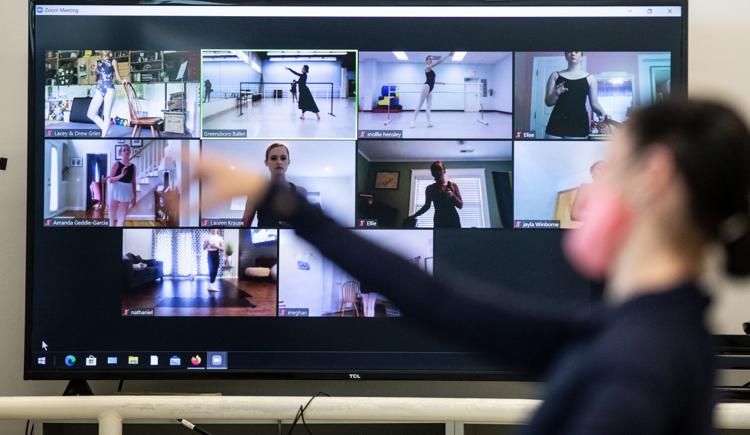 Like the Greensboro Children's Museum, Greensboro Ballet had hoped to move online summer camps back to its studios in August.
Now it aims to reopen studios for classes on Sept. 14.
It will likely retain a virtual class for those who aren't ready to return, said Jennifer Gentry, interim executive director.
In the meantime, instructors teach using Zoom from the ballet's studios in the downtown Greensboro Cultural Center, wearing masks and keeping social distance. They broadcast classes through the ballet's Facebook, Instagram Live and YouTube pages.
The ballet faced challenges in teaching online.
Camps for ages 3 to 6 are typically full each summer. But it's difficult to keep 3 and 4 year olds focused on a screen. "Some of the parents said, 'We gave up...'" Gentry said.
Attendance declined, and revenue dropped by 75% from a typical summer. Luckily, donations have helped to fill the gap.
High school dancers often don't have space at home to do the big, fast moves of grand allegro. Instead, instructors have taught exercises that stretch and strengthen their feet, ankles and core.
It's been difficult for older students in another way: They miss their dance friends, with whom they typically spend up to six days each week, Gentry said.
Eve Hatcher Peters has danced with Greensboro Ballet for nine of her 14 years.
It's all online for now. She uses a bedroom chair as her barre, a handrail for ballet exercises.
"It was really weird taking classes online because so much of dance is physical interaction and observing others," Eve said.
Although she appreciated the more flexible schedule, she said, "I didn't like not being able to talk to my friends... I much prefer dance in person."
Contact Dawn DeCwikiel-Kane at 336-373-5204 and follow @dawndkaneNR on Twitter.
Concerned about COVID-19?
Sign up now to get the most recent coronavirus headlines and other important local and national news sent to your email inbox daily.