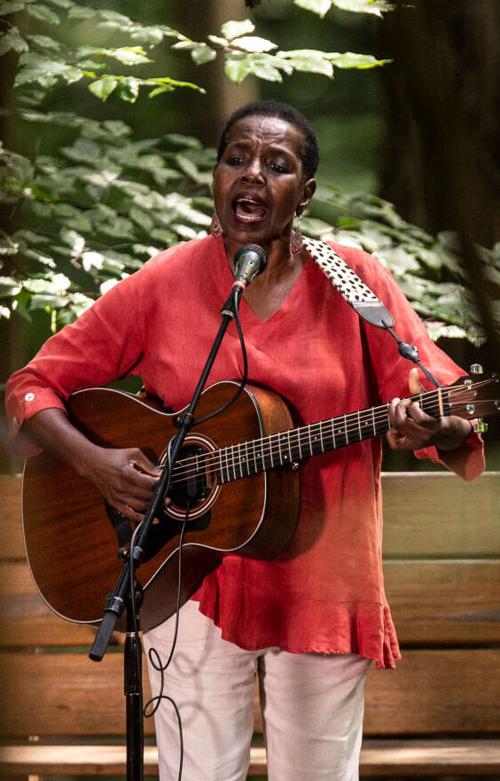 GREENSBORO — The annual N.C. Folk Festival and Carolina Blues Festival will resume tonight online and on Greensboro Television Network. 
The COVID-19 pandemic prompted organizers to move both online this year.
The folk festival started last night and continues at 6 p.m. today and Sunday. 
All have been pre-recorded live by 7 Cinematics at local iconic spots.
Tonight also will feature blues festival performances.
Here is the lineup in order of appearance:
• Charly Lowry & Friends: This Lumbee-Tuscarora musician from Robeson County was a contestant on Season 3 of competitive reality television show "American Idol." She filmed her performance at the Magnolia House.
• Veronika Jackson (34th annual Carolina Blues Festival): The Georgia-based acoustic folk/blues artist will pay tribute to the late Elizabeth "Libba" Cotten, an American blues and folk musician, singer and songwriter from Carrboro. The performance by the Florida native was filmed at the Underground Railroad tree at Guilford College. 
• The Hamiltones: The Charlotte and Greensboro-based R&B/soul trio started as backup vocalist for Grammy Award-winning soul singer Anthony Hamilton. Members are Corey "2E" Williams II from Greensboro, Tony Lelo from Morrisville and J. Vito, who grew up in Anson County. The group filmed its show in front of the International Civil Rights Center and Museum in center city.
• The Piedmont Blues Preservation Society will present its 34th annual Carolina Blues Festival virtually at 8 p.m. on piedmontblues.org and ncfolkfestival.com. Vanessa Ferguson will headline a lineup titled "Women of the Blues."
The blues society also will present the Mike Carr Junior Bluesman Award to Brendan Hinch and the Keeping the Blues Alive Lifetime Achievement Award to Irish Spencer.
• Diali Cissokho & Kaira Ba: This Pittsboro-based, kora-led dance band combines West African traditionals, funk, rock, blues and elements of jazz. 
• Charlie Hunter: This seven-string guitar virtuoso plays jazz, jazz fusion, acid jazz, jazz rock and funk. He now lives in Greensboro. 
• The Burnett Sisters Band: The family band from Boone plays old-time music. 
• Mandolin Orange: Americana/folk-based duo from Chapel Hill. 
Contact Dawn DeCwikiel-Kane at 336-373-5204 and follow @dawndkaneNR on Twitter.
Be the first to know
Get local news delivered to your inbox!