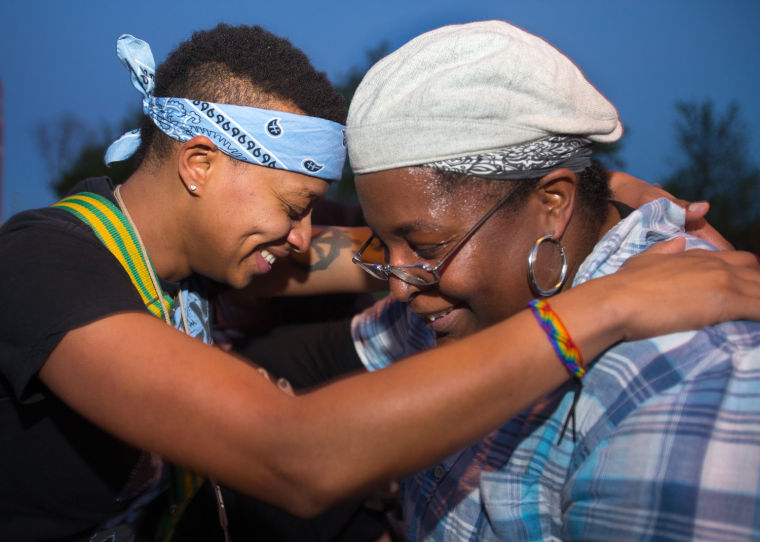 I first caught Cakalak Thunder a decade ago at Greensboro's Fun Fourth Parade.
They must've been a block away when I heard the whistle and a mass of percussion coming toward me like a rising wave.
I still remember my kids' reaction: mouth open, eyes wide, necks craning beyond the crowd to catch sight of all the commotion.
My kids are older now, too cool for any kind of street-corner exuberance. But Cakalak – or CT as some members call it – is still the same: loud, raucous, prone to gather in any place near and far to celebrate the infectious joy of rhythm and the constant need for justice.
I saw that in Nelly's photos.
That's Nelson Kepley in our newsroom.
He shot Cakalak Thursday night during a protest at the corner of Lindsay and North Elm.
Cakalak had been invited to participate in a protest in front of VF. Activists included college students from A&T and UNCG, and they were calling into question the company on the corner: VF, the maker of Wrangler jeans and Wrangler attire.
The activists claimed VF had enlisted work done by overworked and underpaid garment workers in Bangladesh.
And everyone who came, at least 30 people or so, wanted to call attention to working conditions that led to the collapse of a knitwear factory last spring that killed 1,129 workers and injured more than 2,500 workers in Dhaka, Bangladesh.
They see themselves as Greensboro's radical marching band. Check out the attached PDF and see what I call their constitution.
Cakalak members call it their "Points of Unity.'' It's a document that is ever evolving with the latest draft finished a few months back. 
In it, under "Roots And Culture,'' you'll find these three sentences:
Music and art are alive, not museum pieces; they are ever changing. Music and art are political. They can bring people together in hope and celebration, and we allow the music to grow and change through and in us.
I first wrote about Cakalak 10 years ago. On Wednesday, I wrote about them again - and their 10th anniversary party.
I've always found them as pictures of exuberance every time I've seen them practice and perform.
You catch that in the video in the upper left. It's from a protest march in Detroit.
You'll also click and catch Rude Mechanical Orchestra, Cakalak's sister band coming down for New York to play in the anniversary party beside Glenwood Coffee & Books.
But really, you can see all that exuberance in one of Nelson's photos. It's at the top. It's of two Cakalak members, Laila Nur and Tiffany Holland, taken after their long performance Thursday.
I asked Laila about it. She's 26, a New York native. Here's what she said:
"You get caught up in the passion in the music. You get lost playing, and it feels like it's mechanical, and you don't want to mess it up. But you get to this place, this zone, and you can sit there and stare at another person and zone out.
"With Tiffany that night, I was staring at her, and she was playing so hard. My arm hurt, I started to speed up the rhythm -- I wasn't going too fast -- and I was calling out breaks and patterns. But I was watching Tiffany's face. After the rhythm stopped, she let out a big, long exhale, like 'Oh my God.'
"It's a term I learned down here. It was that 'Come to Jesus' thing. My body hurt so bad, I was shaking my arms so hard, and I knew exactly what she was feeling, and I was thinking, 'I'm so proud of us, and I'm so proud of us for fighting for this cause. I love you, guys.' There was so much in that moment.''
And the bigger thing? Tiffany -- 38, a North Carolinian going after her PhD in history at Duke -- talks about that.
"The playing is visceral. I'm a grad student, and I get really in my head and this was learning how to play the Surdo (a bass drum), and you can't over-think it. You have to go with it. And trusting the group and trusting myself to let that go. It's definitely been a journey, and it's been beautiful.
"That's phenomenal for me. It's the democratic process. We live that on the ground and being able to be with a group of people I only sort of knew beforehand, and to find that space of trust, that is what's beautiful to me. I don't give my trust easily.''
For both Laila and Tiffany, it all started when they first saw Cakalak.
Except they went a step farther. It all started with a question, at least to Tiffany.
"Hey, do you want to pick up a drum?''
​Contact Jeri Rowe 
at (336) 373-7374.