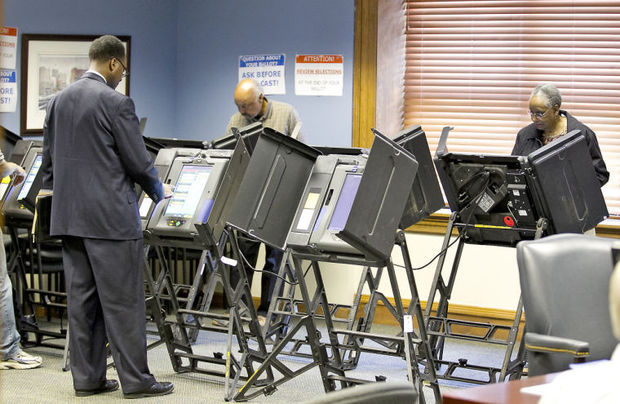 Replacing the county's voting machines to comply with a new state mandate could cost more than $6.5 million.
"It's going to be pricey," Guilford County Elections Director Charlie Collicutt told the Board of Commissioners at its annual retreat Friday in Colfax. "There is no outside funding from the state, or any other body."
Guilford County residents currently cast their ballots via touch-screen voting machines, which tabulate votes electronically but spit out paper rolls that officials can use to audit election results.
Under the mandate, passed by the N.C. General Assembly in 2013, touch-screen machines are still allowed. But votes have to be counted using paper ballots.
"What's tabulated has to be on paper," Collicutt says. "So our machines will be illegal."
The county has about 1,400 voting machines. When those machines were purchased in 2006, federal grant money funded half of the purchase price. That won't be an option in 2018.
The county's capital improvement plan puts the replacement cost at about $6.76 million, though that total could change depending on vendor options.
Currently, there's only one vendor that's authorized to sell voting machines in North Carolina. And that vendor sells just one product that will still be usable in the state after Jan. 1, 2018.
Because of that, Collicutt said, it makes sense for the county to wait before purchasing.
"One reason I'm not in a real rush to purchase new machines today ... is that I know there will be other vendors trying to get into the state," he said. "The state is working on certification procedures for other vendors."
The county will most likely begin looking seriously at options in the next year or two, Collicutt said, and staff will seek input from the commissioners before moving forward.
"When it is time to buy, my staff will hold demos that will have to involve all of us before making a final decision," he said.
GREENSBORO — No voting process eliminates human error or corruption, but Guilford County's s…
Contact Kate Elizabeth Queram at (336) 373-7003 and follow @KateElizabethNR on Twitter.