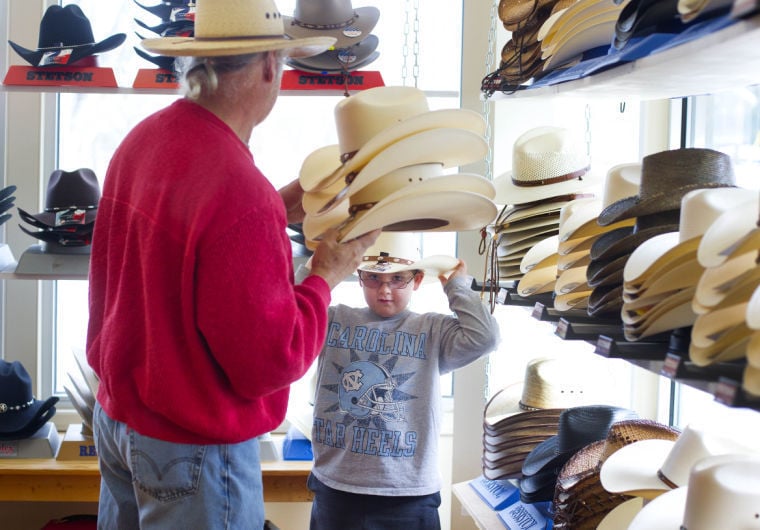 SUMMERFIELD — After more than half a century, a popular western wear and tack shop is closing.
Purgason's Western Wear at 4901 Auburn Road is closing in May.
Owner Cinda Whicker is retiring.
"It's just time. Retail is tough these days, especially for a one-store business," Whicker, 67, said.
Whicker's late father, Dewey Whicker, convinced her to take over the store when founder Al Purgason decided to sell the store in 1977. The former school teacher didn't know anything about horses and tack.
"I learned most of what I know in the first five years. It was a crash course in everything," Whicker said.
Purgason wasn't a horse fellow either. He started out selling scrap leather from Jim Dandy in Madison. But as farmers and horse riders came to him for tack, boots and hats, he began stocking it.
Summerfield has long been known as horse country. Riders wanted gear and with the guidance of her father, Whicker grew the business to include attire and accessories for both Western and English-style riding.
About 10 years into the business, Whicker purchased some land next to the shopping center where Purgason's was and built a free-standing store that doubled the amount of retail space. The brilliant white structure became a landmark for travelers on U.S. 220, with its twin peaked cupolas and life-size horse statue out front. She designed the building with her father.
"My dad had a vision of it looking like Churchill downs," Whicker said.
The area has changed since Purgason's opened in 1963. While there are still some reputable horse farms in the area, other farms that once flanked N.C. 150 between Summerfield and Brown Summit are now residential neighborhoods.
Still, customers come from a 25- to 30-mile radius. And Whicker is grateful for each and every one of them.
"I appreciate all of our friends and customers that have supported us throughout the years," Whicker said.
Purgason's is holding a sale. Check Purgason's Western Wear Facebook page for updates on the closeout.