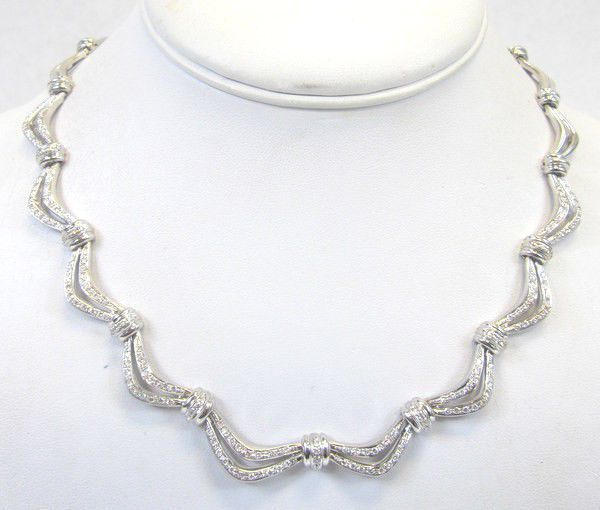 GREENSBORO — A Goodwill store got an extra generous donation when a donor gave the store a necklace valued at $6,400.
The 18-karat white gold scalloped collar necklace with 176 diamonds was donated to the Goodwill store at 1235 S. Eugene St.
"Anything that looks like it's of higher value, our store attendants know to put in a separate bin and then it gets sent to Shopgoodwill and they will evaluate it," said Sarah M. Lanse, marketing specialist for Goodwill Industries of Central North Carolina.
Showgoodwill is an e-commerce website like eBay that sells higher-end items from Goodwill stores across the country. The site features items like jewelry, vintage jewelry, collectibles, name-brand hand bags and musical instruments.
"We do have someone at Shopgoodwill.com who is a jeweler, but in this case, because of the value of it, they sent it to an independent appraiser," Lanse said.
Lanse said the staff doesn't know when the necklace was donated or how. She said the necklace did not come in its own case and could've been donated with other jewelry.
In case you're wondering if the necklace was donated by mistake, there is a system in place to prevent accidents.
"We do get a lot of generous donations and we do want to be good stewards of those donations," Lanse said. "The more we can earn from these items, the more we can provide free and low-cost job training and placement services. Eighty-five cents of every dollar supports that mission."
If you'd like to see the necklace, it is item No. 56989326 at Shopgoodwill.com/greensboro. It is available for bid through mid-afternoon on Thursday.