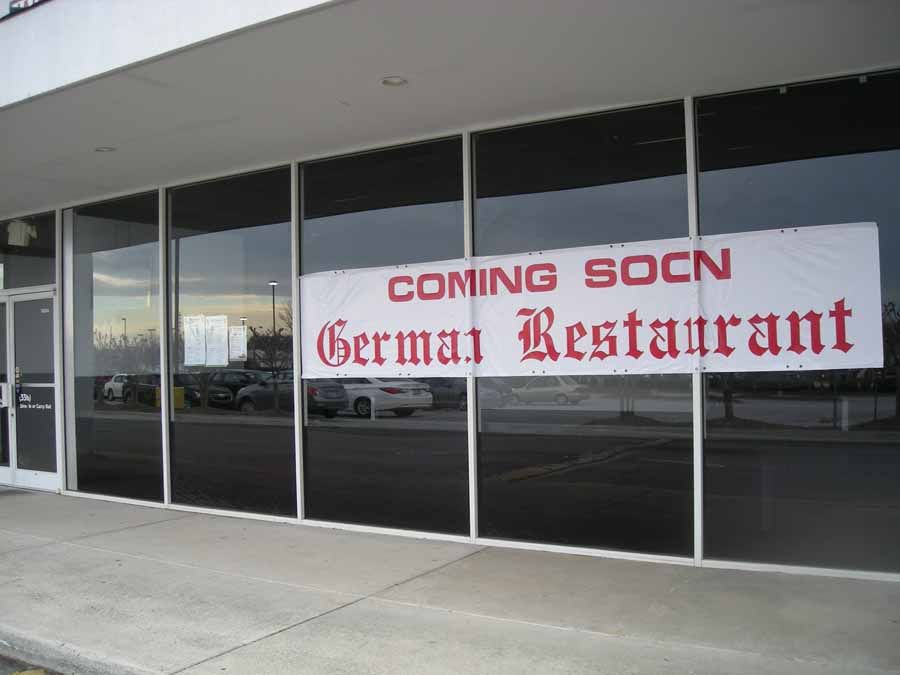 Old Europe Restaurant and Bakery has opened at 1315 Bridford Parkway at Landmark Station shopping center.
Greensboro's only German restaurant occupies the space formerly Bonsai Japanese Restaurant.
The restaurant moved from its previous location in Winston-Salem.
Chef Karl Wenzel opened the Winston-Salem restaurant four years ago. He is a certified restaurant and pastry chef of his native Germany. He has been in food service for more than 50 years, working for restaurants, hotels and cruise lines across the country, including New York City.
He eventually settled in North Carolina when he contracted with Kroger to provide authentic German bread for the grocery chain.
Old Europe will offer traditional items like Wiener Schnitzel, veal bratwurst, Sauerbraten, Frankfurter Knackwurst, Jagerschnitzel, Hungarian Goulash, spatzel, German potato salad and authentic German soups.
The restaurant also offers freshly baked German breads and pastries.
For now, the restaurant only serves dinner from 5 to 9 p.m. Monday through Thursday and from 5 to 10 p.m. Friday and Saturday.
Preyer Brewing Co. (336-256-9450, www.preyerbrewing.com) has opened at 600-B Battleground Ave. at the north end of downtown Greensboro.
Calder Preyer, and his wife, Nicole Preyer, opened the brewery with the help of Preyer's extended family.
Calder Preyer, who has an associate's degree in brewing technology from the Siebel Institute, says his small-batch brewery will initially focus on only four to six brews including an IPA, a porter, rye pale ale and wheat.
The brewery is in the former Steele and Vaughn building, which the Calders renovated.
The building has come a long way from the bland cinder block shop it once was. New paint and stone and timber added to the exterior by Paul Joseph Custom hint at the ambiance inside that includes a sprawling taproom seating about 90 people at tables, plush lounge chairs — created by DesignWorks of Siler City — and a long wood and brick bar. A 30-foot sofa, also custom made by DesignWorks, can easily accommodate a couple of dozen patrons.
One wall in the taproom is devoted to framed photos and newspaper articles of the Preyer family history, which includes Calder Preyer's grandfather, L. Richardson Preyer who was a member of the U.S. House of Representatives and whose name Greensboro's federal courthouse bears, and great-great-grandfather Lunsford Richardson, who founded Vick Chemical Co.
The taproom's woodwork — also created by Paul Joseph Custom — is from recycled barn lumber. Gleaming white subway tile behind the bar echoes the same tile in the brewing room, whose stainless steel boilers and fermenting tanks are easily visible through large windows.
The brewing room might remind one of a milking room of a dairy. That is not coincidence, says Nicole Preyer. The couple wanted to give the taproom the organic feel of a barn with its rustic woodwork and exposed steel ceiling beams and duct work.
The taproom sells pints and flights. Growlers, glass jugs of beer to go, are also available.
The taproom also sells Blue Blaze Sodas from Asheville, Beansboro coffee and Vida Pour teas.
Food is not available, but the brewery will allow patrons to bring in outside food. Soon, patrons will also have the option of ordering food from Crafted! The Art of Street Food , a restaurant that shares the building. It is being opened by Rhonda and Kristina Fuller, the mother-daughter team behind Crafted! The Art of the Taco . The new restaurant will feature food inspired by exotic street food from around the globe. It is expected to open May 19.
Taproom hours are from 4 to 10 p.m. Tuesday and Wednesday, from 4 p.m. to midnight Thursday and Friday, noon to whenever on Saturday and noon to 10 p.m. Sunday.
Loaf Bakery at 227-B S. Elm St. has closed.
A notice was posted on the bakery's door two weeks ago stating that the bakery had been seized by the N.C. Department of Revenue. The notice was later removed, but the bakery remains closed.
Robert Roth, who owns and operates the bakery, declined to go into details other than to say that he is in the "process of reorganization."
He said he would like to see the bakery reopen if an investor could be found.
Loaf opened more than three years ago and offered artisan breads and pastries.
Downtown Deli (336-612-2763) has opened at 637 Washington St. in Eden.
It is operated by Carlyle and Donna Rees, the husband and wife team who operated a doughnut shop called Dough Dogs before selling the shop to the Donut House.
The deli offers classic sandwiches like the Reuben ($7.99), chicken salad ($4.99), tuna ($3.99) and PB and J ($2).
"We serve people just like they are eating at our house," says Carlyle Rees.
The deli offers regular or all-beef Sabrett hot dogs with a variety of toppings.
The deli also offers ice cream in a waffle or regular cone.
Hours are 10 a.m.-6 p.m. Monday through Thursday, 10 a.m.-8 p.m. Friday and 10 a.m.-4 p.m. Saturday.
The Got to Be NC Competition Dining Series returns to the Triad for another bracketed culinary competition among regional chefs.
The event, formerly known as Fire in the Triad, kicks off May 26 at the Benton Convention Center.
Along with the event being moved from Greensboro to Winston-Salem, this year's competition is open to chefs outside of the Triad.
Four Greensboro chefs will compete — Michael Harkenreader of The Undercurrent, Anders Benton of Gia, Alex Pierce of Greensboro Country Club and Michael Roberson of The Iron Hen.
Tim Barbrey of Perky's Bistro in Jamestown and Dave Nicoletta of High Point will also compete.
Competing Winston-Salem chefs include John Bobby of Noble's Grille, Kevin Riddick of The Screaming Radish, Mark Grohman of Meridian, Travis Myers of River Birch Lodge and Richard Miller of Graze.
Other chefs include Trey Prescott of J. Pepper's Southern Grille in Kernersville, Matthew Montandon of The Phoenix in Brevard, Dion Sprenkle of Lexington, Christian Froelich of Hearth Restaurant at Sanders Ridge in Boonville and Andrew Nicholas Davila of Belle at the Jones House in Cary.
The Got to Be NC Competition Dining Series is an elimination competition of 15 dinners in which chefs and their crews compete in the style of the television series "Iron Chef." During each dinner, two chefs go head to head by preparing three courses using a secret North Carolina ingredient revealed the day of the battle. Diners judge the courses by blind tasting. The courses are scored and overall scores determine the winner.
Founder Jimmy Crippen started the event 10 years ago as Fire on the Rock, a competition among restaurants in the Blowing Rock area.
Eventually, with the help of N.C. Department of Agriculture's Got to Be NC, Crippen took the event statewide.
The Got to Be NC Competition Dining Series is hosted in three regions of the state this year. They include competitions in Raleigh, Charlotte and Winston-Salem. For the first time, the series is also extended to South Carolina with an event planned for Greenville, S.C.
Each regional champion moves on to the final Battle of Champions in October. That event will be held in Raleigh.
The mission of the series is to engage farmers, chefs and diners in exciting evenings of food and entertainment.
The Winston-Salem competition includes 15 dinners held May 26 through July 7. All dinners will be held at the Benton Convention Center.
To see the bracket, read chef bios and get more information on the competition and how to attend a dinner, visit www.competitiondining.com.
It is strawberry season and the Greensboro Farmers' Curb Market at 501 Yanceyville St. in Greensboro is celebrating with a pancake picnic 8 to 11:30 a.m. Saturday.
Alex Amoroso of Cheesecakes by Alex will serve pancakes topped with the market's fresh strawberries.
Cost is $5 per plate which benefits the market.
There will also be live music 8 a.m. to noon.
The Greensboro Farmers' Curb Market is open 8 a.m. to 1 p.m. each Wednesday through December.
The Saturday market operates 7 a.m. to noon each Saturday all year.
Bonnie Kay Seafood (222 Spur Road, Greensboro; 336-674-8001) is offering some specials this month that include an $18 crab leg dinner on Wednesdays and $16.50 per pound peel and eat shrimp on Thursdays.
On Thursday, participating Church's Chicken restaurants are giving away a free honey-butter biscuit with any menu purchase.
The promotion is in honor of National Biscuit Day.
A food truck rodeo will be held 6 to 8 p.m. Sunday at Life Community Church at 4900 W. Wendover Ave. in Jamestown.
Trucks scheduled to attend are Zekos 2 go, Bandito Burrito, Wright Up Ur Galley, Fish N Wings, Empanada Borenquin, Home Slice Pizza, King-Queen Haitian Cuisine, Kona Ice and The Grinder coffee truck.
The event will also feature a live band and a bounce house.
For information, visit Life Community Church on Facebook.
The Apple Gold Group, a franchisee of Applebee's Neighborhood Grill and Bar, received the 2015 Restaurant Neighbor Award from the N.C. Restaurant and Lodging Association. The award is for outstanding community service throughout 2014.
The company has partnered with charities such as Susan G. Komen, Make-A-Wish Foundation and The V Foundation for Cancer Research.
The company's restaurants also hold flapjack fundraisers for sports teams, schools,and non-profits.
Apple Gold Group operates 133 restaurants in seven states, including restaurants in North Carolina and Greensboro.
Contact Carl Wilson at (336) 373-7145, and follow @short_ordersNR on Twitter.