GREENSBORO — Squeezed between a hard class and a new job, the teenager in front of student support specialist Carla McMillan struggled to see a way to get it all done.
McMillan listened to her worries as the two sat together in the Communities in Schools office at Smith High School, a room lined with racks of donated clothing, a miniature food pantry, snacks and school supplies.
"You've got to pass that AP test; you owe it to yourself," she told the girl. "You've got to be honest with your manager."
Smith and Dudley high schools have a special partnership with the nonprofit Communities in Schools of Greater Greensboro aimed at preventing students from dropping out of high school.
The schools each employ a student support specialist, who is also considered part of CIS. These specialists offer open doors and listening ears, while marshalling teams of university interns and tutors, as well as donations, as they work to support students and families through to graduation.
"Whatever it is they need, I'm here," said Cheryl Donahue-Wright, the CIS student support specialist at Dudley. "We are kind of like Walmart: we are your one-stop shopping area in this building."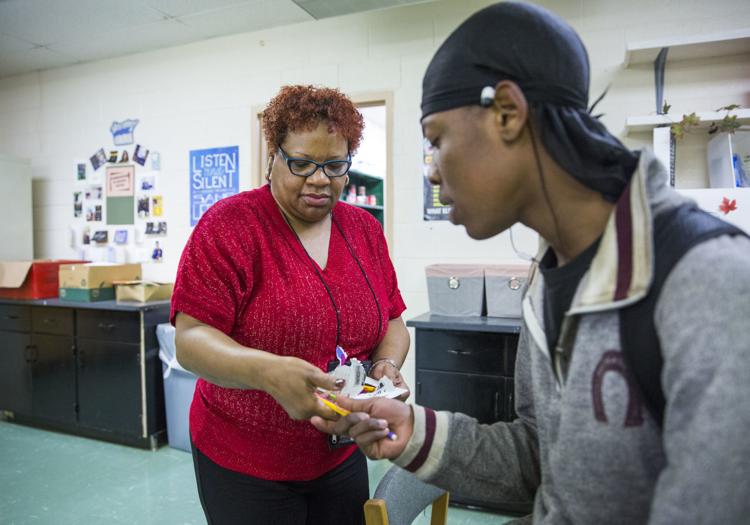 What is Communities in Schools?
Communities in Schools is a national nonprofit organization working on dropout prevention with local affiliates in 25 states and Washington, D.C.
Communities in Schools of Greater Greensboro began in the 1988-89 school year serving 84 students, according to executive director Jimmi Williams. Today, the group serves about 2,500 to 3,000 students per year, he said, and works in nine district schools. The school district does not pay any money to the Greensboro CIS group for its work. CIS is supported solely by United Way, grants and donors, the organization said. Another affiliate of the national CIS organization, Communities in Schools of High Point, works with schools in that area.
CIS's programs vary between schools and communities, but their common strategy is having a point person, or site coordinator, within the schools to carry out their mission.
Of the nine district schools the Greensboro organization works in, two are high schools, Smith and Dudley. They're running what Williams calls a "comprehensive services model."
In that model, the organization works to meet the various needs of students and their families, whether it's offering check-ins, advice, a clean set of clothes, some tutoring, a referral to assistance from a partner organization, or just the chance to vent.
"It is the classic CIS model," Williams said. "It is the heart and soul of CIS."
The student support specialists aren't the only staff members at Dudley or Smith with a broad mandate to help students and families — they work alongside and in connection with the guidance department and school social worker at each of the two high schools.
However, Dudley principal Rodney Wilds said the benefit of working with Communities in Schools extends beyond what he could get from just hiring a student support specialist without the connection to the nonprofit.
He believes Williams' long-standing community ties and partnerships with other groups and colleges make donations and support flow more smoothly.
"I don't know if we would be able to do it as quickly as they can," he said. "Our day-to-day is tied up into so many things. When you have a resource like Communities in Schools, it only helps the school meet the needs of the child — not only quicker, but more efficiently."
In the last week, Donahue-Wright said, she learned a Dudley family that she'd been helping had run out of money to stay in the hotel where they were living, and the mother had no place to put the family's belongings.
Donahue-Wright said she brought the news to CIS, and Williams was able to authorize payment for a week of the family's hotel bill.
That provided just enough time for some plans to come together in a meeting Donahue-Wright attended on Thursday. She said they are working with a church that has secured a place for the mother and her family.
"She should have the apartment by Wednesday," she said.
Supporting students
While they share the same job title, McMillan and Donahue-Wright came from very different backgrounds before starting their student support role.
Donahue-Wright is a professional social worker who has spent the last couple of decades in Guilford County Schools. She started her role at Dudley last school year.
One of the biggest myths she's come across, she said, is the idea that CIS only serves students who are failing out of their classes, getting suspended, or missing a bunch of school. They take the approach that dropout prevention has to cast a wide net: that includes high achievers who could use some support, just like anybody else.
"In reality, any student can be at-risk," she said.
When students come in, she said, she will sit with them and listen and problem solve. She keeps food and bottled water nearby.
"In doing so, we are building relationships; we are building trust," she said. "We are modeling for them consistency; we are modeling for them compassion."
A different path led McMillan to Smith four years ago. She once worked in banking and finance, has a master's degree in adult education, and worked as a community college instructor at one point. She previously worked with Communities in Schools for two years at Jackson Middle School, where CIS leads an after-school program.
She said when Williams first approached her about taking on the Smith job, she felt a little reluctant, figuring the vibe of the job might be different than running fun clubs for middle school students.
"But I was like, 'You know what, that could be really exciting too, because I get to tap into some resources and some other ways to try to help keep our kids in school,'" she said.
So she went for it.
"I love it; I love the work," she said. "I am not going to sit here and make it seem like it's easy, because it's not, because kids are coming to us from all walks of life."
McMillan has a list of students she wants to "lay eyes on" at least once a week. Sometimes, she's got to track them down, in hallways or in their classrooms. Other times, they come to her.
In early December, Smith junior Shay Damon stopped by the Communities in Schools office for a visit.
"You're so pretty!" McMillan told her, after Damon showed off a photo of herself on her phone.
Damon said her foster mother and McMillan know each other, and that helped lead to their connection when she came to Smith.
"I just came across her and ever since then, I'm always with her," she said.
She said she appreciates how McMillan is laid back, easy to talk to, and — like her title suggests — extremely supportive.
"She's just always here if you need anything," Damon said. "Like your right-hand-man kind of thing."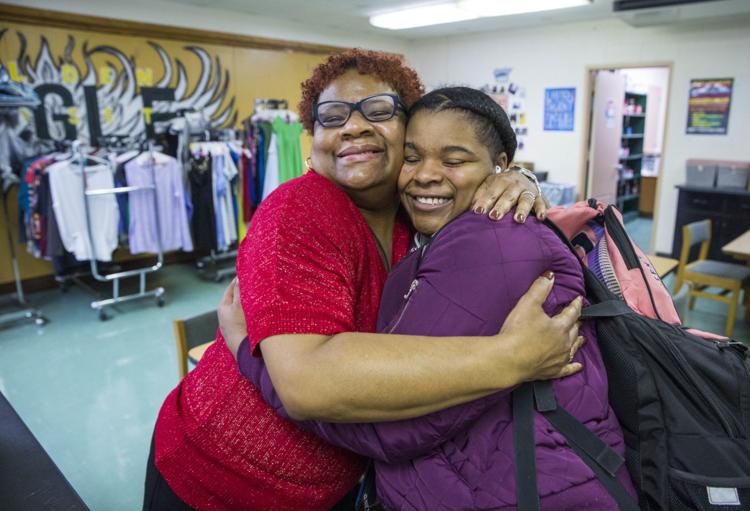 Partnering with local colleges
CIS draws on its partnerships with local universities to bring in college students to help in the two high schools.
McMillan and Donahue-Wright each have their own group of college tutors they can deploy for students who need assistance. They are paid for and supplied by the college work-study programs.
Each also leads a team of social work interns who assist with the work of helping keep students on track and in school.
At Smith, for example, McMillan had 53 high school students enrolled as of late November. These are students whose parents have specifically signed them up with CIS.
She has three interns who spend the day at the school on Tuesdays and Thursdays, each taking on "case management" of about eight of those students. Another dozen or so of the students receive similar assistance from Rashard Jones and his intern via the African American Male Initiative, a parallel program also run by Communities in Schools that provides mentorship to boys from elementary school through graduation.
Case management means regularly checking student grades and attendance, and the interns hold brief meetings with the students every week or two to help figure out if there's anything they can do to help them stay committed and successful in their classes.
Deaisha Cooper, a senior undergraduate social work major at UNCG, said she went into the role thinking students might not want to be open with her, that they might see her as a older person just trying to control them, and not grasp her purpose.
It was the opposite, she said.
"With my clients, most of them opened up to me right off the gate," she said. "When I first met them, they were willing to talk to me about what they had going on. And then the ones I didn't really interact with in the beginning, I figured out motives, or ways to get them to talk, to understand who they were."
Donahue-Wright said having the partnership with UNCG and N.C. A&T to bring in the social work interns is something that stands out about working with CIS, compared with her other past experience in the schools.
Students connect differently to different people, she said, and some may have a stronger connection with her while others might bond with the interns. She mentioned one student in particular, who sees her intern as her go-to person to talk to in the school.
"I think she feels very comfortable, just because she sees her as being more relatable, younger, versus an adult that's in an office," she said. "And that's the beauty of it."
Delivering donations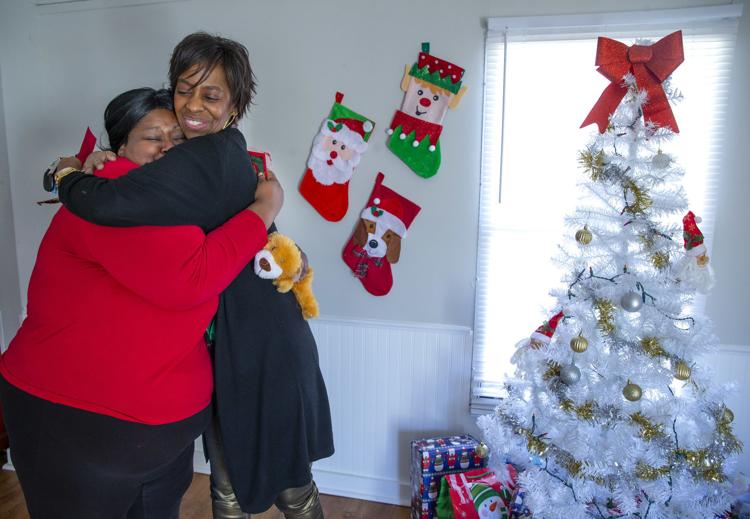 At Smith and Dudley, CIS manages donations, everything from clothing to canned goods, meant for students and their families as the organization tries to help those battling poverty or dealing with various temporary crises.
Donahue-Wright said at Dudley, they can especially use donations of socks. Other needed staples are soap, deodorant, toothpaste and washcloths.
CIS volunteer Dot Timmons, who reports to Donahue-Wright, mans the "Panther Boutique."
It's a little room, sort of an overgrown closet, off the in-school suspension classroom that's across the hall from the Communities in Schools office.
It's filled with donated clothes, gently used, which suffuse the space with the scent of clean cotton.
Over the past six years, the Dudley alumna has organized and curated donations and helped students who visit her in the boutique.
"We have a little bit of everything," she said.
Donahue-Wright said a large portion of the donations they receive come from within the Dudley community. That means teachers, staff, parents, alumni and students trying to find ways to care for one another.
She told the story of how one Dudley parent and her daughter worked together on a gift for families in need: a bunch of Food Lion gift cards the daughter then artfully attached to plush toys.
A portion of that gift rode along with Donahue-Wright on the last day of school in December as she made food deliveries to families.
She had two delivery stops in mind on that trip, one to the family living in the hotel, the other to the home of Shawanda Todd, a Dudley parent who lost her belongings and the apartment she'd been renting in a fire last March.
When that fire happened, Todd turned to her children's schools to ask for help, at a loss for many other options. That's when she first got to know Donahue-Wright, who began regularly assisting the family with food and gift cards to buy groceries, among other kinds of help.
On that Dec. 20 delivery run, Donahue-Wright presented Todd with a golden-fur stuffed dog bearing a gift-certificate, along with a cardboard box full of food.
Todd wrapped her arms around Donahue-Wright, her left hand still holding the toy, which rested against the other woman's back as they hugged.
"She's been a sister and auntie, most everything to my family," said Todd, who most valued how the social worker showed her care. "'I just wanted to check base with you, see how you are doing,' — those words meant a lot to me."