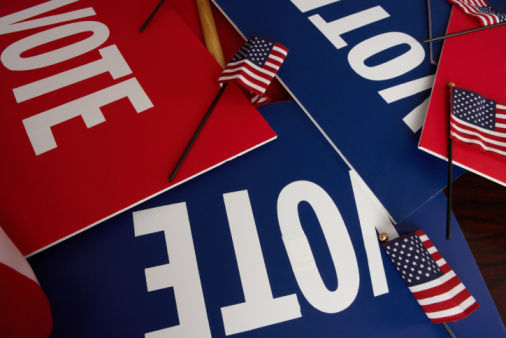 Early voting for North Carolina's primary starts today. If you attend UNCG or N.C. A&T, congrats! Your hike to a early-voting site is pretty short. For other colleges in and around Guilford County, you'll have to make a little more effort if you want to vote before the March 3 primary.
Got it? OK. Here are the most convenient early-voting options for local college students:
UNCG: The on-campus early voting site is the Kaplan Center for Wellness, aka the student recreation center on West Gate City Boulevard. I don't need to tell students and employees how to get there. For visitors street parking is sometimes hard to find around the Kaplan Center, so I'd recommend the Oakland Avenue deck on Spring Garden Street. It's about a 5-minute walk from there to the rec center.
N.C. A&T: The campus early voting site is in the Dudley Building, the one with the February One Monument out front. There's a traffic circle off of North Dudley Street with a few parking spots that might or might get you ticketed, depending on how lucky you're feeling. Other parking options: the parking deck on Laurel Street behind the library, or pick up a visitor's pass from A&T's parking services office. Click here for details.
Bennett College: Bennett students can walk, drive or march up Dudley Street to A&T's Dudley Building.
Greensboro College and Elon University School of Law: The best early-voting option for the two downtown Greensboro institutions is the Old County Courthouse on West Market Street. It's within walking distance of both schools.
Guilford College: The city's Leonard Recreation Center on Ballinger Road is about a 5-minute drive from campus.
GTCC: From the main campus in Jamestown, head over to Jamestown Town Hall on East Main Street. For folks at the Greensboro campus, the Guilford County Agricultural Center on Burlington Road is closest. From the High Point campus, try Washington Terrace Park on Gordon Street or the Roy B. Culler, Jr. Senior Center on North Hamilton Street.
High Point University: Washington Terrace Park is about a mile from campus.
Are there any other early voting sites on college campuses? Indeed there are. In addition to UNCG and A&T, at least six other UNC System schools have early voting sites on their campuses: Winston-Salem State (Anderson Center), N.C. State (Talley Student Center), Appalachian State (Plemmons Student Union), N.C. Central (Turner Law Building), UNC-Charlotte (Belk Gymnasium) and Western Carolina (A.K. Hinds University Center). UNC-Chapel Hill doesn't have one, but the closest site (Church of the Cross on East Franklin Street) backs up to the Morehead Planetarium on campus. If I missed one, let me know.
Be the first to know
Get local news delivered to your inbox!