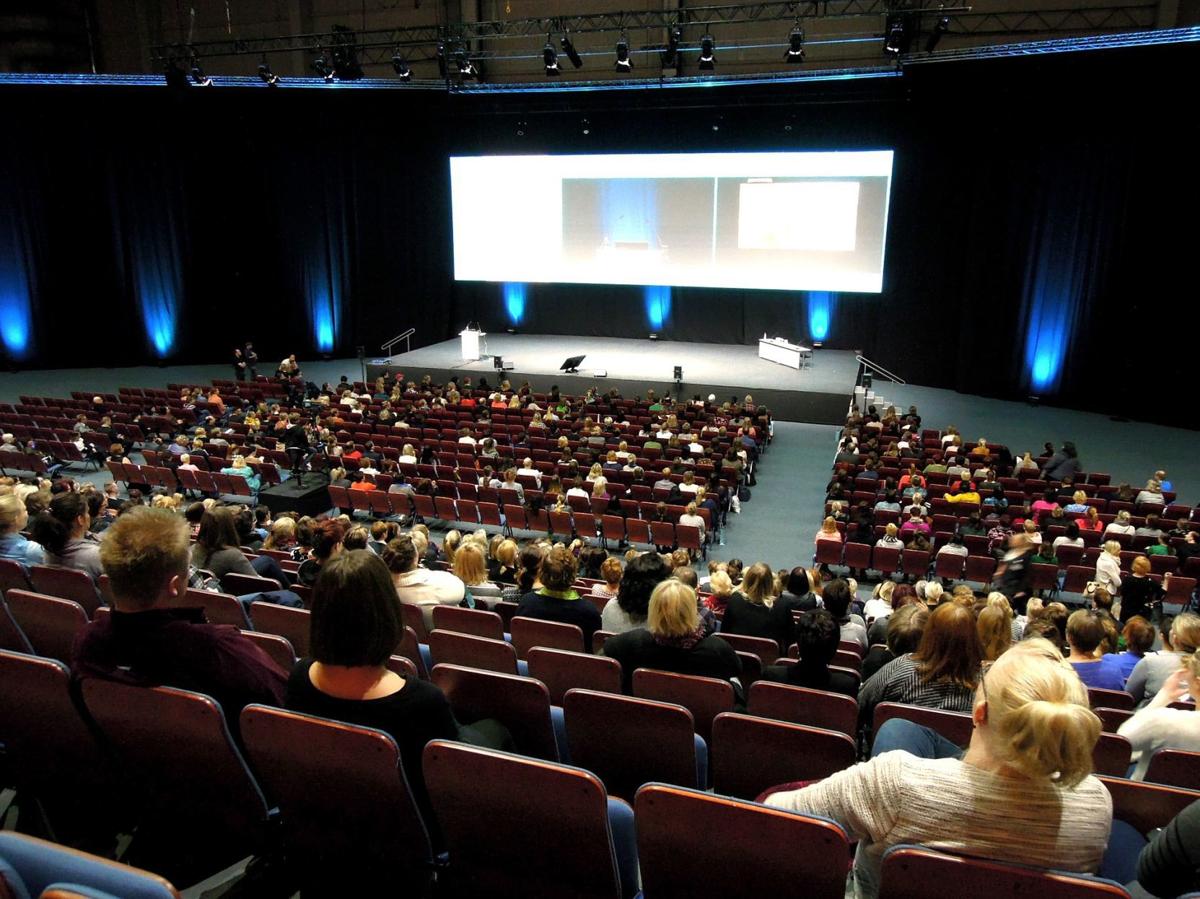 It should be pretty clear by now that many and probably most U.S. colleges and universities will be open for business, in-person and on-campus, in the fall. And why shouldn't they? A lot of states (including this one) are lifting stay-at-home orders and allowing stores and restaurants to reopen, and higher ed is indeed a business, even though it has more brick, ivy and fountains than the typical suburban shopping center.
But should colleges and universities reopen, even if people wear masks, douse themselves in hand sanitizer and stay 6 feet apart from everyone else in classrooms, dorms, dining halls and football stadiums? There seems to be a growing chorus of doubt toward the idea that reopening college campuses is a good idea. As one keen observer of higher education (me) wrote recently: How do you enforce social distancing on a college campus, one of the most crowded spaces in modern America? 
Here in North Carolina, all signs point toward colleges reopening in the fall.
At the end of April, interim president Bill Roper announced that he expected UNC System campuses to reopen in August and said each campus would be responsible for figuring out how to make that happen. In the three weeks since then, several state universities have told their students and employees about their fall plans. UNC-Charlotte will start the fall semester two weeks late, and UNC-Chapel Hill and N.C. State both announced Thursday that they'll start two weeks early. East Carolina University is splitting its fall and spring semesters into two blocks. N.C. A&T and UNCG announced Monday that they'll start on time, but they'll cut out fall break and wrap up classes before Thanksgiving. A&T and UNCG exams will be held after Thanksgiving; at Chapel Hill and State, it's finals first, then turkey.
Of the five schools I mentioned above, only UNC-CH so far has announced pretty specific details about changes to campus life. The other four are still working out those details. I expect those to be announced starting next week. 
If there was any doubt about the UNC System's intentions for the fall semester, here's Roper — a medical doctor and former director of the Centers for Disease Control and Prevention — once again after Wednesday's Board of Governors meeting:
"We are optimistic and expect that our students, faculty and staff will return to their classrooms, labs and libraries this fall with the appropriate safeguards for health and safety in place. We're working through a series of possible scenarios and contingency plans with the chancellors for the fall term consistent with what other universities around the country are doing. We're readying the universities for a return to fall operations so they can operate under any sort of circumstances. Of course, our plans will be informed by the needs of students, faculty and staff, the advice and directives of public health authorities and orders from governmental authorities. ...
"There's every indication that the strong preference of students, families, the faculty and staff themselves and others is to in person-teaching. Our strong preference and the option that we're leaning into and planning for is to return (to) in-person instruction. We are, like other universities around the country, looking to see how best to do this. ... We want to do this right, and we want to do it successfully."
Roper's not wrong when he says that students prefer to be on campus and in the classroom.
In a recent survey conducted by Niche, the website that ranks and reviews colleges, K-12 schools and neighborhoods, 10,000 high school and college students were asked if they found certain things appealing about college. The winner: in-person classes, which 78 percent found appealing. The big losers: online learning (appealing to just 29 percent) and delaying the start of the fall semester (appealing to only 12 percent). In addition, about 60 percent said it was "important" or "very important" that campus housing reopen and social events resume in the fall. Inside Higher Ed has more on the survey here.
But it is really such a great idea to reopen schools in the fall, especially when no one knows if COVID-19 will still be kicking around three months from now? 
College leaders are considering a few key questions: How do you regularly test a 20,000-student campus? How do you police student movement on campus to help with contact-tracing efforts? And will students and their families even want to pay thousands of dollars to risk their lives?
In this interesting New York Times story, the reporter is a fly on the wall (figuratively, not literally) as University of Kentucky administrators run through a lot of possibilities and try to balance many competing university interests:
The scenario many committee members were drawn to involved bringing everyone back to campus as usual, even though it was clear that things could not be truly normal.
"We know there's going to be no such thing," said (associate provost Sue) Roberts, who headed up Team Blue.
But a full return for the fall would also be the riskiest.
"We're worried," Dr. Roberts added. "What would happen if there was another outbreak of Covid-19, and worse, what would happen if we, in some ways, were complicit?"
This essay from the president of Paul Quinn College, a private Methodist school in Dallas, got a lot of buzz when The Atlantic published it last week. Part of the buzz came from the headline ("Colleges Are Deluding Themselves"). And then there's what Michael J. Sorrell went on to write:
Because of the manner in which most residential colleges are operated, these institutions cannot use traditional face-to-face instructional methods and expect anything other than an unacceptable rate of disease transmission. Because we do not yet have the ability to bring students and staff back to campus while keeping them safe and healthy, we simply cannot return to business as usual. To do so constitutes an abdication of our moral responsibility as leaders.
We must ask ourselves: What would make leaders gamble with human life this way? The answer is twofold: fear and acquiescence — both of which, when left unchecked, lead down a path to moral damnation. The fear of the fiscal damage associated with empty campuses in the fall is the primary reason that schools are exploring every option to avoid that possibility. Many schools literally cannot afford an online-only existence; students would not want to pay the same amount for such an experience, but charging them less would lead to bankruptcy for some institutions. Exploring options to avoid financial ruin does not make you a bad leader. On the contrary. However, if a school's cost-benefit analysis leads to a conclusion that includes the term acceptable number of casualties, it is time for a new model.
(Spoiler alert: Sorrell is actually optimistic about higher education's future because schools now have the freedom to innovate: "As is often said in black churches, there can be no testimony without a test. The coronavirus is our test.")
Lastly, Seton Hall University higher education professor Robert Kelchen explains in the Chronicle of Higher Education why he thinks colleges seem so intent on reopening in the fall. There are three factors, he writes: It's a mix of wanting to keep students enrolled (and keeping tuition dollars flowing), political posturing and sheer optimism. Kelchen goes on to predict that leaders of some elite colleges will announce in about a month from now that they'll stick with online classes in the fall. Those decisions, he adds, will give a lot of schools the political cover to make the same call in July.
That timeline creates major concerns about educational quality. Both colleges and students want fall courses to be better than the ones they had this spring. But designing courses to be most effective in an online format takes significant time and resources, and I worry about the implications of an early-July decision on courses that are to start eight weeks later. Instructional designers and information-technology professionals are likely to become overwhelmed, faculty members will balk at the additional uncompensated work, and everyone in higher education is already exhausted from the past few months.
Nobody wants to be among the first presidents to announce that classes will be fully online in the fall. The financial and political risks can't be ignored. But the scenario is almost a certainty, and the risks will be even greater for colleges that take too long to prepare for it.
It's a weird time for all of us, including and maybe especially for higher education. Stay tuned.
Staff writer John Newsom covers higher education for the News & Record of Greensboro and the Winston-Salem Journal.
Have something to say about this blog post? Email him at john.newsom@greensboro.com. You can also follow him on Twitter at @JohnNewsomNR.
Support his coverage of higher education. Click here and here to learn about digital subscriptions the News & Record and the Journal.
Concerned about COVID-19?
Sign up now to get the most recent coronavirus headlines and other important local and national news sent to your email inbox daily.