(I've updated this post once below.)
When I was working on a story last month on a long-ago Greensboro resident who worked at N.C. A&T and was a hero of World War I, the A&T archivist mentioned something in passing:
There's someone at a school in Missouri who's investigating whether Campbell and some other black soldiers should be awarded a Congressional Medal of Honor. 
That tip from James Stewart turned out to be 100 percent correct. It also turned into a follow-up story on Lt. Robert Campbell, who worked at A&T from 1911 to 1949, minus a couple of years in France during the Great War and a few years at some other colleges thanks to the whims of the U.S. Army. Campbell, among other things, was A&T's first military science instructor. The ROTC building on campus is named for him.
You can click here to read my Aug. 14 profile on Campbell. You can click here to read my folo-up story on the effort being led by Tim Westcott, an associate professor of history at Park University and director of the university's George S. Robb Centre for the Study of the Great War. This blog post will give you a lot more info on this fascinating project.
Now for some links and more details:
• Here's a Park University news release from April that details the Valor Medals Review, the formal name of the effort set by in 2018 by The United States World War One Centennial Commission. Westcott and Jeffrey Sammons, a history professor at New York University, are the two lead researchers on this project. (Sammons, by the way, got his history Ph.D. at UNC-Chapel Hill.) If you'd like a more visual explanation, here's a short (less than 3-minute) video that explains the project.
• The project has gotten some media attention. Here's a CBS Evening News story that aired in early July. The CBS affiliate in Kansas City did 5 minutes — an eternity in TV — on the effort. In April, a Washington Post columnist wrote about Sgt. William Butler, the black soldier featured in the CBS Evening News report.
• Here's a quick history lesson via The National WWI Museum in Memorial in Kansas City. "Make Way for Democracy" is a short picture-and-text exhibit of the African American experience during World War I.
My thanks to Brad Biles at Park University for the links.
Speaking of Park, it's an interesting place. The main campus in Parkville, a Kansas City suburb, has about 1,600 students. Park has another 7,900 or so more students enrolled this semester in one of its 41 other campus centers across the country. Most of those campus centers are located at military bases. There's a North Carolina branch at the Marine Corps Air Station in Cherry Point.
Roughly half of Park's students are active-duty military or military veterans. When you add in dependents, 55 percent of the university's student are military affiliated. That's a lot compared to most other four-year schools. Westcott, by the way, is a veteran. So, too, are both of the undergraduates who are serving as research assistants for this project.
Update, 2 p.m. Thursday: Here's a little piece of history — a copy of Campbell's orders assigning him to A&T in 1919.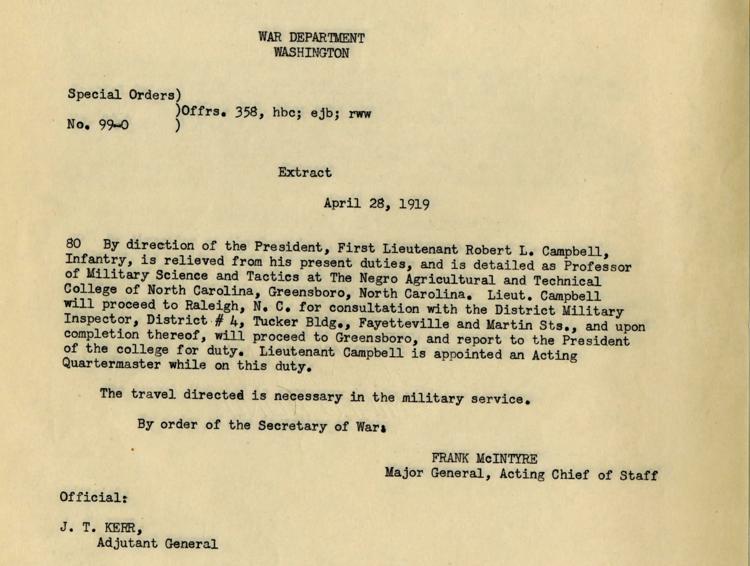 Former News & Record staffer Andre Taylor found this War Department letter several years ago when he was doing research on desegregation in the military. He posted this on Facebook today, I just happened to scroll past it and he gave me permission to share it here. Dre's now in the graduate program in public history at N.C. State University. Here's an example of some of the work he's been doing since he left the N&R.