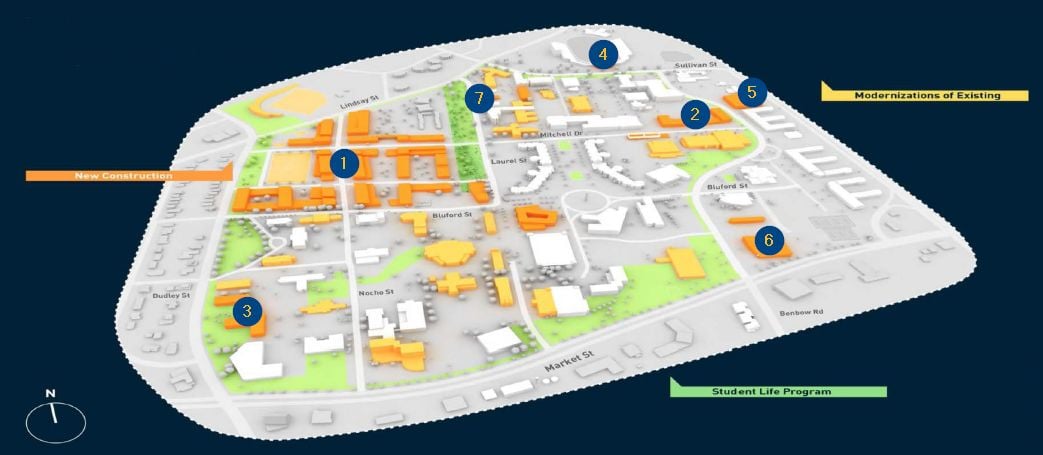 Every so often, colleges and universities put out new master plans that show what sort of things they'd like to build on their campuses.
The latest university to do so is N.C. A&T, which showed off an updated version of its master plan at April's trustees meeting. (A&T officials are calling it a master plan "refresh.") The plan goes from 2020 to 2035 and gives a broad outline of the things A&T would like to do both sooner (by 2027) and later (by 2035).
The map at the top of this blog post shows A&T's plan for its campus. New buildings are in orange, renovations and expansions are in yellow, and outdoor landscaping and recreation space is in green. I added the numbers and letters to the map to help you make some sense of it. The report is here on pages 16-22 if you want more details. On page 21 is the original map I used for the graphic.
First: The Global Village, which is No. 1 on the map above.
The current A&T campus footprint is a reverse L, bordered roughly by East Market, Dudley, Bluford, Laurel and Sullivan streets and U.S. 29. The university is trying to buy up the entire neighborhood between its campus and War Memorial Stadium, where the baseball team plays. That area will become what A&T is calling the Global Village — a mix of residence halls and academic buildings plus a campus rec field.
But progress on the land-buying front has been slow. By my count, there are about 160 homes and an apartment complex (the older part of the University Park complex) in the area bordered by Bluford, Dudley, East Lindsay and Laurel streets. After years of buying property in the area, A&T owns or is close to owning only about 30 percent of it. Most of A&T's holdings are on the southern end of the property along Bluford Street near Harrison Auditorium and the Dudley Building.
The university does own enough property that it recently announced the first Global Village project — a 440-bed residence hall that's scheduled to open in late 2019.
Second: Speaking of dorms, A&T wants more and better residence halls.
A&T has some major residence hall changes in mind. One new dorm (2 on the map) would replace Haley Hall (which opened in 1969). A second new dorm (3) would replace Vanstory (built in 1966) and Barbee (1969) halls. Most of A&T's older dorms (Holland, Morrison, Curtis) would get renovations, and one (Cooper) would be renovated and expanded.
Third: A&T would like some other new buildings as well.
A few things on A&T's wish list include a new main entrance to Aggie Stadium (4 on the map above), a second parking deck (5), a new performing arts space (6) and a new police station (7). A lot of other academic buildings (in yellow) would be renovated.
Finally: What about funding? That's always the question, isn't it?
The new Aggie Stadium entrance at the south end zone probably will happen, too. The facility will have coaches' offices, training areas, locker rooms and sky boxes. I suspect this will be part of A&T's ongoing but still not public capital campaign. 
The police station, the parking deck and a proposed dining hall expansion are more probable than not because there's money potentially available for both projects. A&T can use fees from meal plans to expand its cafeteria, and it can use parking permit fees to build more parking lots. A&T also collects rent money from the campus restaurants and the bookstore. That's how UNCG built its new police station, and I suspect A&T took good notes.
The academic buildings are a lot less likely. The reason: money, naturally. There just isn't any reliable or accessible source of cash for academic buildings.
UNC schools can't use tuition or student fees for academic buildings. (They can use student fees for student buildings such as A&T's new student union, which opens this fall.) A&T doesn't have enough big donors to finance new academic buildings. A&T doesn't do enough research to pay for major construction. (Huge research universities like UNC-Chapel Hill get hundreds of millions of dollars each year in research overhead money; A&T's haul in 2016-17 was just shy of $4.5 million, according to a new UNC System report.)
So that's where A&T is heading, campus construction-wise. Check back in 2035 and see how much of it got done.