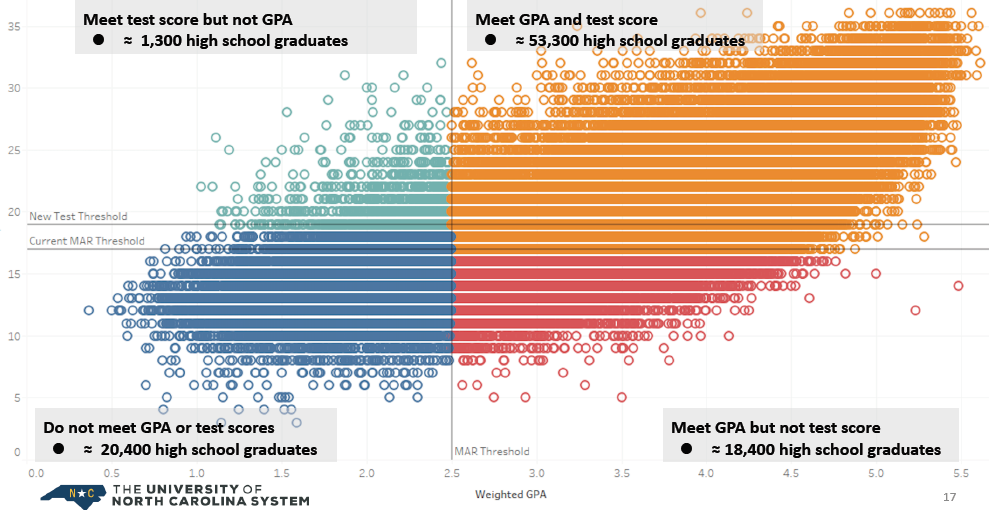 (I've updated this post once below.)
For instance — and this is seriously a big deal — the BOG this week will consider the first change to its minimum freshman admissions standards in 12 years.
The current standard, in place since 2008, requires prospective first-year students (1) to do three things: pass 15 core courses in English, math and other academic areas (2), compile a weighted cumulative high school GPA of 2.5 (on a 4-point scale) AND score better than a 17 on the ACT or an 880 on the SAT.
The proposed new standard: pass the same 15 courses as above and have EITHER a weighted GPA or 2.5 or better OR post a minimum, but higher, score on a standardized test (3).
By emphasizing grades over standardized test scores, "we're putting more weight on a student's four-year high school career," Bethany Meighen, the UNC System's vice president for student affairs, told me in an interview last month.
According to the UNC System, about 20,000 high school graduates each year can't be considered for admission to one of North Carolina's 16 public universities because either their grades or test scores aren't high enough. Of those, roughly 90 percent meet the GPA requirement but not the test score standard. Another 20,000 high school grads fall short on both the GPA and test metrics and will remain ineligible.
A big reason for the change? Access, which is one of the five pillars of the system's strategic plan. The UNC System has told schools to accept and graduate more students from low-income families and rural communities. Problem is, many of these students who don't meet the current admission standards are from low-income families or live in rural communities or both.
A couple of things have happened since 2008 that have led to this proposed change.
The first is that more and more research suggests that high school grades and not test scores are the more important predictor of college success. (I'd argue that the evidence has been around for a while; the famously test-optional Wake Forest University stopped looking at test scores 12 years ago, for instance. What I think is new here is that more folks in higher ed seem inclined to believe what this growing body of research is telling them.)
The second are the encouraging results of the UNC System's own pilot admissions program. Since fall 2015, the UNC System has let three schools — Elizabeth City State, Fayetteville State and N.C. Central — accept new freshmen who had high schools GPAs of 2.5 or ACT or SAT scores below the cutoff.
In five years, these three schools have admitted nearly 1,100 students under the pilot. These students had grades on average in the low-to-mid 3s — a B average, in other words. Their ACT scores averaged about 15 or so.
The UNC System has liked what it has seen so far. Freshmen admitted under the pilot are performing at roughly the same level as classmates who met the UNC system's minimum admission standards. The pilot students are all in the ballpark on year-to-year retention, college grades, college credits earned and four-year graduation rates, according to the UNC System report published in January. (Click here and find item A-5.)
The proposed change won't mean that UNC System schools will admit an extra 20,000 freshmen each year, David English, the system's vice president for academic programs, faculty and research, told me last month. It means that an extra 20,000 freshman could be considered for admission. It's then up to the individual schools to take them (or not). 
"We don't anticipate that all of these students will be admitted," English said. "We won't be telling the institutions that they can no longer look at these students."
The Board of Governors' educational planning committee talked about the proposed new standards last month. That same committee will consider the revised policy language Thursday morning. (Click here and look for item A-4.) If the proposal clears that committee, the full BOG will vote on it March 20.
The change would take effect for the first-year class entering college in fall 2021.
And now for the footnotes from above:
(1) Here's an important caveat to all of this: The minimum standard applies only to first-time college freshmen who are under age 21. If you're 21 or older or an active-duty service member, you're exempt from these course/grades/test score requirements. Students under age 21 who have amassed at least 24 college credits somewhere else also are exempt.
(2) Those core courses are four in math, four in English, three in science, two in social studies (including U.S. history) and two in foreign language. Mind you, they are not just any ol' math and English and science courses. Click here for the full list of required courses.
(3) The proposed new test-score standard: an ACT of 19 or an SAT of 1010. Why those numbers? The average ACT score for all graduating high school seniors in North Carolina in 2019 was 19, and a 1010 on the SAT is roughly equivalent.
Be the first to know
Get local news delivered to your inbox!