Higher ed, for the most part, has fared OK during the pandemic.
A year ago, as COVID-19 cases were on the rise and colleges were closing their campuses and moving classes online, I saw predictions that college enrollment might take a nose dive in the fall of 2020. This report, for instance, forecast that some schools might lose as much as 20 percent of their students — a potential catastrophe, especially for some smaller schools that were struggling long before anyone had heard of the SARS-CoV-2.
That initial reluctance to return to campus — fueled by rising unemployment the unknowns of a pandemic — mostly waned by the start of the fall semester. Fall 2020 enrollment, according to the National Student Clearinghouse, was down just 2.5 percent across the country.
But sector numbers tell much different stories.
Enrollment was basically flat at both four-year publics (up two-tenths of a percent) and four-year private nonprofits (down one-tenth of a percent.) The UNC System saw a 1 percent overall increase, thanks largely to a 4 percent rise in graduate enrollment.
But undergraduate enrollment at both two-year and four-year schools declined 3.6 percent across the board. Enrollment of first-time college students was down 13.1 percent. It's clear that colleges and universities had a hard time convincing recent high school graduates to pay for the privilege of taking online Zoom classes that they took for free — and disliked — in the spring.
And then there was the entire public two-year sector — the community colleges and technical schools that about a quarter of all U.S. college students attend. Nationally, community college enrollment dropped 10.1 percent — about 544,000 students — in fall 2020. Enrollment was down among students 24 and younger (11.9 percent), 25 and older (10.7 percent), full-time students (10.6 percent), part-time students (9.9 percent) and male students (14.7 percent).
EdNC recently took a must-read deep dive into the enrollment story at North Carolina's community colleges, which saw similar declines — 11 percent overall, 6 percent in curriculum programs, 22 percent in workforce training programs, more than half in basic skills programs. Only four of the state's 58 community colleges, EdNC reported, saw year-to-year enrollment gains last fall.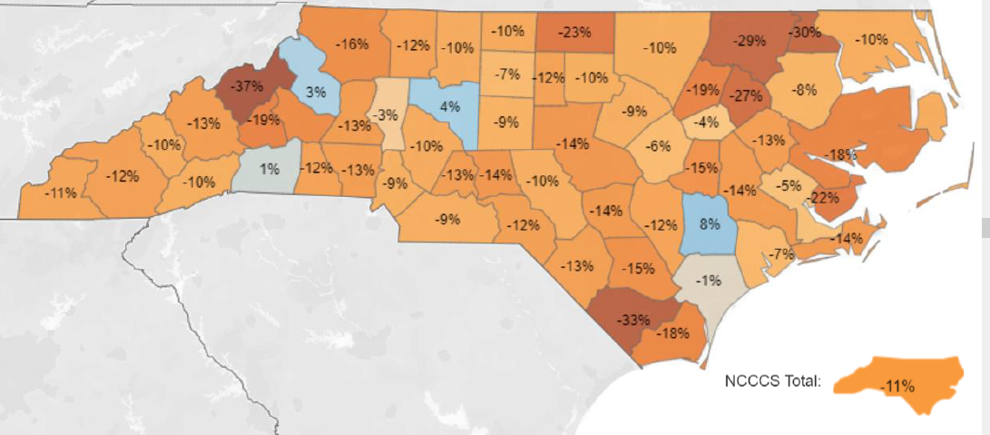 Most of the colleges in this immediate area fared a little better than the state overall. GTCC (down 7 percent in FTE*), Forsyth Tech (down 10 percent), Rockingham CC (also down 10 percent) Randolph CC (down 9 percent) and Alamance CC (down 12 percent) all saw enrollment declines. Davidson-Davie CC (up 4 percent) was one of the four colleges statewide that saw enrollment go up this fall.
COVID-19 is the proximate cause of enrollment decline. But what surprised community college leaders is that a rising unemployment rate — usually the cause of rising college enrollment — didn't lead more people to enroll in school. Instead, students stayed away.
"Historically, community colleges serve more diverse populations — often those who have traditionally been underserved in all facets, including the education system.
"Pre-pandemic, food insecurities were as high as 49% at two-year institutions, compared to 40% at four-year institutions ... And rates of housing insecurities among students ranged from 41% to 59% at two-year schools, compared to 25% to 47% of students at four-year schools. Also pre-pandemic, many students didn't have internet at home and relied on school facilities to complete coursework.
"The pandemic exacerbated these challenges for community college students. Students lost internet access, lost jobs, and had to take care of ailing family members or children now trying to do school at home. For those hit the hardest, many had to make the difficult decision to reduce course loads or press pause on their academic careers.
"'Students are balancing teaching at home, having to change hours because of either being laid off or their job responsibilities changed. There are just so many variables in their life that changed, and they couldn't manage school anymore,' said (Jason) Hurst, (president of Cleveland Community College)."
A lot of community college students, another college president told EdNC, "are hunkering down."
There were other factors, too, EdNC reported. Some students don't have affordable broadband internet access. A few have only a phone to use for their classwork. And some hands-on college classes simply don't work well online.
The Hope Center for College, Community and Justice at Temple University in Philadelphia put out a report this week that documented many of these same trends nationally.
Its #RealCollege 2021 survey (click here to read the full report) found that the pandemic put a lot of stress on community college students. They were more likely than their peers at four-year schools to be dealing with COVID-related illnesses or deaths of family members or close friends, more likely to be taking online-only courses, more likely to be attending colleges that closed their campuses, more likely to be taking care of a family member or their children while attending class, more likely to have lost a job or had their hours cut at work. It's no wonder that among the students who answered the #RealCollege survey that part-time enrollment went from 39 percent to 56 percent last fall. That's a worrisome trend, as students who enroll only part time will take longer to finish and increase their chances of dropping out.
So why does community college enrollment matter? I see three big reasons.
First: Fewer folks enrolled in community college means there are fewer people in the jobs pipeline. Community college graduates are plumbers and nurses and welders and nurses and dental hygienists and cops and auto mechanics. The manufacturing sector has long complained about a shortage of workers in skilled trades. Expect to hear more from them, and some other industries, too, in the coming months.
Second: Community college students are a significant source of new enrollment for several of the state's four-year universities.
For each of the past five years, the UNC System schools have added at least 10,400 new students by way of transfers from N.C. community colleges. Last fall, four state universities (UNC-Charlotte, East Carolina, UNC-Wilmington and UNCG) each welcomed more than 1,000 transfer students from N.C. community colleges, and a fifth campus (Appalachian State) added almost that number. For context, the 10,446 former community college students who entered state universities last fall represented about 5 percent of the total undergraduate enrollment of the UNC System. 
Third, lower enrollment means smaller budgets for community colleges. The trickle-up effect — a smaller pool of community college transfers could lead to shrinking enrollment at four-year universities — means potentially smaller budgets for the UNC System schools as well.
Higher ed across North Carolina isn't panicking but it's definitely concerned. It's something it, and you, should keep an eye on.
* A note about enrollment, which is way more complicated than it should be: I prefer headcount enrollment, which is the number of people who actually attend a particular college. The N.C. Community College System clings stubbornly to FTE enrollment, or full-time equivalent. That's because community college budgets are based on FTE, which gives a more precise accounting of classes being taken because community colleges have a ton of part-time students. I use headcount enrollment with the video paired with this blog post. (It's at the top of the page; please click early and often!) But for the blog, I use FTEs where I write about North Carolina enrollment to remain consistent with the EdNC story and the community college system numbers.
The system office has both headcount and FTE enrollment numbers on its website. Click here to see all of that data.
** The map that appears partway through this blog post comes from the Fall Enrollment Shifts report, which was presented to the State Board of Community Colleges at its Feb. 19 meeting. Click here to read that report, which digs into the fall 2020 enrollment numbers across North Carolina.
Staff writer John Newsom covers higher education for the News & Record of Greensboro and the Winston-Salem Journal.
Have something to say about this blog post? Email him at john.newsom@greensboro.com. You can also follow him on Twitter at @JohnNewsomNR.
Support his coverage of higher education. Click here and here to learn about digital subscriptions the News & Record and the Journal.