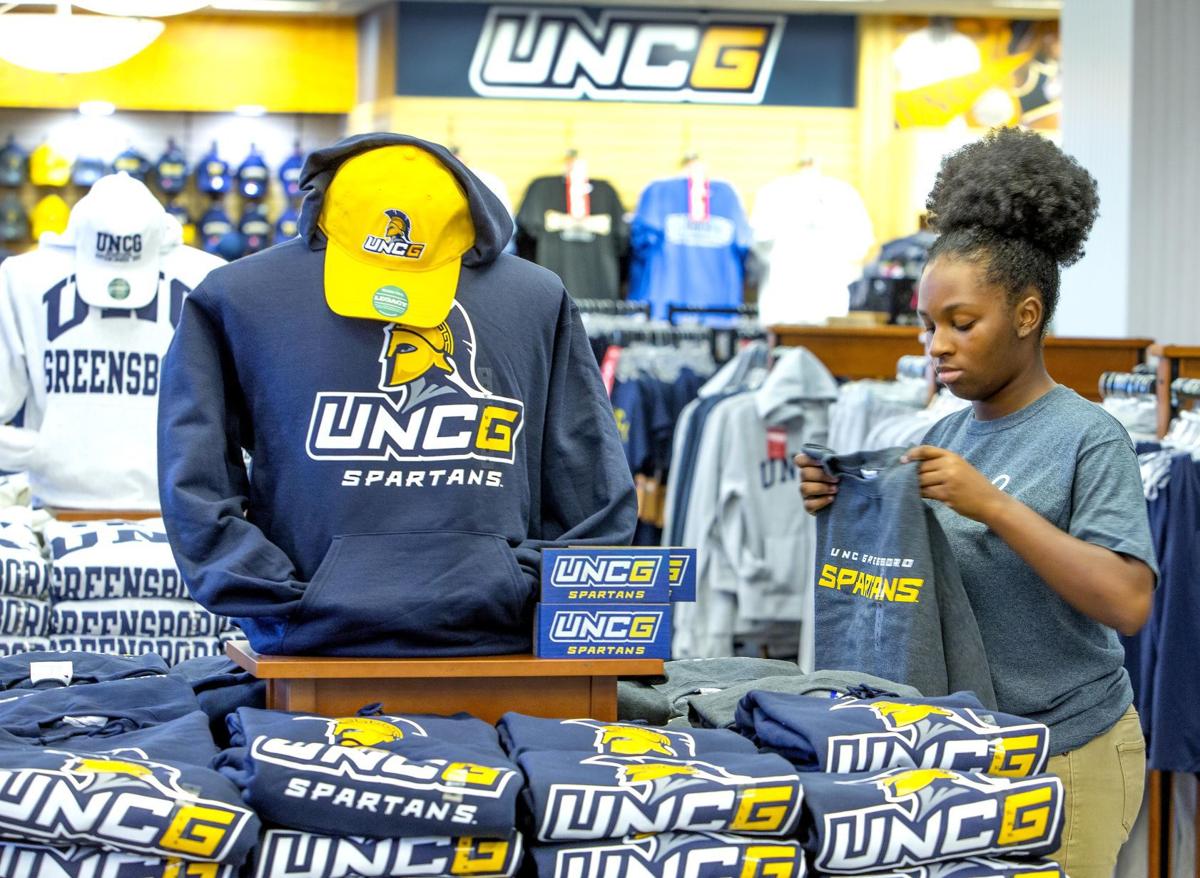 (I've updated this post below.)
In the stables here at The Syllabus, I keep several hobby horses saddled up and ready to ride.
Because colleges and universities are corporate, they're bureaucratic. And because they're bureaucratic, they have policies for everything under the sun. I mean that literally. I wrote a couple of years ago about the policy that GTCC has for public use of its campus lakes. That policy, still in effect, allows fishing from dawn to dusk but bans "recreational wading, swimming (and) boating."
So when UNCG last week trotted out its new logo, it trumpeted the fact that it had "slightly adjusted" its blue and gold colors "for a richer appearance" and "gray also has been adopted as an official school color."
"The University Colors" policy specifies the exact shade of blue and gold so when UNCG orders uniforms and T-shirts and admissions brochures it gets UNCG blue and not Duke blue or Carolina blue. 
Because colleges are bureaucratic, they also have lots and lots of meetings. One of those meetings is to be held today, and it features the Chancellor's Council, the group of senior-level UNCG officials that deals with, among other things, policies too trivial for the university's Board of Trustees. (And, yes, there's a policy that lets the trustees kick certain decisions to the chancellor.)
UNCG Chief of Staff Waiyi Tse told me via email last week that on the agenda of the Council's first meeting of the 2018-19 academic year (the Council doesn't meet over the summer) is changing UNCG's school color policy to reflect the new reality. Tse that the UNCG folks responsible for the new look "have been getting Chancellor's Council feedback all year long on branding, so we do not anticipate any issues!"
P.S.: In case anyone is confused by my lede, the stables in question are metaphoric, not real. The Syllabus has no actual budget for buildings, land, horses, hay, straw, oats or pitchforks.
Update, 2:45 p.m. Aug 13: The UNCG Chancellor's Council did indeed meet Tuesday. Instead of amending the policy to reflect the new school colors, the council killed it off.
Here's part of the email I got from UNCG spokeswoman Eden Bloss: 
" ... the Council recommended that this specific policy should be sunset because it is not necessary. These decisions fall within the scope and responsibilities of marketing. This approach is consistent with other UNC System institutions. The Chancellor accepted this recommendation, and we have sunset this policy."
I need to amend my earlier statement, then: Universities have policies for almost everything, not literally everything, although it sure seems that way.