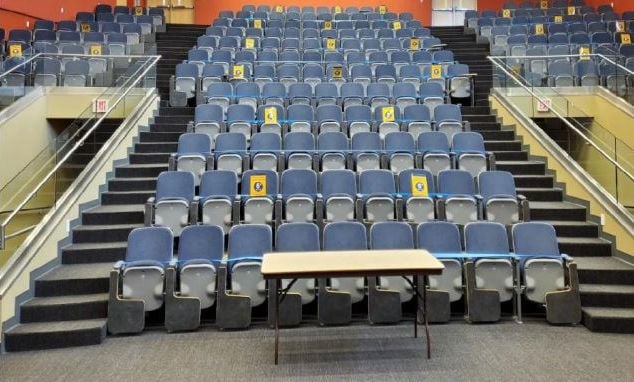 Now that the worst of the COVID-19 pandemic seems* to be behind us and commencements are starting to happen once again, colleges and universities are planning for the upcoming fall semester. I keep hearing that schools want things to look and feel like the pre-pandemic fall 2019 semester rather than the locked down and masked-up fall 2020 term.
But N.C. A&T's plan for the fall has elements of both prior fall semesters. It'll seem largely like a pre-pandemic semester, but there will be just enough reminders that COVID-19 (probably) will still be around. 
A&T trustees on Friday, when they weren't the announcement of a record-shattering fundraising campaign, heard a lot about the university's plans for fall 2021. Administrators in two different committee meetings covered how A&T plans to open campus back up while trying to ensure the health and safety of students, faculty and staff.
A&T is working under the assumption that over the summer more people will get vaccinated and COVID-19 cases will continue to decline decline. Just last week Gov. Roy Cooper lifted the outdoor mask mandate, raised gathering limits to 100 inside and 200 outdoors and promised another round of restriction-lifting could happen June 1.
Just in case, A&T officials also put forth some Plan Bs if COVID-19 numbers start heading back up.
I know this blog post covers only A&T's plans for the fall, but I suspect that most other schools in the area will do something similar. Here's the edited and condensed version of what was covered at Friday's board meeting. Let's dig in.
• A&T's fall classes will start Aug. 18. Students once again will get time off for Labor Day (Sept. 6) and fall break (Oct. 11-12). But as in fall 2020, students will go home for the Thanksgiving holiday and not return to campus until January. The final week of classes and final exams will be done online. A&T's Plan B would mean a repeat of the fall 2020 semester: There would be classes on Labor Day and during fall break, and classes would end before Thanksgiving.
• Students will be able to take the bulk of their classes in-person again. But expect to see hybrid classes stick around. (Hybrid classes blend in-person and online instruction.) That's because A&T wants to keep class capacities low — 20 percent in auditoriums and 33 percent in classrooms — to allow for social distancing.
• The three Ws will remain in place: wear a mask, wash your hands and wait six feet apart. A&T didn't mention anything about wearing masks outside, but N.C. State University last week lifted its requirement. Masks on that campus still will be required in most indoor spaces on campus with some exceptions. Speaking of masks, A&T plans to issue five cloth masks with the A&T logo to all students and employees when they return to campus.
• Expect to see a lot of the fourth W as well: wiping. A&T says housekeepers will continue to clean door knobs, elevator buttons and other high-touch areas throughout the day. Expect to see hand sanitizer, sanitizing wipes and clear plastic dividers all over campus again in the fall. Academic buildings and residence halls will be deep-cleaned over the summer.
• Campus housing will return to full capacity except for one dorm that will be set aside as quarantine and isolation space for students. (Dorms are at close to 70 percent capacity now.) Plan B would be to reduce capacity to 80 percent. Plan C is 70 percent capacity. A&T's Plan A means that about 5,500 students will be living in university-controlled dorms and apartments on and near campus. A&T said there will be some initial restrictions on dorm visitation that will be eased up over the course of the semester, but the university wasn't clear on what those rules will be.
• Students living in campus housing will have to show either proof of vaccination or a negative COVID-19 test before they move in.
• The cafeteria will be open, but self-service stations will be limited. A&T plans to keep its cafeteria takeout option for the fall.
• There's no COVID-19 vaccine mandate for either students or employees. (That's a UNC System decision.) But A&T is strongly encouraging all Aggies to get their shots, especially those who have in-person classes or job duties. If students don't get vaccines — only about 500 A&T students have gotten their shots so far —the university is promising to bring back widespread surveillance testing of its students in the fall.
• A&T is recommending that meetings remain virtual. If folks opt for in-person meetings, they should be held in large spaces with social distancing.
• A&T will allow fans to attend sporting events, but how big those indoor and outdoor crowds will be is still TBD. Student-athletes, meanwhile, still will be monitored daily for COVID-19 symptoms and tested three times per week.
• There will be a homecoming football game (Oct. 30 versus new Big South conference foe Monmouth). Beyond that, Greatest Homecoming on Earth activities are TBD.
• The December commencement is TBD. A&T didn't hold graduation last December, and I doubt anyone wants to have an outdoor commencement next December. (A&T's commencement on Sunday will be held at its football stadium.)
"We should be in a good place this fall," Chancellor Harold Martin told trustees Friday. "We have very bright and talented young people who understand the consequences and options, and similarly with our faculty and staff."
P.S.: Right as I was about to publish this blog post, Elon University came out with its expectations for fall 2021 in both text and graphic formats. Elon is promising to "significantly ease restrictions," assuming conditions allow for this to happen. For the most part Elon's plan is pretty similar to what A&T will do. Elon will have a regular fall calendar (but without an online-only approach after Thanksgiving), return to the usual in-person classes and events, do arrival testing and surveillance testing for those who aren't vaccinated, be back to full capacity in dorms, require masks in most indoor spaces, etc.
Elon also has two versions of its plan: one for lower-risk conditions if things continue to improve (which Elon thinks will happen), and one for if conditions deteriorate. You can read more about Elon's recommendations here, some of which are still subject to tweaking by academic departments. If you like details, I'd encourage you to read the 13-page recommendations document, which shows you how many moving parts a university has.
One thing Elon doesn't have is a vaccine requirement. Duke and Wake Forest universities already have mandated vaccines for returning students. Elon, meanwhile, said "a vaccine requirement is a larger institutional decision that will be made in the coming weeks." Only four N.C. schools have a mandate; that number is up to 209 nationally, according to the Chronicle of Higher Education.
* "Seems" is doing a lot of heavy lifting in my lead-in sentence. The seven-day rolling average of new cases in North Carolina is down to about 1,700 — or where things were back in early October. But hospitalizations remain stubbornly above the 1,000 mark, and about 6 percent of all N.C. residents checked for COVID-19 produce a positive test. Things are certainly better than they were back in January, but this thing isn't over. Not by a long shot.
Staff writer John Newsom covers higher education for the News & Record of Greensboro and the Winston-Salem Journal.
Have something to say about this blog post? Email him at john.newsom@greensboro.com. You can also follow him on Twitter at @JohnNewsomNR.
Support his coverage of higher education. Click here and here to learn about digital subscriptions the News & Record and the Journal.