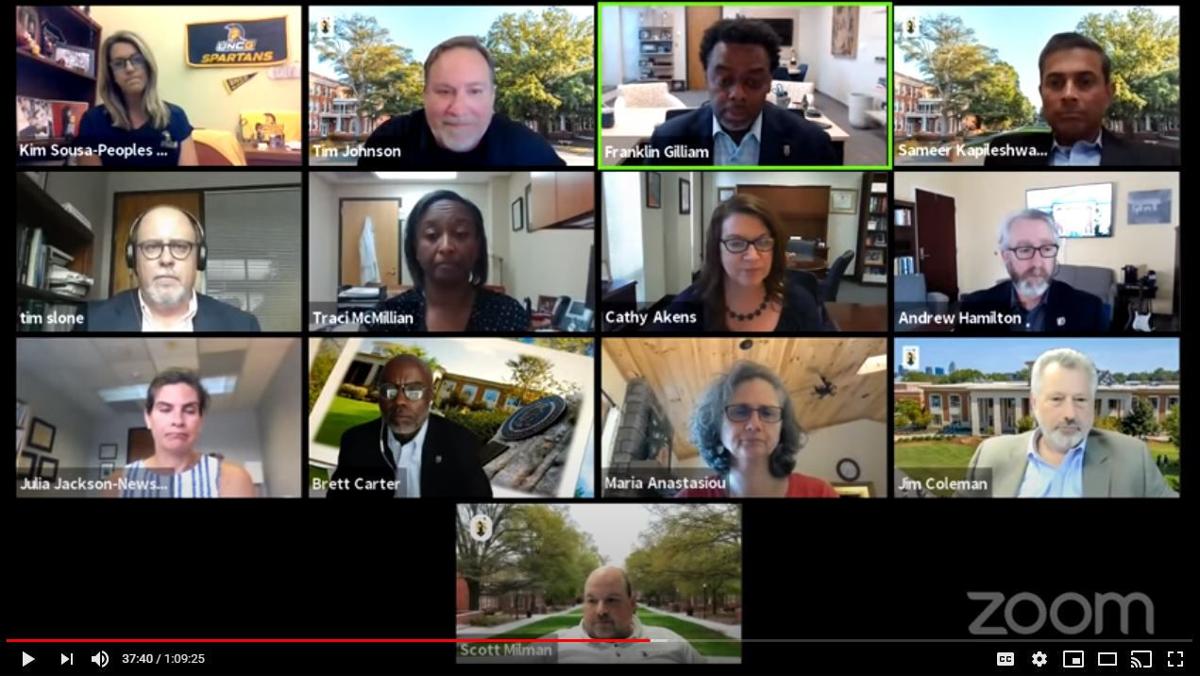 Classes at most area colleges and universities start in less than a month, and schools are locking down most details about what teaching, learning and student life will look like during the fall semester.
I'm focusing today on UNCG. The university announced in May that it would reopen its campus in August after moving instruction online in March because of the pandemic. Most area schools are planning to resume in-person instruction next month; Bennett College is the lone local school that says its fall semester will be exclusively online.
On Sunday, UNCG put out a long (and I do mean looooong) list of operational details regarding classes, housing, dining, campus life and numerous health and safety measures that students and employees will have to follow when they return to campus. On Monday, Chancellor Frank Gilliam and other university administrators did a livestream with new first-year and transfer students that covered some of the same ground but added some new details.
I'm putting this out there to give you a pretty good idea of what college will look like in the fall. UNCG might not be doing the exact same thing as, say, N.C. A&T or Elon University. But I've been reporting on campus reopening plans for months now, and it's clear to me that the broad strokes are more or less the same at each school in Greater Greensboro—Winston-Salem Metroplex: There will be a lot more online classes than usual, social distancing in every campus space will be the norm, face coverings will be required in most campus spaces, capacities in classrooms and dining halls will be lowered, there will be limits on gatherings, much of campus will be cleaned and sanitized regularly, and so on. Re-engineering an entire college campus is a complicated business, and the detailed back-to-campus plans put out by schools like UNCG and Wake Forest and UNC-Chapel Hill only hint at how complex an undertaking this is.
"The virus will absolutely impact all that we do and how we do it, and it's affecting campuses across the country," Gilliam told his online audience Monday. "But in fact it changes nothing about why we are here. If anything, it strengthens our resolve to give students the best possible educational experience that we can."
You can read the details of UNCG's Return to Campus Fall 2020 plan for yourself, and you can watch the 70-minute video here. I'm going to summarize some details UNCG administrators gave in response to questions from students and parents. Here goes:
Class formats: Fifty-five percent of UNCG's fall classes will meet face-to-face. About a third will be fully online. Eleven percent are hybrid classes, which are held both in-person and virtually. UNCG says it's offering about 1,000 more online class sections than it did a year ago.
Refunds: This is a sore spot for UNCG. In June, UNCG said it "may not" offer housing and dining refunds if the fall semester is a repeat of the spring. Students interpreted that as "would not" and demanded that UNCG rethink its position. UNCG quickly backtracked to a "we'll see" stance, which Gilliam repeated again Monday.
"If we're able to offer financial relief, we will. ... We'd certainly like to be able to do that," Gilliam said, adding that any decision on housing and dining refunds will come from the UNC System office in Chapel Hill. "But the current economic environment and the uncertainty and the spread of Covid precludes us from making any definitive decisions or commitments now on future refunds."
(An aside: Don't look for a refund of tuition and fees if all classes go online again this fall. Students sued schools nationwide, including a few in North Carolina, to demand their money back. But those lawsuits appear to be moot here. On July 1, Gov. Roy Cooper signed into law a measure that gives immunity from financial damages to all North Carolina colleges that "offered remote learning options for enrolled students during the spring academic semester of 2020 that allowed students to complete the semester coursework.")
Campus housing (which drew a lot of questions): Move-in will be done in two stages. Students living on campus have appointments to drop off their stuff starting Saturday until Aug. 5. Students won't actually move into dorms until Aug. 12-14 (new students) and Aug. 15-17 (returning students). Residence halls will operate at about 80 percent capacity to reduce the number of people in shared spaces such as bathrooms. Cleaning crews will use electrostatic sprayers to clean common areas. UNCG installed disinfectant wipe dispensers in each bathroom and hand sanitizer dispensers at each dorm entrance. Guests are limited and won't be allowed to stay overnight.
Disclosure of positive tests: UNCG said it doesn't plan to announce publicly when students and employees test positive for COVID-19. Close contacts will be told, but there won't be campuswide announcements unless maybe there's a cluster of cases. Some universities (like Appalachian State) maintain a dashboard that shows current and cumulative cases on campus. UNCG might do something similar.
Campus shuttles: Shuttle buses (aka Spartan Chariots) will run at 50 percent capacity, all shuttle riders must wear masks and buses will be cleaned frequently. The HEAT buses operated by Greensboro Transit Authority will follow similar protocols.
Dining: Capacity of UNCG's main dining hall (aka Fountain View) and other campus restaurants will be half what it normally is. Fountain View is open only to students with UNCG meal plans, and there won't be any self-serve food stations. UNCG will open a new to-go station on the first floor of Fountain View. Elsewhere on campus, some restaurants will have kiosks and online ordering to cut down on lines.
Weekend travel: Students won't be barred from leaving campus or Greensboro on weekends. If they do, "we hope that they are adhering to the same kinds of community standards that we have for the campus so they can keep themselves and each other safe," said Cathy Akens, vice chancellor for student affairs. (I'm assuming she means the 3 Ws — wear a mask, wash your hands and wait 6 feet apart.)
What if someone doesn't wear a mask? UNCG says it's taking a three-strikes approach. The first time someone is cited for not wearing a mask, they'll get an educational session about the importance of wearing a mask to slow the spread of this disease. The second time will result in a referral to the student life office. The third time could lead to a student code of conduct charge — serious business, in other words, because the student code of conduct covers things like alcohol and drug offenses, harassment, hazing and other more serious violations of university policy. It's not clear to me who's going to report violators. Gilliam said students won't be allowed in class without masks, but professors "are not going to play the role of face-covering police."
Gilliam added: "This is not a political question. I understand that face coverings have been politicized. But if you want to keep your students safe and want to keep all the rest of us safe, this really is going to be necessary for all of us to encourage people to wear face coverings."
Click here to read UNCG's Return to Campus Fall 2020 report, which goes into a lot more detail about a lot more areas than I did here. The video of Monday's town hall is below.
Staff writer John Newsom covers higher education for the News & Record of Greensboro and the Winston-Salem Journal.
Have something to say about this blog post? Email him at john.newsom@greensboro.com. You can also follow him on Twitter at @JohnNewsomNR.
Support his coverage of higher education. Click here and here to learn about digital subscriptions the News & Record and the Journal.
Concerned about COVID-19?
Sign up now to get the most recent coronavirus headlines and other important local and national news sent to your email inbox daily.