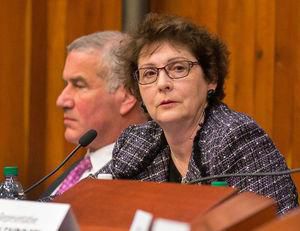 Praise from an incorrigible liberal heathen like me might be viewed as a kiss of death for someone like John Blust.
But I must give home boy a belated shout-out anyway.
Blust, a devout conservative, railed last week in a 14-minute speech against his GOP colleagues in the state House about railroading a shameful piece of legislation that protects billion-dollar hog farms in North Carolina from legal actions by their neighbors.
It was one of Blust's finer moments, every bit as memorable as his tortured opposition to state Sen. Trudy Wade's attempted takeover of the Greensboro City Council through Senate Bill 36.
Defiant, indignant, eloquent, witty, outraged, inspired, tenacious, Blust quoted Winston Churchill, invoked the Book of Exodus and alluded to "The Wizard of Oz."
Clearly pee-ohhed to the nth degree, Blust lit into his GOP colleagues with a rhetorical broadside that WRAL thankfully posted on the web.
"We're the people's house and the people's legislature," Blust said, as a fellow Greensboro representative, House Majority Whip Jon Hardister, sat impassively in the foreground. "And we ought to do business in a deliberative fashion that befits the trust that's been bestowed on us by the people."
"What we do here is not a small matter," the Greensboro Republican said.
"There are several truths that need to be told."
Among the truths Blust spoke to power:
That the bill was rushed to avoid debate and amendments.
That it was miscast as a protection for small farmers when it actually does precisely the opposite: It shields "one giant corporation" from individual neighbors who have legitimate concerns about the stench, the flies, the buzzards and the dried remains of sprayed and liquefied hog excrement that coated their houses.
That his peers were kowtowing to corporate interests at the expense of the little guy.
"This a giant farming operation, Blust said of the hog farms, "and it's being sold to the public and this body as if it's Uncle Henry, Auntie Em, Dorothy, Toto and the three-farmhand types of farms. It's not what that's about. It doesn't apply to people like that."
Blust then roundly chided the legislature for rushing in to "rescue" poor Smithfield Foods after a judge awarded several families in Bladen County $50 million in a nuisance lawsuit against the Chinese-owned corporation.
"We sound like me after Carolina loses to Duke or State. It had to be the referees."
This is Blust's last term, so, like many Republicans, he can speak his mind with the same impunity that lame ducks Jeff Flake and Bob Corker have displayed on that national stage.
In other words, he has nothing to lose politically.
But he has called it as he has seen it all along.
And it isn't easy to stand before a room full of your peers and call B.S. on them — whenever you do it.
To be sure, I haven't agreed with Blust on many issues, among them his opposition to LGBTQ rights.
I have to give Blust credit: At least he believes in something. He has guts. He has a conscience. He hasn't strayed far, if at all, from his principles.
And he has spoken out – alas, to little avail – when he saw his fellow Republicans doing the same thing the Democrats did once the GOP seized control of the legislature.
Bullying, bulldozing, manipulating the rules and consolidating power with ruthless efficiency.
If you haven't seen or heard Blust's speech, it is well worth your viewing.