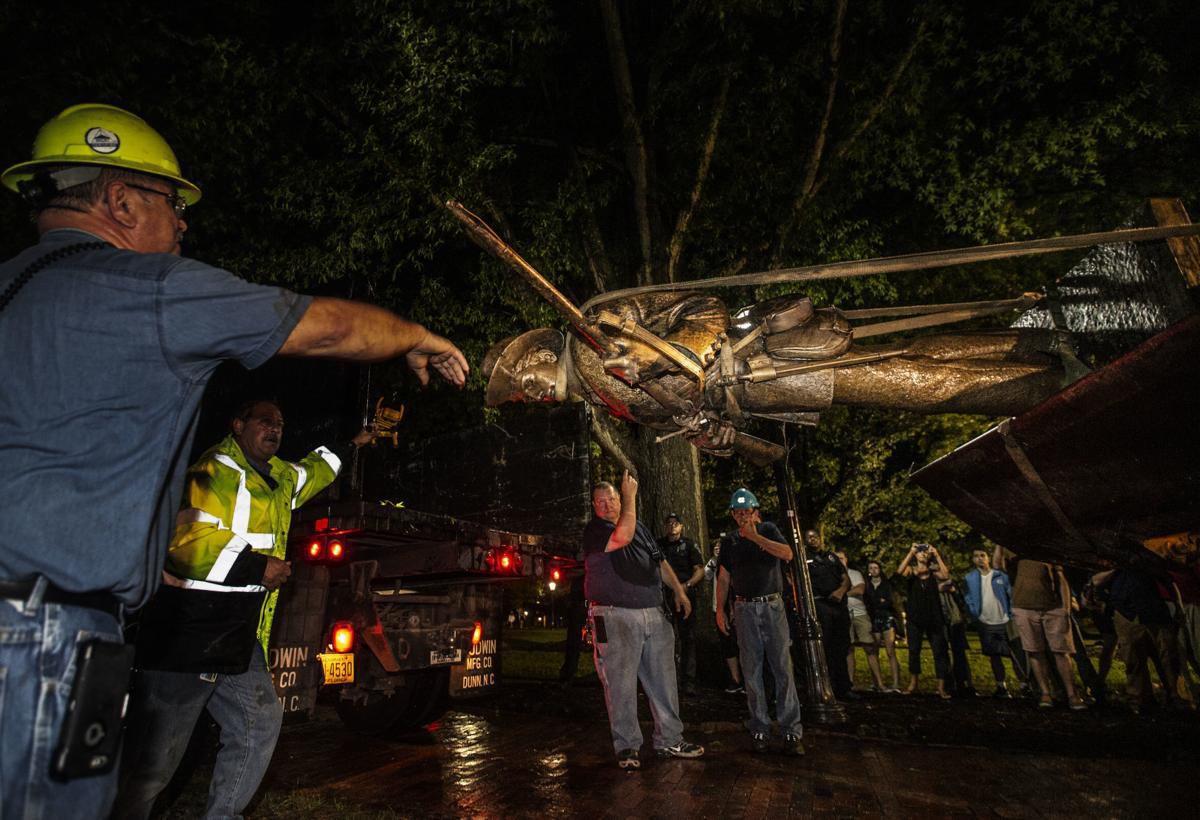 In an act former Gov. Pat McCrory likened to the Naziism, Silent Sam has been ripped from his pedestal at my alma mater.
It is possible that the statue could go back up.
That would not be the right or smart thing to do, but this legislature is certainly capable of such a thing.
It may mandate it if only to spite the protesters.
A better idea? Put Sam in a museum on the UNC campus.
As one history professor suggested to WUNC-FM, the statue could be used as both a historic artifact  and a teaching tool.
As for all of the rhetoric about "mob rule," the protesters did break the law by defacing and seriously damaging public property.
But whose fault is this, really?
From Day One the legislature has been backward-thinking and bull-headed on this issue.
It bears much of the responsibility for where we are now by not budging an inch on Confederate symbols — including the flag — even in the wake of Charleston and Charlottesville.
GOP lawmakers passed legislation in 2015 that made it nearly impossible to peacefully and legally remove these monuments.
Meanwhile, UNC Board of Governors leaders are afraid to get anywhere near the issue for fear of offending the legislature.
Ditto for UNC-Chapel Hill Chancellor Carol Folt.
What were Sam's opponents supposed to do? Wait another 105 years to remove him?
As for "the rule of law" UNC and legislative leaders are invoking to deride the protesters, that depends, doesn't it?
The patriots who staged the Boston Tea Party broke the law.
The A&T Four broke the law on Feb. 1, 1960.
The historic interracial couple, Mildred and Richard Loving, broke the law when they dared to live as a wife and husband in Virginia in 1958.
As for here and now, the Sam protesters could be prosecuted – in a story that would attract national attention.
Until then, the question of Confederate monuments will induce more squirming as soon as tomorrow.
Reports Joe Killian of N.C. Policy Watch:
On Wednesday the North Carolina Historical Commission's Confederate Monument Study Committee will meet.
It will give its recommendation on whether to remove three Confederate monuments in downtown Raleigh. The full commission will then vote on the issue.
The discussion took on new weight and urgency after protesters toppled the "Silent Sam" Confederate monument at UNC-Chapel Hill Monday night. ....
Behind the scenes, commission members are talking about whether the bringing down of that statue -- an act inspired by frustration over how little progress has been made on the issue -- will impact the board's first-ever vote on removing Confederate statues.
The demise (maybe) of Sam could be only the beginning.