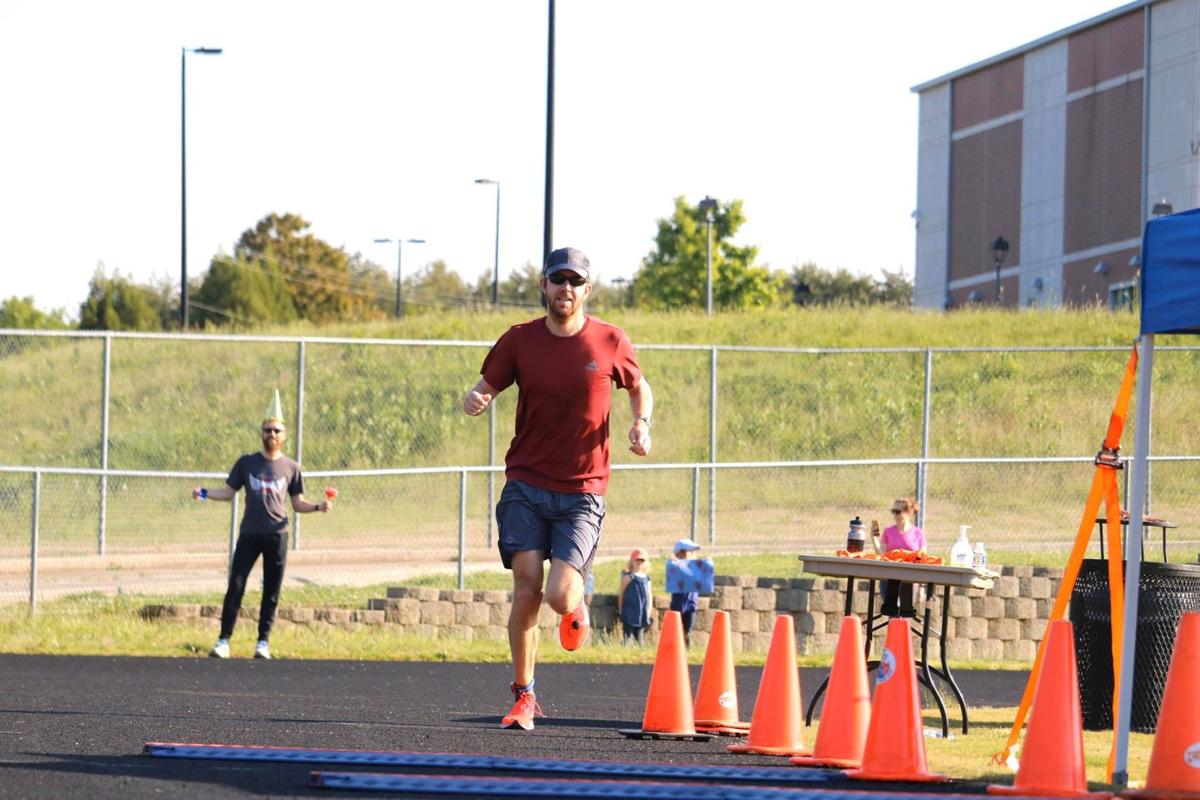 They've chased down one record. Another one is just a couple of days away.
The 5000 Mile Run Club, a team of 48 runners primarily from Guilford County, this morning surpassed a Guinness world record for continuous relay miles run. 
The team surpassed the mark at 8:40 a.m., after 18 days and 40 minutes, on the legs of Ben Saur on the 400-meter track at Northern Guilford High School's Johnny Roscoe Stadium. 
While the official milestone has been toppled, the cost and extensive videography required by Guinness is leaving the Run Club with bragging rights and unique team bonds developed during this COVID-19 pandemic instead of a certified world record.   
Rich and Libby Swor developed the idea for the Run Club and relay, with assistance from Jody Nelson and Danny McCormick. Rich Swor started the relay at 8 a.m. April 15, and a runner has circled the track day and night continuously since then. The team has averaged about 194 miles per day.
The Run Club has observed stringent social distancing practices throughout its relay. No more than two runners are at the track at any time, and then only for a 10-minute overlap as a new runner waits to relieve a teammate finishing his or her laps. Runners wear ankle timing chips, eliminating any possible contact on a baton handoff, and they're using a social media app to share pictures, encouraging messages and occasional heckling.
In case you missed this recently at Running Shorts, profiles of the Run Club's runners:
John Boschini
"Became a lawyer because I couldn't cut it as a filmmaker or journalist. Now teach law to aspiring filmmakers and journalists twice a week at UNCG."
"Ran my first half marathon with no training back in 2012. Never ran more than 2 miles until I graduated college. Have run 10 marathons, including one victory over Dennis Kimetto, the marathon world record-holder at the time. Sure, he dropped out, but it still counts."
"I can tell if an Italian restaurant is authentic by whether or not they pronounce my last name correctly."
"Don't bring the average pace of the group down. Run at least 1/48th of the total distance (104.16 miles)."
Bobby Christiansen
President, MB-F Inc.; produce and manage dog shows, including the Westminster Kennel Club Dog Show
"The older I get, the better I used to be!"
40-plus marathons including eight Bostons, 20-plus ultras, two-time Grand Canyon rim-to-rim-to-rim (once with Eddie Wooten!), five 100-milers including Western States 100.
"I also love flying airplanes because its a lot like distance running: Hours and hours of the same thing."
"Finish the last lap faster than the first!"
Simon Cloutier
"Husband, father, coach and adventure endurance athlete (founded the G.U.U.B.R in 2016)."
"Got into endurance sports as a way to get fit and lose excess weight. Discovered a passion for a healthy lifestyle. … It's all about mindset and enjoying the journey. Century mountain bike races, 100-mile ultramarathons, Ironman triathlons, 5000 mile relay team member. Looking for the next adventure"
"I celebrate my birthday each year by running my age (run starts at midnight!)"
"Complete each run one lap at a time. Lead by example and support my teammates. Strengthen my mindset."
Jack Dingman
"Goes to high school at Northern Guilford High School and is an Eagle Scout with Troop 214."
"Runner on the Northern Guilford track and field team. Competed in eight separate NCHSAA state championships for track and cross country. Aspires to run on the collegiate level. Has the indoor 1,600-meter record at Northern."
"Love to run in Crocs and am one of the best cornhole players in the South."
"Learn to run more laps around the track to prepare for longer distance races, break personal 1,600 record during one of the sessions later in the month and find new music to listen to."
Logan Dingman
"Freshman in high school."
"Ran at indoor track and cross country state championships as a freshman. Member of varsity team at Northern Guilford High School."
"I know over 200 digits of pi."
"I want to be able to handle an hour segment even though most of the crew can already do that."
Elle Ellender
"Stay-at-home mom and part-time sales associate at Fleet Feet Greensboro."
"Mother runner and travel enthusiast that is just trying to keep my head above water."
"Most likely to come in second (behind Jen) at the wine mile world championships."
"I was Off 'N Running's very first employee."
"Wants to help create and foster a sense of community during this pandemic. I also love to have something to train and look forward to."
Ryan Ellender
"Striving to maintain weekend warrior status."
"Guaranteed podium spot on the wrestling mat or up until 100 meters. All bets are off beyond that."
"I met my wife, Elle, while buying a pair of Asics at Off 'N Running."
"Speed work ... Elle's words. Sub-8:30 mile pace ... mine."
David Gile
"Since birth I have always been connected to either military service, educational learning or corporate employment. Therefore, since my family and I moved to Greensboro in 2011, it has been the longest time we have lived in one place and why I call Greensboro my hometown."
Operations VP, XPO Logistics
"Married my University of Miami (Fla.) sweetheart. It started with awkward dates and now we are awkwardly raising kids together the best we can."
"This year, COVID-willing, will be my 10th consecutive Boston Marathon and first Hawaii Ironman World Championship."
"Once won a year of free food and drinks at the downtown Charleston, S.C., Wild Wing Cafe by winning their annual wing eating contest and being dubbed 'Wing King.'"
"Run enough laps so that I will never, ever forget again to ask more questions before saying 'yes' to a friend looking for help on their relay team."
Jen Goff
40 ("eek, first time I had to write that down!")
Running coach of the Fleet Feet Streakers and numerous individuals worldwide
"Recently turned master hoping to still have good times ...both on and off the race course."
"Most likely to win the wine mile world championships."
"I was a 1991 Connecticut Soap Box Derby champion and raced in the world championships (where I got creamed)."
"Don't get injured? ... And of course, have fun being a part of something epic!"
Keith Gruchacz
Competitive market solutions consultant, Lincoln Financial
"I am pretty good at getting second."
"By complete chance, I happened to run next to Joan Benoit Samuelson for the first few miles of the Boston Marathon in 2019."
"This is a unique opportunity to do something interesting with a great group of people while also getting ready for the first marathon within driving distance once we are back to racing."
Jay Jahnes
Clinical supervisor, High Point Center for Child Wellness (A Family Services of the Piedmont program)
"A husband, dad, and mental health worker... just turned 40 and grateful for my friends and a local running community that consistently pushes and inspires me to new accomplishments."
"Former cross country and track athlete in high school (Southwest Guilford) and college (Davidson). Still share the 4x800 record at Davidson. After taking a *long* time off, I'm grateful have to improved every year since resuming the sport. Last year, I ran my first Boston Marathon and set my post college 5K PR (17:04 at Big South)."
"I tripped and fell flat on the track in an opening leg of a relay at the famed Penn Relays ... to great audience reaction."
"Stay healthy, run happy. Be a good teammate. Keep my overall pace under 7 minutes."
Patrick Kane
"Well-suited to the suffering of ultra running after a life of being a Buffalo Bills fan."
"31 marathons and 15 ultramarathons since 2012. Second-place male in 2014 Boogie 50-miler, second-place male in 2020 Dafuskie 39.3."
"I coached the Wake Forest University men's rugby team from 2004 to 2013. Also, my 11-year-old son is probably about six months away from being able to beat me in a 5K. Very bittersweet."
"As one of the slowest team members, I'm trying to bring value to the effort by taking as many middle-of-the-night shifts as I can."
Rebecca Kefer
Student and Trek Store Greensboro employee
"Most likely to have been 10 seconds away from the high school cross country record. Worst person to draft on a group ride."
"My first leg of the 5,000 mile relay was only my fourth run of 2020 and 17 weeks to the hour from a near-fatal accident, where I was hit by a car while cycling."
"Be part of a wonderful team in a time when community and team spirit is hard to find. Be thankful that I am able to run and that my body can recover so remarkably."
Michael Koballa
Pricing analyst at Volvo Financial Services
"Attempting to Good for Age qualify for all of the marathon majors. Have completed Boston, London and New York. Was registered for Berlin this fall prior to the COVID cancellation."
Attended Appalachian State as an undergraduate and competed on the cycling team (we won three Division II National Titles). I'm still an avid mountain biker."
"This event allowed for myself and my fellow Greensboro runners to have a quantifiable goal to strive/stride toward as a group. I was already running, why not add some 'gusto' to the effort?"
Justin Lange
"Just someone trying to get better everyday. Work hard. Play hard."
"Started running seriously three years ago and have since run 20 marathons in 20 states."
"I hate running in the morning but somehow volunteered for a couple of 1-2 a.m. blocks."
"Make the most of a great opportunity to contribute to an amazing goal and take advantage of every lap to get better."
Joe Markley
"Began teaching college courses in computer programming at the age of 20 while pursuing degree in the same field."
As a member of the '50 States Marathon Club,' pursuing a marathon in every state plus Washington, D.C. Currently have completed 26 states and D.C., of which 16 are Boston qualifiers."
"My father, CMSgt Joseph Edward Markley, parachuted from a burning plane during a WWII mission. He was first classified MIA and his status later changed to POW. He served 31 years in the Air Force and now resides at Arlington Cemetery."
"To enjoy the privilege of chasing a world record with a core group of elite runners."
Danny McCormick
Senior finance director, United Healthcare
"Nothing super interesting. I like to wander."
"Ran in high school, swore off running ever again my senior year before college, started running again 6-7 years ago. Raced everything from 5K to Boston Marathon. Really enjoy riding my bike more than running, but running as cardio exercise eats up too much of the time. Hope to do a triathlon one of these days. Eventually I want to switch to ultras and trails primarily."
"Qualified for Boston and ran sub-3 marathon in my first marathon. I've only run two marathons. I also coach cross country at Saint Pius. I have an amazing daughter, which is the thing I am most proud of."
"Don't break in the attempt. I typically don't run this many miles per week and not at the paces I have recorded thus far. "
Jody Nelson
Managing Director of Functional Safety at UL
"Eighteen-year electrical engineer veteran, visiting 49 states and 30 countries."
"In 2017 ran both the Boston and New York City marathons, as well as ran the Machu Picchu Marathon along the Inca Trail in Peru. ... Won the Blackbeard 100-miler in 2019."
"Interviewed Heisman Trophy winner Eddie George in 1994 as a student sports editor for the Purdue Exponent."
"To get back into running shape since taking time off after the Mountain Masochist 50-miler last fall. Since I can't add speed to the team, I want to support by taking on chunks of runs during undesirable times."
Katarina Nelson
Cardiologist, Cone Health
"I am a mom, wife, physician – running in this team kept my sanity in these challenging times. There were many pre- and post-work runs, but these runs truly helped me to keep going. I frequently changed from and into scrubs in the car so social distancing played to my benefit."
"Three marathons, two 50Ks including a trail race at Mount Hood, climbing and skiing from Mount Hood, heli skiing in Alaska."
"I am a big ski enthusiast. My family was supposed to be skinning/backcountry skiing in California during this time. Running this race filled the gap and disappointment."
"I am honored to be accepted to this elite speedy team (many former collegiate runners including a runner who ran in Olympic trials this year). Never being a really fast runner and coming out of a recent knee surgery, I was nervous to be kicked out for being slow. I would like to contribute with running a total of 100 miles."
Esayas Nida
Ethiopia. "It's where many distance runners and world-class athletes are."
Surgical technologist at ARMC, Burlington
"I like running to stay healthy, stay in shape and compete with other great runners. I've run seven full marathons, 18 half marathons and many 5K and 10Ks. Last year I ran the Blue Ridge Relay with Charlotte runners and I had a great experience. A few years ago my goal was to qualify for Boston and other major marathon races. In 2019 I ran a marathon in two hours and 39 minutes, which allowed me to sign up for the Boston Marathon 2020 and Chicago Marathon 2020."
'From my understanding it's God-sent for us through Richard's mind. Me and many Greensboro runners who join this running challenge were training all year long to run the marathon and other races in fall season. As you know, there are no races due to the pandemic. I'm always excited until my next run to finish the 5,000 miles in under a month, so we can achieve it and we will celebrate the victory! I'd like to thank Richard, Jody and Danny in advance for setting up this incredible plan and keeping us all motivated and keeping us moving."
Molly Nunn
Senior FP&A Manager at Aon
"Special education teacher and cross country and track coach turned into finance nerd."
"It's all about 'Happy Running!' and running adventures."
Have traveled to 15 countries and 30 states.
"Enjoy each lap and being a part of this motivating team during 2020, a.k.a. the Twilight Zone."
Damien Rodulfo
"Sports chiro treating many local Triad athletes as well as team chiro for the UNCG Spartans, Swarm basketball, Cobras arena football. Consultant to A&T athletics and High Point University athletics."
"Couple ultra marathons under my belt in the last few years including 2 100-milers. Couple of triathlons, many ultra distance cycling events."
"I played football in college and I'm still am a power speed athlete. Mountain biking is my true love, but after a wrist injury started making that difficult, I started running long distances in the woods. Gives me the same satisfaction."
"Help team reach 5K miles. I'm not a fast guy, but I'm a work horse."
Olivia Romine
Greensboro and Chapel Hill
Student at UNC Chapel Hill
"Sophomore Morehead-Cain scholar interested in the intersections between sports, diplomacy and education."
"2017 Trivium Multisport Series champion, 2017 USAT All-American Triathlete, tripped in races ranging from elementary school mile run to the steeplechase national championships."
"I once backpacked in Alaska for 30 days without ever having backpacked before!"
"Washed-up collegiate triathlete trying to regain endurance and speed last seen in high school."
Ben Saur
Technology software company founder
"Serial entrepreneur, dad to two young girls, temporary homeschool teacher."
"Fourth overall at Reindeer Romp 2019 and May the Course Be With You. In two years of running (having taken a break since high school) lowered my half marathon time from 1:56 to 1:31."
"Won first overall at Massachusetts State Science Fair and fourth at International Science Fair in high school."
"Finish with an average pace equal to the average pace of the group with over 100 miles run."
Justin Sigmon
IT senior systems analyst, Ennis Flint
"Christian, husband to my beautiful wife of 11 years, father to two awesome kids."
"Ran on state 4x800 team in high school. Didn't do much distance until after kids. Three Blue Ridge Relays, one Palmetto 200. Mostly trail running these days and picking up CRs on Strava."
"I never ran more than 4 miles until I was 27."
"Mostly to be part of the team. To hold a challenging pace on each leg. And improve my form and stay injury free."
Darian J. Smith
Chiropractor with Kernersville Chiropractic Center
"While training for the AT in his early 20s, that he never thru-hiked, Darian rediscovered trail running. This was the beginning of a wild and crazy ride."
"One can double the longest distance they've ever run. However, I've never run a 200-miler. My wife won't let me ... yet."
"I met Courtney Dauwalter right after she won UTMB and told her a story about an encounter with an Ibex."
"Keep my average pace under 7:30 and to photograph the 'Bobcat.'"
Anna Spivey
"Mom. Once everything opens up again: Shred415 Instructor, timer and whatever Rich and Libby need me to do at Trivium Racing, Starbucks barista and help with Crazy Running."
"I need help with that one. LOL."
"Ran Boston in 2019! First female in New River Marathon trying to BQ for 2020. It downpoured almost the entire race. I didn't BQ, but first place didn't hurt."
"I hated running or anything to do with exercise until I had my kids!"
"To keep consistent pace and grow in fitness. The quarantine has been hard!"
Will Stevens
Works with Penn Construction
"Ran Boston in 2018, Chattanooga Ironman in 2017 and a number of other races."
"Very excited to be part of a team challenge during these rough times; gives something to look forward too!"
Lori Stevenson
Managing director, Retirement Operations, Compass Financial Partners. As of this week, part-time barber can be added to the resume.
Six marathon BQs, participated in the common runner's Olympics in 2017 and 2019 – a dream for this non-athlete who found running at age 39. Honored to have been featured in Wooten's Boston Bound series with the better half of Team Stevenson in 2019. Coach for the Women's Running School for four years – these ladies continue to provide me inspiration.
"I grew up in a small coastal southern Maine town of 7,000 - teenage summers were spent waitressing at a restaurant steps from the beach - when I got in trouble one summer at age 19. Instead of a ticket, the police department let me wash and wax the town's police cars."
"Michael and I haven't been in Greensboro while the 5,000 mile club has been in session, but once the idea was hatched, we wanted to be able to do what we could to contribute to the goal. So it has been eight hours of windshield time to participate – the first time we pulled back in to Greensboro, I questioned whether it was worth it. And then I got out on that track – and it was like magic – I left feeling my heart was full and fulfilled for the first time in months."
Richard Swor
"Owner, operation, janitor, grunt worker at Trivium Racing."
"Crazy Person gets other Crazy People to Do Crazy Stuff."
"Local has-been trying to find his place in this crazy sport."
"Once after high school I organized, with two friends, a weekly run covered only in shaving cream. We ended up getting a group of over a dozen people that we didn't know to come out weekly and were asked by a local bar if they could sponsor us. Our parents were so proud."
"Find a sense of normalcy in these crazy times and still have the opportunity to still be a part of this great running community."
Jason Thomas
High school physics teacher
"I've been training for middle-of-the-night runs for the past 10 months – since our son was born."
"I started distance running in my mid-30s and have raced distances from 5K to the marathon. I've placed second in the Trivium Race Series two years in a row and ran a sub-3 at Boston in my second marathon."
"My wife, Liana, was a collegiate runner at Charlotte and when we she'd tell me she was going for a run, I'd say 'enjoy.' My first race was the inaugural Trivium Bootlegger 5K."
"Get back into running shape after an extended break. And stay under goal pace!"
Meaghan Vaslow
"Runner who finds marathon training easier than motherhood."
"Most likely to be house/neighborhood touring while racing half marathons. ... Most likely to be squeezing in miles before preschool pickup line closes. ... Most likely to be dreaming of a cold fountain soda when running in the summer heat."
"I used a machete to cut my grass in Belize."
Karen Weyler
English professor at UNCG
"30th year working in higher ed and my 20th teaching American literature at UNCG."
"There are none: I started running just a year ago! I ran my first 5K last May and decided in the middle of the race that I might not be speedy but I could run all day. I ran the Greensboro Half in November and had plans for a couple more distance races this spring, but those plans went sideways."
"My older daughter, Olivia Romine, is in this group and is the reason I'm here. My younger daughter, Isabella Romine, prefers to do her running on the soccer field. If you run with me, I will talk your ear off about books and writing."
"As the most speed-challenged of the club, my goals are to help fill in gaps in the schedule and not embarrass myself too much – the last of which is a powerful motivator!"
Dusten Winebarger
"Husband, Dog Dad, and Wannabe athlete."
"Seeing many beautiful sunrises while running with my wife. Pacing special friends in their ultra running endeavors through the mountains in Colorado, Utah, North Carolina and Virginia."
"I worked at a skydiving drop zone in 2006 and 2007 and logged over 100 skydives (that's not a lot) before hanging up my parachute."
"Switched from more biking to more running to hopefully help add some miles to this crazy goal. I'm really enjoying being part of the group that is pushing for this record. There are some incredible athletes on this team and some even more incredible people."
Jessica Winebarger
Product finance engineer, Volvo Trucks North America
"Tar Heel grad, wife to Ironman and mother to an adorable husky."
"Best memories: The Grand-further Mountain Run 2018, pacing Simon Cloutier on his first 100-mile race (Zion Ultra) and crewing for Vernon Sides at his Leadville 100 Ultra."
"Was a child model from age 5-10 and swam competitively for 10 years."
"Relearn how to be comfortable with being uncomfortable holding a certain pace for an extended time and soaking in the energy and camaraderie of being on a team of so many talented and dedicated individuals."
Andrew Wommack
Chemistry professor at High Point University
"After growing up on the plains of the Midwest, I went to Boston to study chemistry. Now, my family and I are exploring enjoying the Old North State."
"Ran with Greater Boston Track Club while earning my Ph.D.... Qualified for USATF Club Nationals. ... Won the Hyannis Half Marathon." ... "Life is always conspiring to take away your run." -Tom Derderian, GBTC coach
"I went to the first Red Sox game after the Boston Marathon bombings in 2013."
"Have fun, be consistent and stay injury-free."
Tara Wommack
Departmental project manager, Wake Forest PA Program
"Putting one foot in front of the other throughout life, motherhood and running."
"Twelve Marathons (two sub-three hours), many half marathons (which is my favorite distance to race) and all the 5Ks and 10Ks I can find (I love races!)"
"Mom to 3 girls + 1 bonus daughter + 1 dog (super-Doug). Our last daughter was born two months ago (on my birthday!) and our oldest daughter is a freshman in college at High Point University. Running has kept me sane throughout the past few months as we navigate through this time of finding a 'new normal' with four kids at home."
"I'd love to contribute 70 miles total, or just participate as much as I realistically can! The track is 20 minutes away, so each of my runs require a lot of prepping in the household so Mom can be away for 1+ hours, but it is worth it. The kids see me doing something healthy, they get their special time with dad, and they enjoy welcoming me back home."
Eddie Wooten
Triad sports editor, News & Record and Winston-Salem Journal
"42nd year in journalism, dating to a first story filed as a 13-year-old for the weekly Farmville Enterprise."
"25 marathons and shuffled across Grand Canyon with Run Club teammate Bobby Christiansen. ... Won 50-54 age group in 2013 Greensboro Race Series. ... During phone interview with Shalane Flanagan, failed to press button to record."
"Long before the 'Last Dance,' attended every Michael Jordan home game at Carolina, seeing him play in person 39 times as a Tar Heel. ... 1976 Pitt County Spelling Bee champion."
"Wasn't in great shape coupled with being perhaps the most speed-challenged runner on the team, but picking up steam with every left turn."
Contact Eddie Wooten at (336) 373-7093, and follow @EddieWootenNR on Twitter.
Concerned about COVID-19?
Sign up now to get the most recent coronavirus headlines and other important local and national news sent to your email inbox daily.