Seventy-one runners from the Triad earned acceptance into the 2020 Boston Marathon, whose postponement from April 20 to Sept. 14 was announced last week amid the coronavirus outbreak in the United States. 
Running Shorts invited several runners to offer updates on where they stood in training, what they'll do with the fitness accumulated during some of their longest long runs and whether they'll run the race after training during a North Carolina summer.
Alexandra Apple
3:11:58, 2019 Boston Marathon
Where she was in training
"Unfortunately, after running the California International Marathon in December, I didn't take my recovery from it as seriously as I should have, causing a stress reaction in my right tibia and severe tendonitis in my left ankle tendons. I was in an air cast until the end of February and only able to cross-train. I had only a few weeks of training under my belt with my longest run being 9 miles. While I knew I wasn't in marathon shape, I had planned to soak up the energy of Boston on the course and enjoy the race.
"I had a 7.5-mile run planned for Saturday but ended up only running 6 miles. With Boston approaching I was pushing to get back in distance shape quickly, and now I plan to ease in at a slower pace."
"After being injured and unable to run the past few months, I'm looking forward to just having the ability to do some unstructured running for a while. Being able to go out on a beautiful spring day without a certain number of miles or pace to hit and just running off feel. This was so recharging last spring following Boston and made me stronger for when it was time to begin training in the fall!"
"I would love to go to Boston in September! Being a teacher, that is a very busy month for me, so I have not fully committed to it yet. Regardless, I will definitely be returning for Boston 2021 next April!"
Teresa Inman
3:02, Boston Marathon, 2019
Where she was in training
"Training was complete. I was tapering for Wilmington on March 21 with the plan to run it fast. Then take a down week, then two more hardish weeks for maintenance, then a one-week taper to Boston. ...
"I run long on Fridays. March 13, I was supposed to run 10-12 (taper long run) but ran 16 (my favorite long-run distance) because my race was canceled the day before."
"Keep running. But, without schedule pressure. Life is going to look very different for me without the routine of school (three kids). I wish I already had a Boston qualifier. That is my one ongoing concern. As it gets warmer, the possibility of running the fast race I wanted decreases dramatically. If I jumped into a race in the next few months, it would be for the purpose of having a qualifier. "
"Yes. Literally rescheduled my hotel in the middle of that 16-miler referenced above (I had Twitter notifications set to alert me when the announcement was made). I was hoping for later fall. It will be hot in early September and will be hard for me train for with three kids at home during the summer. I will probably use Boston as a long run (and qualifier) and then plan to run something faster in November. I just hope nothing prevents me from running in September because I will be out 2020 and possibly 2021 (and end my six-year streak)."
Herbert Krabel
3:17:38 (needed 3:35 in M55), Tunnel Marathon, Washington state, June 2019. "Really enjoyed the experience," he says. "Tried to qualify a year earlier at the New River Marathon but tore my meniscus and limped home in 3:39. Was then out of business for three months and then prepped for the Tunnel Marathon."
"I was not specifically training for Boston as I have several other races lined up of varying distances ranging from 20K to 12 hours. I train 50-80 miles running a week, and almost none of these miles are on the road. It is likely 40 percent trails, 59 percent treadmill on Zwift Running. ...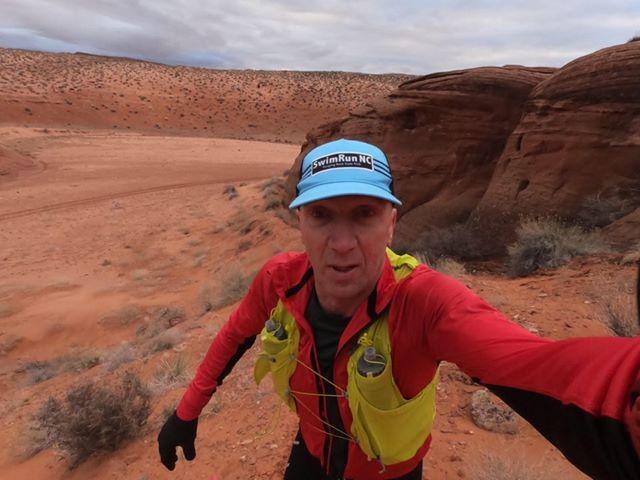 "On Saturday, I competed in the Antelope Canyon 50-miler in Page, Ariz. Luckily I did not get canceled and I finished 10th overall (out of 369) in a time of 8:48:48. A stunning venue where you run through various slot canyons and past the incredible Horseshoe Bend."
"The next big race on my schedule is the the Black Mountain Monster 12-hour race in June, and I hope to run 100K in that period. Then a week later the Smiley Sprint Triathlon, because I like to support local races. In August then a tough and scenic SwimRun race in Norway that is called Rockman SwimRun. If any of these races cancel, I will just keep training mostly on trails."
"I plan to go to Boston in September and have already moved my April flights to that date. My goal is to have fun and ideally run a faster second half, as that is seemingly very difficult. And hopefully my wife can also come to Boston with me."
Rosa Alonso-Mckenzie
3:43, Grandma's Marathon, June 2019
Where she was in training
"I ran 21 miles on March 8. I was planning to run 10 miles on Saturday the 14th and 15 miles on Sunday the 15th, but after the news, I only ran 8 miles."
"I'm going to rest for a few days and figure out if I will be able to run Boston in September since I already signed up for an Ironman in November. Hopefully I will start eating a lot less since I won't be running that much for a while!"
"I'm not sure if I would be able to train properly for the Ironman while additionally training for a marathon. If I can, I would like to run Boston again this September, even though it's harder to train for a marathon during the hot summer months. It would be quite an accomplishment for me to do both."
John Boschini
2:54:29, Emerald Isle Marathon, 2019 (second place overall)
"Training was a mixed bag. Was still getting most of my long runs in, but a combination of a job change, 8-month-old to care for and chronic colds meant I wasn't hitting my weekly mileage as well as I wanted. Last long run was 22 miles and I was scheduled for 18 this weekend but decided to bail and wallow in self-pity for a weekend."
"With the CDC ban on 50-plus people gathering, essentially canceling the spring race season, I'm dialing it back to base building and getting myself healthy."
"I'm definitely going to go in September if the race still happens and got a way better deal on a hotel than what I got in April, so that's a plus."
Cindy Barbour
3:34:19, Marine Corps Marathon, October 2018 (third place in women's 50-54)
Where she was in training
"I was training well, not great. My fitness level is high and my running has been consistent. I had a sneak suspicion about the race, so it definitely impacted the last couple of runs I did prior to learning of the cancellation. ...
"I was supposed to run 18-19 miles on March 14 and I did a whopping zero. I took my husband to Turks and Caicos for his 60th birthday, and I was wondering how I was going to sneak away and go long. It was an easy decision to do nothing. I have been racing for 44 years – four days off to enjoy the time with my husband. I wake up early on weekends to get my long runs in, and he is very accommodating to me. It was the least I could do."
"I am the lemonade-making business, so I am excited to keep training like I always do and celebrate my last Boston Marathon in September. I am not saying I am retiring from marathons; I am retiring from Boston."
"Life is precious, and I can understand why we need to stop this catastrophe from spreading. I will be adventuring more on the Appalachian Trail. I have section hiked over 600 miles so far, and I am planning some extra trips now that my racing and pacing schedule has been canceled indefinitely."
Jeremy Bush
3:00:14, Myrtle Beach Marathon, March 2019
"Feeling fit, feeling good, and ready to run a great race in Boston with just a few weeks to go. I had a 20-mile marathon-specific workout planned for March 14. I ended up running 20 miles easy with friends."
"I run every day because I love to run. My focus will now be on recovery, getting stronger, and getting faster. I will jump in some shorter races in the spring/summer when the race schedule returns. Racing at any distance is fun!"
"I will definitely be on the starting line in Hopkinton on Monday, Sept. 14! Boston has shown its resilience and ability to rise to the occasion when facing adversity, so I believe that the 2020 Boston Marathon will be a very special, historic day! I expect it to be a celebration like no other!"
Lori Stevenson
3:39, Savannah Marathon, November 2018
Where she was in training
"I have been battling a string of injuries but finally felt like I was turning the corner. Mentally, though, training the past few weeks has been tough – not knowing if the workouts were for a race that wouldn't happen. Saturday was supposed to be 18 miles, cut it to 14 miles post-news but definitely ran with a little fire in my belly."
"Initially when it was rumored that Boston could be canceled, I had already come up with a short list of other races to do. Now, I'm not even bothering to look as everything is so uncertain. Right now it's just about maintaining a solid base and using the runs as my one constant in a time of such uncertainty."
"Yes, if my body is willing, I will be at the starting line in Hopkinton. When I heard the mayor mention he would postpone or cancel about a week ago, I was hoping he hadn't slipped with the word 'postpone,' especially for those that this is their first time qualifying. I am just hoping that September 14th will be a reality."
Frances and Keith Miller
"Both myself and Keith are obviously disappointed but somewhat relieved as we were both fighting minor injuries," Frances Miller says. "We will go in September and hopefully stay a few extra days to sightsee since we have never been to Boston. I am definitely glad that it will be in the fall and not next spring. I don't mind heat training, and I won't have to give up as much ski time next winter to train!"
Jessica Costen
3:32:01, California International Marathon, December 2018
Where she was in training
"I got to 13 miles three weeks ago and pulled out of Boston training due to a hip injury. I'm probably one of the few that is thankful for the postponement so that I can keep trying to get my hip healthy enough to try again. This was probably going to be my last 26.2. I had hip surgery five years ago, and I think the miles are just taking their toll."
"Will continue working on PT and building my base and see what happens."
"Boston is just such a special race, and I would be honored to finish my marathon career there."
Jade Costen
2:51, California International Marathon, December 2018
"Was planning to run 18 this past weekend but only ran 14."
"Boston was intended to help me build my fitness for Chattanooga 70.3 in May, so I will shift my training plans to triathlon."
"I will be attending in September. The delay of the Boston Marathon is disappointing but certainly understandable, as it is the best choice for sustained public health. Running my 20-milers in August isn't quite as appealing as running 20s in March."
Jerry Thompson
3:12:50, Richmond Marathon, November 2018
"Last long run while training for this year's Boston was 20 miles."
"If this virus is controlled and we can race again, yes, I'll be trying to reap some of the rewards from my Boston training. For right now I'll keep training and cross-training and hope to get into some triathlons or shorter races."
"Definitely looking at doing Boston in September, but I also qualified for the Chicago Marathon on Oct. 12, so it's going to be tight to race both."
Katherine Nunnally
3:35:31, Myrtle Beach Marathon, March 2019
Where she was in training
"I had been ramping my mileage up that last week with my shorter runs between 7-10 miles and my long run being an 18-miler last Saturday. I had another 18-miler planned for this weekend with my Streakers running group, but instead of doing that I slept in and later took a walk on the A&Y Greenway and listened to music. Thankfully the decision to postpone the Boston Marathon didn't come after I had run my 20- and 22-milers yet (I would have cried)."
"I will take this time to chill a bit (short runs, yoga and maybe a beer or two) and rethink my strategy for the Boston Marathon in September. Talk to my trainer Jen Goff to see what her thoughts on how I should train for Boston. I don't want to burn myself out or overtrain before September."
"YES! It's still the Boston Marathon even if it's in September. My main worry is training in the summer. I know there will probably be a lot of waking up in the dark to try and beat the heat on those long Saturday runs."
Pat Hester
3:22:19, Chicago Marathon, October 2018
"Started 'training' near the end of December. Last long run was 18 miles. Had planned to do 14-20 on Saturday, March 14. Actually did 14 but was at an easy, no-hassle pace."
"I'll keep up the mileage to keep a good base but probably won't be doing any intervals at the track! I'll also consider another race if things open up. But some pressure is now off. And will have an extra beer!"
"I more than likely won't go to Boston in September. Boston weather is highly variable, but I don't like doing races in the summer (I would need to run with an IV attached and pushing an IV pole!). Getting a hotel might also be challenging."
Darrel Wells
3:42, Last Chance BQ.2, Geneva, Ill., September 2019; qualified for 2020 and 2021 Boston
"My training was going well, with three 20-milers completed. March 14 was scheduled to be 22 miles, but I decided to take a couple of weeks off to let a strained hamstring recover before resuming training for the rescheduled race in September."
"Marathon training through the summer should help get me ready for the warmer weather (compared to April) in September in Boston. I'm really looking forward to running in what will surely be a memorable race!"
Penny Russ
3:49, Hawaii Bird Conservation Marathon, December 2018
Where she was in training
"Training was/is going pretty well. Would have done 20 miles Saturday if the postponement hadn't happened. Still ran 19, though."
"I'll find another race to do in late April if any actually take place. If not, I'll run 26.2 miles somewhere the weekend of the 18th or the 25th."
"Yes, I'll go if it happens. BAA.org is pretty pointed about NOT saying it's definitely a go. They say, 'We offer full support to take all reasonable efforts to postpone the 124th Boston Marathon to Monday, September 14, 2020.' Who knows what may transpire in the coming weeks and months?"
Rosemary Lather
Peak to Creek Marathon, October 2018; improved time at the North Central Railroad Trail Marathon, November 2019.
Where she was in training
"I had used an online plan through Runsmart.com and had enjoyed the plan. This past week, I had planned a 20-mile run but I did 12 instead because the anxiety of watching everything get canceled sapped my energy and I just wanted to enjoy an easier run."
"I am planning to scale back the intensity for a week or two and focus on some fun runs. Then, I plan to work on strength training and building up mileage again. After a few weeks I will add back some speed workouts."
"I will definitely go to Boston in September but already had Chicago and New York on the books. Training in the heat is harder, and Sept. 14 probably has a greater chance of being hotter than April 20 but we will see. No matter what, I am looking forward to Boston in September and am very glad it was postponed rather than canceled."
Evan Logan
3:26:52, Wrightsville Beach Marathon, March 2019
Where she was in training
"I was right in the middle of training. I had two more 'big' runs to be completed before I began tapering. Last week I was using as a down week before those last big weeks. I ran my long run ('just' 12 miles) on Thursday, March 12. Later that day I found out about the postpoment."
"I am planning to maintain my base so when I start training in the summer months it won't feel as hard. Running is engrained in my daily practice, so it doesn't change that much of my training. I don't like a long training period, so I just keep a good base and usually only train for about 6-8 weeks for a full marathon."
"Yes! This is the first time the race been canceled since 1897. I think this run will be really memorable and one that will go down in the books! I want to be a part of it!"
TeriLyn Hutcheon Adams
3:17, 2019 Boston Marathon
Where she was in training
"I actually wasn't going to be able to run since I was recovery from a posterior tibial tendon tear. I tore it last summer but didn't get it properly diagnosed until December with an MRI. Maybe I'll be able to run now! ... Last long run was 45 minutes: 4 miles with 3 minutes running, 1.5 minutes walking. Far cry from last year's training with 60-70 mile weeks! ... My husband and I ended up going to Boone for the weekend and we did a three-hour hike at Moses Cone Memorial Park on Saturday."
"I'm definitely planning to participate in the Rambling Runner virtual races this spring and summer!"
"I'm really hoping I can run the fall Boston – once-in-a-lifetime opportunity! – but with some other commitments in the fall, I'm not sure I'll be able to!"
Contact Eddie Wooten at (336) 373-7093, and follow @EddieWootenNR on Twitter.
Concerned about COVID-19?
Sign up now to get the most recent coronavirus headlines and other important local and national news sent to your email inbox daily.