WINSTON-SALEM — Add UNC-Greensboro alumnus Paul Chelimo to the list of American runners to break four minutes in the mile.
And he did it close to his second home.
Chelimo, a 2016 Olympic silver medalist who earned multiple All-America honors for the Spartans, turned in a 3:58.59 at JDL Fast Track in his second race of the day, finishing second in the Camel City Elite Races mile behind 17-time NCAA champion Edward Cheserek and his facility record 3:53.85.
"I was so excited," Chelimo said. "I saw the time, and I saw 3:58. I was so happy because my main goal was to come out here and get a workout in and break four minutes. I wasn't coming in trying to win it, but I was just doing my best. If I could get the win, fine. If I could get last and break four minutes, it would be fine with me. That was the big goal today."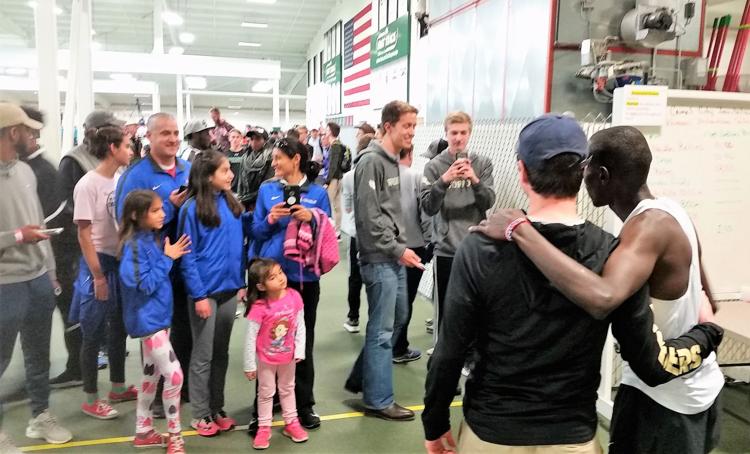 Chelimo, representing the U.S. Army's World Class Athlete Program, broke the four-minute barrier on JDL's flat Mondo surface less than an hour after leading the way in the 3,000 meters, successfully defending his 2017 title. Chelimo finished in 7:52.88, holding off Brooks Beast runner Izaic Yorks (7:53.54).
Pfafftown's Craig Engels, a Reagan High School graduate who runs with the Nike Oregon Project, finished fourth in the mile but cranked out a sub-four-minute mile for the second straight weekend, running a 3:58.81. Engels, who began his college career at N.C. State and finished at Mississippi, ran a 3:57.35 last Saturday at the Dr. Sander Invitational at the Armory in New York.
Three other men also broke four minutes, all for the first time, meaning 16 have achieved the feat at JDL Fast Track since the first men's mile in 2013. Brooks Beasts' Henry Wynne finished in 3:58.80 and took third, and Virginia Tech seniors Vincent Ciattei (3:59:57) and Patrick Joseph (3:59.59) snuck in under 4:00. The six runners under four minutes are the most in a Camel City mile race. 
On Jan. 27, the number of American runners to finish a mile under 4:00 crossed the 500 mark.
Chelimo was among three runners earning big paydays in a purse that offered more than $90,000. With prize money and bonuses, Chelimo earned $10,000 after competing in the 3,000 and the mile.
Cheserek, who starred at Oregon, earned $9,000 ($6,000 for the victory plus three $1,000 bonuses).
And Under Armour's Rachel Schneider, a Georgetown alumna who doubled with victories in the 3,000 (9:02.64) and the mile (4:31.74), ran off with $12,000.
Among the other highlights of the Camel City Elite Races:
Cheserek's JDL record, which provided one of his $1,000 bonuses, betterered the 3:54.02 by Matt Centrowitz in 2016. Centrowitz went on to win the gold medal in the 1,500 meters at the Rio de Janeiro Olympics.
Mount Tabor senior Cameron Ponder, who will compete for Furman, set the North Carolina high school record for the indoor mile with a 4:11.57.
Winston-Salem resident Donnie Cowart, backed by Saucony, took seventh in the 3,000 in 8:01.17.
Eliud Rutto won the men's 800 meters in 1:51.16, and Hanna Green won the women's race in 2:02.58.