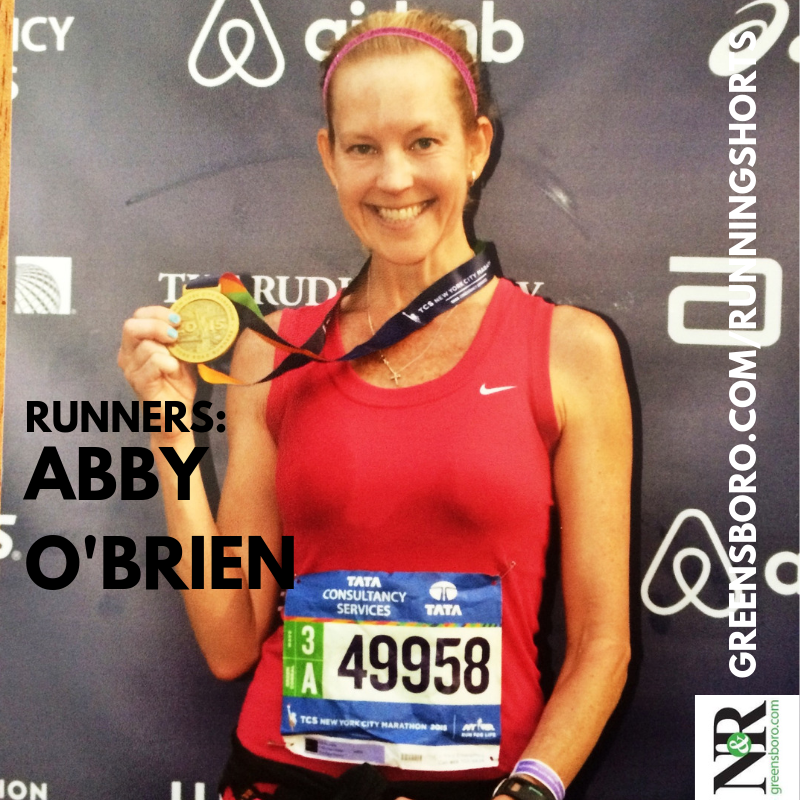 ABBY O'BRIEN
Age
Residence
Day job
Commercial lending, Bank of Oak Ridge
Why I run
"I went to visit a friend, Nova Hall, in New York City for the Macy's Thanksgiving Day Parade (2011). She told me how she was doing a 5K app thing, that every day she was increasing her mileage. I had always been an athlete, through college, so running was always conditioning; it never was fun. But I decided I would take a run with her, and I actually enjoyed it. We had the same app and went through the training together and set our goal to do a race. We met in D.C., and we did the Rock 'n' Roll Half Marathon relay part (March 2012).
"The reason I like running is it's great exercise, it's fun, and I like connecting with people. It was a great way for her and I to connect and to do something together, even though she was in New York and I was in North Carolina. But I've met so many friends through running, and it's been a great way to maintain my health was well.
"We did the 5K app, then we downloaded the 10K app. I just kept going. I did a half in 2012 as well (Rock 'n' Roll Virginia Beach). I've done three of the Diva races (North Myrtle Beach, S.C., and Long Island, N.Y.). And I went back and did the actual half in D.C. ...
"After I trained for all the halfs by myself, I decided I was going to run a full. I ran my first full in Chicago in 2013. I trained with Thad (McLaurin). When I'm going to go for the full marathon, I need help. I went to Thad to do my training plan and joined his race training group so I wouldn't have to do all those miles by myself. That was awesome to be able to connect with other runners and have people to run with. I still go to his Wednesday night runs. My first Chicago was a little rough; I hit the wall at 20 and struggled to finish. It frustrated me, and that's why I went back the next year. I have to come back and actually be able to finish this whole race without struggling. I ran the whole thing. ... I had the chance to get into New York in 2015. I would train with my friend, and we'd train from a distance, and we'd meet at the races. She did Chicago with me twice. I trained for New York, and she ended up getting a stress fracture, and I had to run that one by myself. After New York, I kinda took a break.
"I've been running and going to Orange Theory. I'd run some 5Ks here and there. But as of the last month, I've started ramping up again. I've got my eyes on the half marathon again and eventually the full."
A typical week
"I will run solo in my neighborhood and do maybe 3 miles. When I go to Thad's group on Wednesday nights, I'll do 5. On Saturday, I go to Orange Theory and do some cross-training. On Sunday I do my long run; I'm working my long runs up. I probably run five days a week, probably about 20 miles a week."
Favorite place to run
"My favorite place to run is the Torrey Pines Reserve in San Diego, because it's beautiful. They have nice trails, and you can run all the way down to the beach and just listen to the ocean and run back. It's challenging, because it's steep.
"Around here, my favorite place is the greenway. You get to go over the water, all the trees, and it changes. Plus, in the summer, it's usually shaded."
Faster, higher, stronger
"I usually do most of my speed work at Orange Theory. It's hill work (on a treadmill), inclines and declines. I don't like it, but I like what it does for me."
Life passions
"The thing that takes up most of my time is my 13-year-old daughter (Chloe). She's a competitive gymnast."
Breast cancer and marathons: 'Wow, I did that!'
"I'm a 10-year breast cancer survivor. Just passed that milestone. When I was going through treatment, I could barely walk to the mailbox. To be able to come back a few years later and run marathons is pretty cool. That's my motivation, too, to stay in shape for health reasons.
"Being able to endure when it just feels terrible. It reminds me of when you go in and you get chemotherapy, and then a few days later you feel horrible. And then your body starts to recover. It reminds me of when you run a marathon, and at first you feel good, and then toward the end when it's over, you feel horrible. And you have to go through that recovery time to feel strong again. Is that crazy?
"But it's the other side of it. When you get on the recovery side, you're like, 'Wow, I did that!' and that's pretty cool. Plus, when you go through something that's life-changing, you want to do epic stuff after that. I'm not going to sit on the sideline in my life anymore. I'm going to go out and do stuff that makes me happy. I'm going to do stuff that's challenging and that a lot of other people can't do. ...
"It's through the struggle that we find the beauty."
My running inspiration
"Setting a goal and accomplishing it. Doing stuff a lot of people won't do because they think it's too hard. That level of fitness is awesome. The way you feel when you're in that kind of shape: There's nothing like it."
What I think about while I run
"Everything. I work out a lot of my problems (laughs). I'm able to think through stuff and come up with solutions. Usually I solve all my problems. I don't know if the solutions are good (laughs)."
Look what I did
"Finishing the New York City Marathon. The whole experience, from going to the expo to taking the boat over to Staten Island, past the Statue of Liberty, and just being there with all the other runners, and then getting to run through New York City, over all the bridges and into Central Park, it's just an amazing experience."
Something I've not done yet
"Get faster. I don't know if I have aspirations to do an ultra. I'd just like to do more marathons. My sister (Mandy Carlson) and I set a goal to do the Paris Marathon. Tokyo would be awesome, too. I just want to do all the majors."
Up next
"I need to pick a half. Maybe I'll go back to Virginia Beach; I'm not sure. But I definitely want to run the new Greensboro half (Nov. 23)."
Words to the wise
"Stick with it and be consistent."
Contact Eddie Wooten at (336) 373-7093, and follow @EddieWootenNR on Twitter.
Be the first to know
Get local news delivered to your inbox!