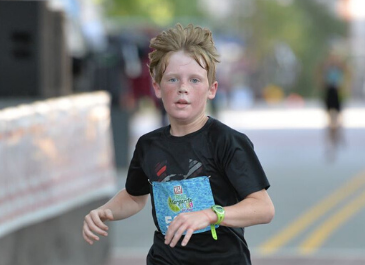 The Runners profile, highlighting an athlete in the Triad, is posted on Friday mornings at Running Shorts. Today, meet young Eden resident Blake Fink.
The Warmup
Dad, Jim; mom, Dionne; brother, Ashton, 12
Fourth grade, Central Elementary, Eden
"I did a running club with my school (in first grade, 2016). And then I did GO FAR, and that got me into running.
"I liked it because it gives me a lot of hills and it gives me a bunch of competition. I would start off slow, then when you got to the hills, you can just shoot straight up the hills."
My first half marathon, the Greensboro Half
"I thought I did good (1:46:52, 79th place, first in 14-and under age group). I liked the hill at the last part. I liked sprinting in because we got those cool medals. 
"The hills were a bunch of competition. My dad told me 'to never stop running and you'll get through it.'
"I liked it, because if I didn't have it, I would be all sweaty. But with the rain, it cooled me down." 
Speed Work
What I'm doing when I'm not running
"I usually practice doing 5Ks some nights, and the rest of the day I'm running and playing with my friends."
"I met these four people. I like to run with Pat Abbott, Kenton Stamey, Tom Lipscomb and Michael Koballa. They help me by pushing me. They pushed me to stay with them."
"You know how they stretch their legs out and they put both feet flat and they push up against something? That stretches out my muscles. And then when they put their hand against something sturdy and they just kick their leg up and back; that helps my muscles also."
None, but "I listen to Bruno Mars."
"I eat the night before and then on the way to races I'll eat a little biscuit (butter)."
"I usually get candy. M&Ms. My mom and dad say to get sugar; I don't know why."
"Diary of a Wimpy Kid" (Jeff Kinney).
"The Fast and The Furious."
"I like GTA. Grand Theft Auto. You get to rob cars."
Running Shorts: "That's not a good thing to do once you get older, right?"
"I just like being around the people I've met."
"The thing I'm most accomplished about is I usually place 20th or under."
Running of the Turkeys on Thursday in Greensboro. Finished in 20:53.4, a 6:44 per mile pace and good for 22nd place overall and first in age group.
The Cooldown
On being a poster child for running at PTI
"When I heard about it, I was like, 'Wow!' I didn't know I was going to be put up there."
What I think about while I run
"I usually think about how good of a job I'm doing. I know I'm doing good stuff for a 9-year-old."
What I've learned about myself from running
"That I like all of the competition."
"Never give up and keep on running."
Contact Eddie Wooten at (336) 373-7093, and follow @EddieWootenNR on Twitter.
Be the first to know
Get local news delivered to your inbox!