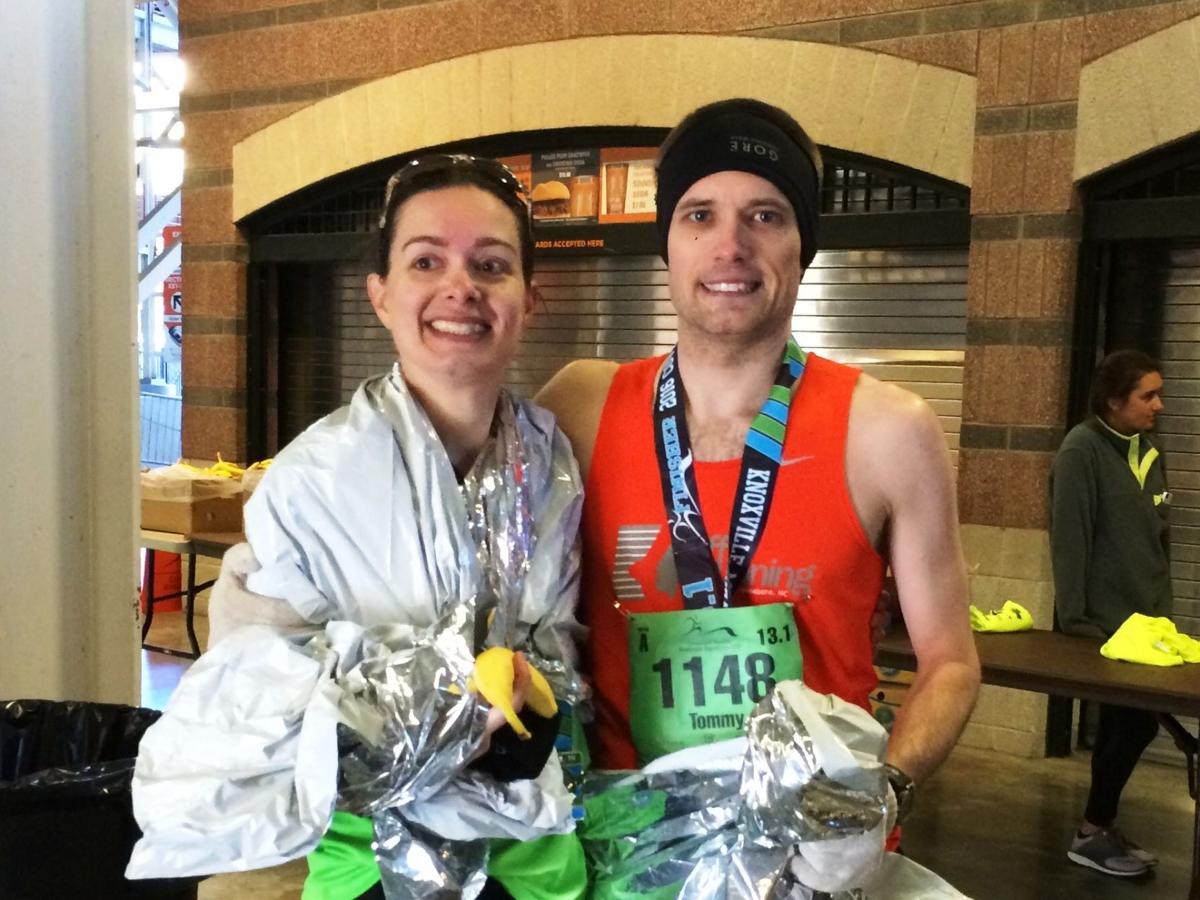 Editor's note: Emily Boles, and her husband, Tommy, have been mainstays in the Greensboro running community for most of the past two decades. They'll be leaving soon, with their son, Wit, for a new opportunity in Austin, Texas. Emily is the subject of today's Runners profile, and I wish the family well in its new adventures.
EMILY BOLES
Age
39 (will turn 40 on Wednesday)
Residence
Day job
Why I run
"I started I was a dancer from 4 to 14 (in Johnson City, Tenn.). Loved it. But when I was 12 and in seventh grade, you could join the track team. And several of my friends were doing it. So it was kind of that peer pressure thing. 'We're going to go do the track team; no clue what that is, but we're going to go do it.' Really enjoyed it, and had a good core group of friends that made up a relay. And so then we were really good. It was just a lot of fun with them. When you do this presidential fitness test, starting in kindergarten, first grade, I had always been decent at the running portion of that; the rest of it, total failure. I would always be the first girl, and maybe only one or two boys would beat me. But never realized it was a thing you could do as a real sport.
"There was no cross country. Then in eighth-grade track, the cross country and track coach from the high school came over to try to recruit kids. She explained cross country, and literally me and one other girl out of the whole track team were like, 'That sounds fun; let's do it!' She handed us a paper and said, 'Here's your summer training.' And basically just me and my friend, Jenna, would run the neighborhood, run the country roads out there. Start with 3 miles, and then 4 miles. We worked our way up to a 7-mile run. We thought it was big deal.
"I started with people, and so running with people was always a big thing. It was a fun, social thing, and I was decent at it. Did cross country and track all four years of high school (Science Hill High School).
"Definitely got some scholarship letters, got recruited, did several college tours. That's how I learned about UNCG and Greensboro, because I did get recruited there and we came on a recruiting visit. And I really enjoyed the area. And I toured Appalachian, UT Knoxville, several places, but then I really just was not ready to leave home. So I went with East Tennessee State, which was in my hometown of Johnson City. Full scholarship. So I lived on campus, did everything on campus. ... Cross country was always my favorite; indoor was my least favorite. And then outdoor.
"I did nutrition, dietetics. With dietitcs, usually everybody gets their undergraduate and then you do a year internship at another university or the same university. But I chose to go to UNCG because they had a good program and I was ready then to leave Johnson City. And so that's when I moved here (August 2001).
"The second or third week I lived here, I went to a Greensboro running club meeting. Because I'm a runner, and I know I can probably meet other runners, and how do you do that? I joined the running club and met Jim Halsch, Liz Lindsay, Scott Bassett, Frank Freeman. ... I've been running ever since. Did did some triathlons more those five years out of college because you do get a little bit of burnout. Enjoyed it, but I'm a nervous person on my bike. And then, when I met Tommy, running more. And then we've done four marathons together, we've trained for them, we didn't run them together in the race, but we've trained for them together. I like the 10-mile and the half marathon distance the most. Did 5Ks, marathons, then had our son. Started doing the pushing-the-stroller and running.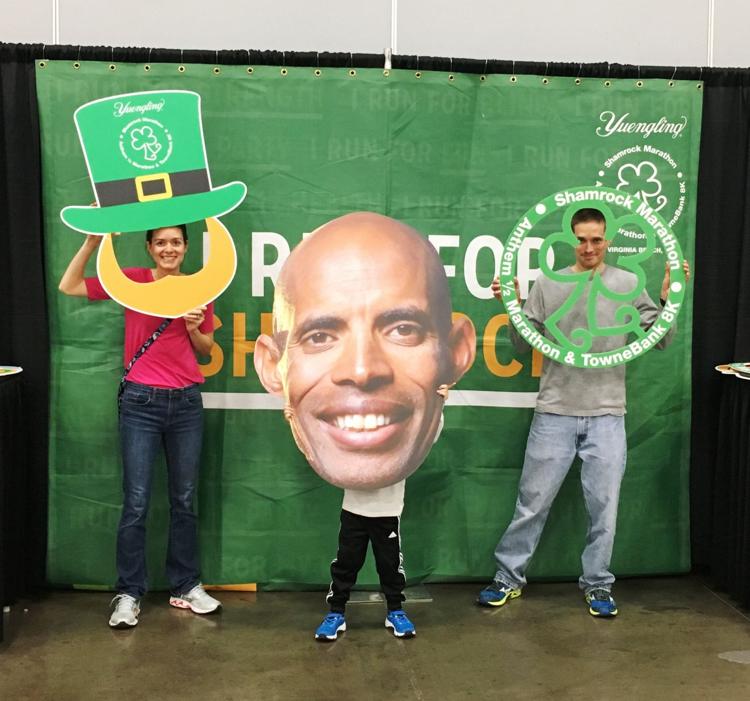 "At first it was more of a friend thing. It was fun with them, running with people. And I was pretty decent at it, then I was being paid for it (her scholarship). It's an easy way to meet people, and runners are generally some of the nicest people. As I've gotten older, just learning that it's an easy exercise to do. You don't have to have a lot of gear. You can do it anywhere. And usually you can do it in 30 minutes and feel like you've accomplished something for the day. And it just makes you feel better: stress relief, all that stuff. And let's show our son, 'This is something that's something you can do for a lifetime.'"
A typical week
"I'm at a point now where I'm doing good if I'm doing five days a week. ... Normally I'm doing Body Pump at the gym on Monday; run Tuesday, Wednesday, Thursday; usually try to do a yoga maybe on Wednesdays or Fridays. Run at least one of the days on the weekend. And it just varies. It can be a 20-minute run, or it can be an 8-mile run. ... 
"Seven, 7:30 (per mile). My fastest in college was 17:30 for 5K, 38 minutes for a 10K. But I've run faster since then. I did actually have some faster times in 10K and longer distances after college. Now I'd rather just run and not totally kill myself. I do still get competitive if I'm going to do a race and I do want to try to get myself prepared."
Faster, higher, strong
"I like a down ladder, where you start with a mile on the track and then maybe go you know 1,200-1,000-800-600-400-200. Repeat 1,000s are good. But if I'm going to go do mile repeats, I would much rather do them on the greenway than on the track."
Favorite place to run
"The Moses Cone trails. Because usually it's cooler. Nice pea gravel trails that go for a while. We've run a lot of places. Out in Oregon, some great places out there. We're nerdy enough that our honeymoon was out to Eugene, went to Nike campus and where Pre (Steve Prefontaine) was. Around town, the greenways, the trails – I like it all."
Life passions
"I like going to the gym. If I'm not gonna run, I like to swim or do Body Pump or yoga or something at the gym. People will probably tell you I like to scrapbook or make photo books via Walgreens or Shutterfly. I like to watch movies."
How I met Tommy
"They were starting to make the store (Off 'N Running) over there on Pisgah Church. I finished my little internship, in '01 to '02, and I moved to Winston because that's where I got a job. But I would still come back, because '03 is when the store opened (then by Bassett and John Dewey).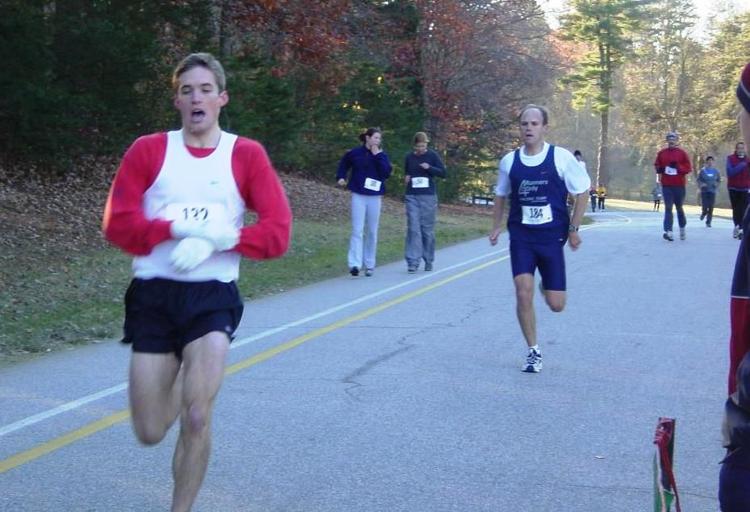 "I came two Christmases in a row, maybe in '04 and '05, and helped a little bit. Scott called me and said, 'Hey, there's this new guy coming to the Thursday runs that we think you would like.' And I'm like, 'What?' Dewey told Tommy, 'There's this girl and we're going to tell her to come' because I wasn't coming to the group runs as much because I was over there. So we met through the store, basically."
How I've seen change in the running community
"There weren't really group runs all the time (on arrival in 2001). It was more like you just did a run with whoever you met. Frank knew of another group of guys, which I will call the Old Farts group because that's what they liked to call themselves, but it was Bob Milan, Andy Garner, Dennis Hackett, Terry McConnell, Elaine Daniels, Gary Misenheimer. Probably 2002 went out to Spencer Love to start meeting them, they always ran at like 7 o'clock on Saturday and Sunday, and they were like the only group out there. Now you go out there and that is a totally different scene. RunnerDude, Liz Lindsay, Greensboro Running Club now does their Women's Running Schools, Fleet Feet groups, Streakers, F3. The Old Farts are still occasionally out there. So it's grown a lot.
"The store opening in 2003 helped that. And the fact that Scott started races, because there wasn't a timer in town before that. And Jim Halsch was doing stuff with the running club."
What I'd like to see happen
"We've increased our amount of people working out and getting exercise. And whether they're walking the 5K or whether they're running it in 14 minutes, that's great. We have a good, active community now. But I really think the (number of) races should decrease. There needs to be either one a weekend or even, dare I say, one good race a month. And there needs to be a variance in the distances. I don't want a 5K every weekend. There needs to be a good 10K that happens this time of year. There needs to be a nice 8K that happens this time of year. The half."
My running inspirations
'When I was first starting, it was my high school coach, Roberta Kuziola. She had run at East Tennessee State, a hurdler. I was more long-distance, and she was sprints. But I thought, 'Wow, this is so cool.' She got a scholarship, and she was fun. She ran with us some. She was great.
"Carrie Tollefson, Julia Stamps, people that were kind of my age. Kara Goucher. But I was never a big goal-setter. I was never like, 'This is great. I'm gonna be like them one day.' I never had those high aspirations like that. It was more like, 'I really like doing it. It's fun.' And it's something you're good at. And that's where I feel like if people are good at something, they tend to do it.
"We went (to the USATF Masters indoor meet in March in Winston-Salem) because Tommy was running the mile. And we're watching the previous races. A 94-year-old man ran like an 18-minute mile. And I was like, 'I totally want to be that man! How cool is that?!' An 85-year-old man ran a 7:46 (mile). ... Angie Staab here in town; she's come to the store for years and talked about these masters strategies. ... But I really enjoyed watching the older people there. I'm looking up to them."
What I think about while I'm running
"Some days, I'm just singing a song in my head over and over. And some days, you're thinking about what you've got to do the rest of the day. I do not really contemplate the mysteries of the world."
Look what I did
"In high school, we won state for cross country. In college, we won our conference, my sophomore year, for cross country. In my senior year, I did get like 25th. And they did All-American Top 25 for NCAA regionals. And I was Division I. So that was a big thing to me. I did a 3:09 at Boston (Marathon).
"I'm glad I accomplished helping my cousin (a Winston-Salem resident) train and run a half marathon. It was a fun thing we got to do as a family."
Something I'd still like to do
"I definitely want to go run maybe the London Marathon or run some races overseas. I like London. I just like British life. I think royalty is cool."
Up next
"Finding whatever races are in Austin. The next thing, apparently, they do is a big half marathon,. either January, February."
Words to the wise
"You've got to be able to get out and exercise and get your body moving. Stick with it. Even if you're just walking, it's better than sitting on the couch. Just get out. Get moving. And if you can work your way up to a 5K, good. The running community is so inviting and nice."
Contact Eddie Wooten at (336) 373-7093, and follow @EddieWootenNR on Twitter.
Be the first to know
Get local news delivered to your inbox!