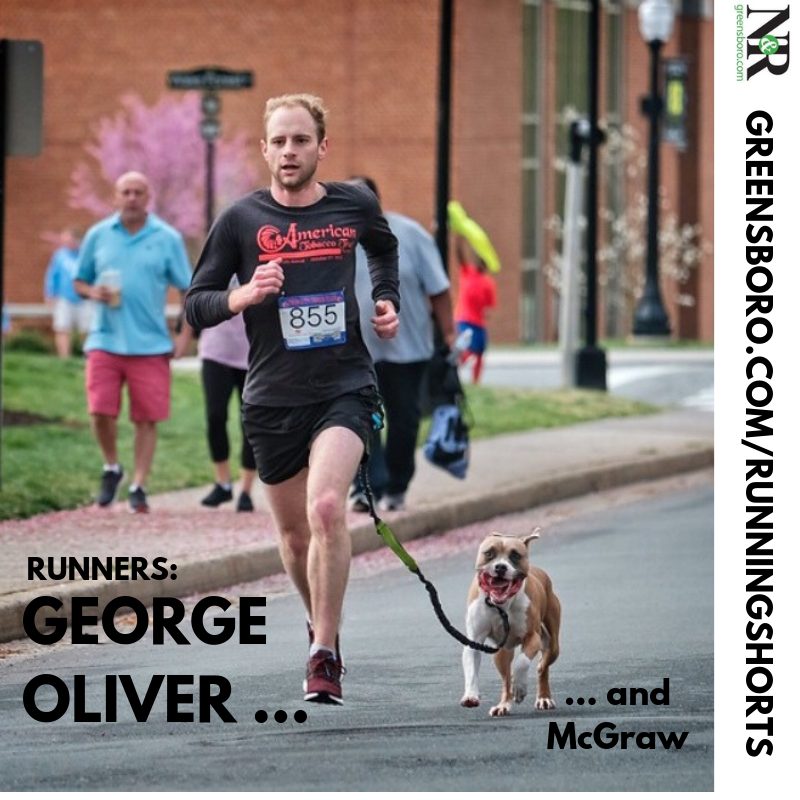 GEORGE OLIVER
Age
Residence
Day job
Data analyst, Pharmacy Department, Wake Forest Baptist Health
Why I run
"In high school, I was a soccer player at first but I did not make the JV team my freshman year. Family and friends saw me running to stay in shape for soccer. And they said if you don't make soccer, you should try out for cross country. So I did that. The first day I showed up to a time trial and did that. The second day, I was so scared of getting lost that I was really just trying to hang on with who I was with. And next thing I know, it was just me and two of the varsity guys on the team, our Nos. 2 and 3 guys. So that's kind of where I saw some potential, but since that whole season, it's just sort of worked out. And sophomore year, I wound up just staying with running and kept with it.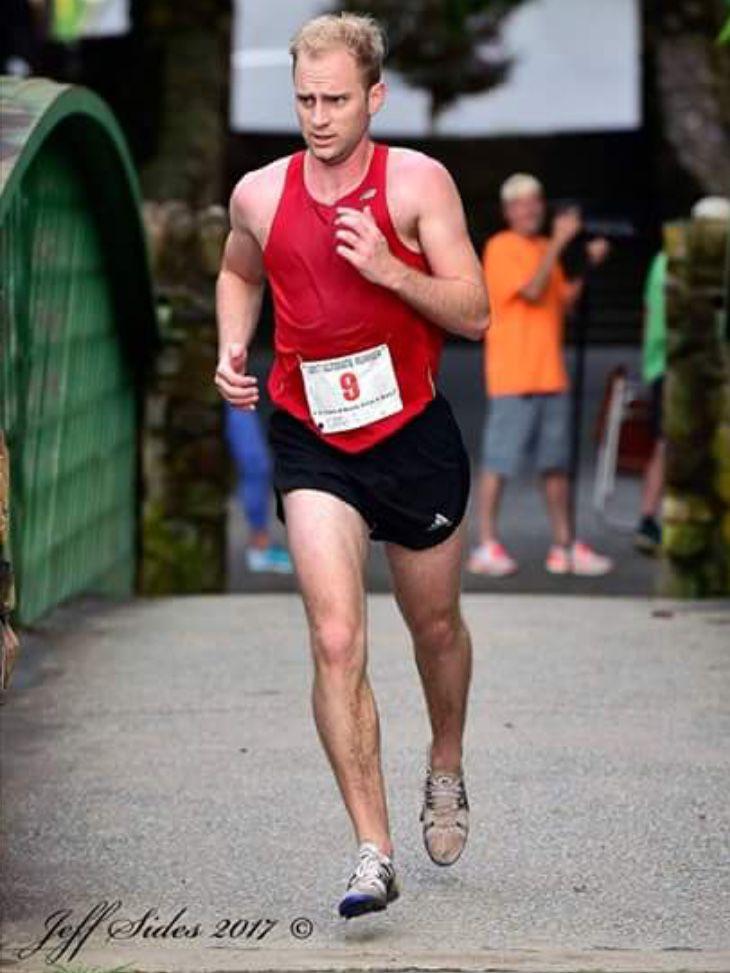 "Led me to go run for Cornell. And then after college, I took six months off, wanted to catch up on the fun I thought I missed out in college. Going out partying every Friday night got very old; I realized I really enjoyed having something to keep after. So I signed up for the Rock 'n' Roll Marathon in Raleigh; ran that. Just kind of kept running from there. It's a stabilizing force, keeps me mellow at work and just keeps me going day-to-day. I enjoy doing it every day now."
A typical week
"Usually I will do 70 miles a week. In the weeks leading up to (the Boston Marathon, where his 2:34:44 was the Triad's fastest time), that's pushing more 80, 90, trying to really get into peak marathon shape. Some weeks I'll be running, probably every other week, seven days a week. Other weeks, it'll be six days a week. Just depending on how I'm feeling. I'm not scared to take a day off if my legs aren't feeling great. Over the winter, I was getting off work at 5 o'clock, and I had one other friend, Dale Johnson, who just graduated from college. So we would run probably 10, 11 miles after work every evening. Do one workout a week, mostly. If I can do it during the week, I'll do it. Otherwise, do it on Saturday. And then on the weekend, there's just a decent crowd at Salem Lake: Zach Vaslow, Justin Pfruender, Donnie Cowart and Brandon Hudgins. A decent-sized crew. And that's probably one of my favorite runs of the week, getting a good group of people to run with."
Favorite place to run
"Asheville is definitely top of the list. I just love the trails out there. Running in general, I love going to a new place and just checking out the trails there. Getting a little water and seeing if I can find my way back. I love running somewhere new because it's just extra stimulus. Get past all the old normal sites. Long runs go by much faster that way."
Faster, higher, stronger
"I love mile repeats. These days, it's mostly 10 x mile workouts. In high school I really enjoyed it when we did 3 x mile. In college it got up to be 6 x mile. I get a lot of satisfaction from it. It's just something where it's easy to compare yourself to where you were a few months ago or where you were a year ago. You can see where your fitness is progressing through these kinds of workouts. So I always leave this workout really inspired by what I think I can do in the next race, and it really motivates me."
Life passions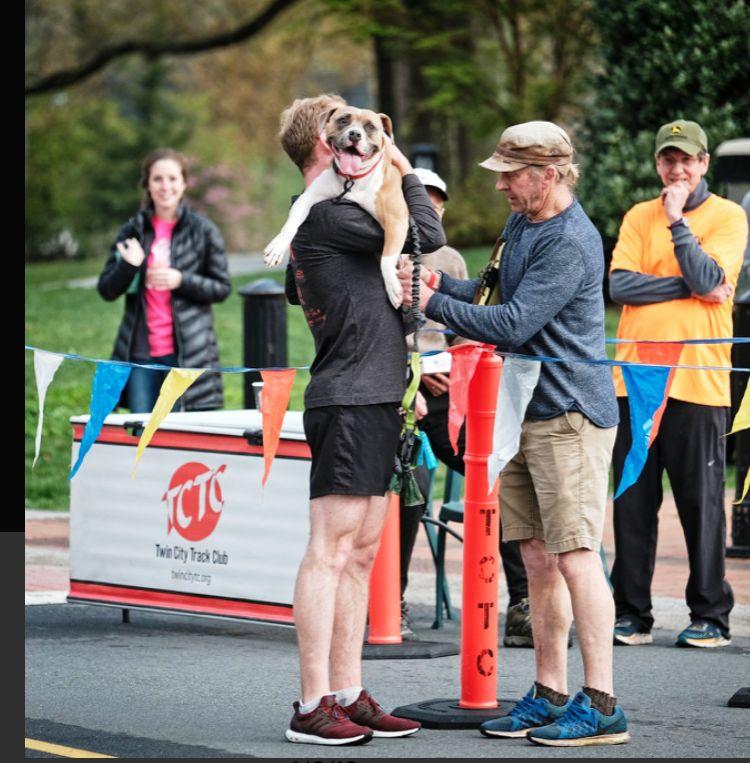 "I recently joined a branch of the Kiwanis Club in Winston Salem. So we have a little volunteer group through that. Last fall I was fostering with the Forsyth Humane Society. But after a few months I wound up landing on the dog I was going to keep, so I've got McGraw here. An all-American mutt but mostly pit bull. I've run a couple of 5Ks with him; he's run an 18:46 5K."
On running for Mount Tabor's strong program
"We had Reese Wells and Jared Neely (cross country team, freshman season). We went in unranked and wound up finishing fifth that year. I was on the JV team, but I was very inspired by that. Over the years, we were fifth, fourth my junior year, second senior year, but I mean, a lot of fun. We had the huge rivalry with Reagan, racing Craig Engels. They had a good trio with Jordan Marsh and Perry Cabean at the time. So duking it out, and then (Coach) Patrick Cromwell really knew how to train us and he's a great coach. Reagan's Chris Catton was also a great coach at the time. So it just made for a really fun rivalry those years."
Memories of Cornell
"My favorite thing was all the people that you got to meet there. It was an amazing experience. Bill Nye is a graduate there. So he's jumped in on a couple of lectures, and I got to see him. Got to go to dinner with the founder of Honest Tea (Seth Goldman), which got bought out by Coca-Cola. Some of the guys I roomed with, they wound up getting jobs at SpaceX and NASA. So really amazing people to be around while I was there.
"What I've learned at Cornell, it's not that it's directly applied to what I've learned in the real world. But it's definitely given me the skill set of critical thinking and working through a problem that I value in a job I'm doing day-to-day.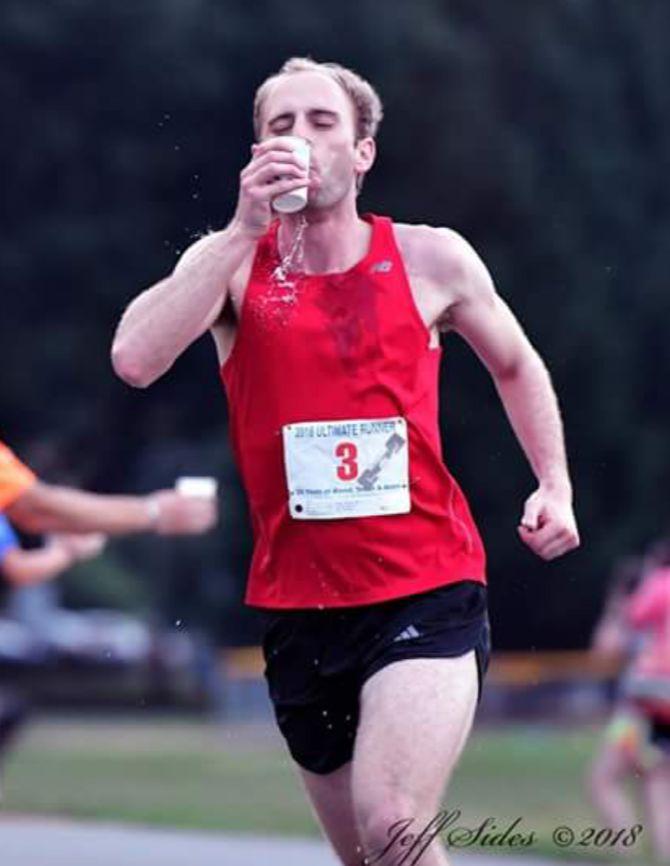 "I'm just a different runner than I was in college. In college running, you thought you had a four-year career and when your four-year career was up, that was going to be the end of it. So there was a lot of stress about making the most of those four years. Today as a runner, now that I'm training with people that are in their mid-30s, it's like I have all the time in the world, and I'm just enjoying running right now. ...
"My coach through my time at Cornell, Zebulon Lang, started coaching me again after I decided to take running seriously again in the summer of 2017. He's out in Colorado now but sends me weekly training plans and has been instrumental to my success from Charleston (Marathon) through Boston."
On my 2:34 at the Boston Marathon
"I went out pretty ambitiously. The first half is downhill, so you're going to expect that to be a little faster. I came through the half in 1:13:20 and was definitely feeling it, tried to push it. Once I reached Newton and had to go through the hills, I started breaking down. It didn't feel great. So I did what I could; 2:34:44, that's 15 seconds off my PR. It's one of those races where you want to do a little better. But knowing that I went as hard as I did on a hilly course, and it wasn't too hot but also not like perfect weather to run a PR – it's still a good race and still gives me confidence, that confidence that I'm in really good shape. And it's one of those things where you work and you just gotta be patient and know the results will come. Boston was an amazing experience. I'm really glad I did it. And I know that in future races I'm going to be able to run faster. ...
"(On Boylston Street near the finish) People were blowing past me. And that's where I'm looking at the clock. 'Am I going to PR? I don't know.' I was trying to do the math. I was going to have to run pretty fast to get that PR. What really stood out in the amazing experience at Boston was going past Wellesley. The scream tunnel absolutely blew me away. I couldn't even hear myself think, and everybody's just going crazy. And all the runners are getting amped, so that was that was something else."
My running inspirations
I'll say Brandon Hudgins' name first, but really, the whole group. Brandon, having come back from vasculitis to continue training as hard as he does to get to this level. That's a guy that really motivates me on Sunday morning. Waking up at 8 a.m. on Sundays is very dreadful for me, and I'm pretty miserable on those runs. But the second I think about complaining, I realize I haven't had to battle a very rare disease that has threatened my life, so I should just really grind it out. But all of these guys on Sunday: Zach, running as hard as he can while raising five kids. A lot of these guys are in their mid 30s. still pushing to run PRs. Until recently, I thought I was going to turn 25 and the wheels were going to come off. It's just been very inspiring seeing these guys getting after it and letting me know that I can still continue to improve in this sport."
What I think about while I run
"My mind, I mean, it just runs. It can go anywhere. Making up random business ventures that could happen. Winning those arguments that I wanted to have five hours ago. Picking up strategies for whatever race I'm going to be doing. It can go all over the place."
Look what I did
"My sophomore year in college – you might not make the roster for indoor season. I got an email saying I wasn't on the indoor roster. That one really just irked me; I thought I deserved that spot. I had a 3K that Saturday. And I was just determined to prove my coaches wrong. In the Northeast, you have this league, IC4A, where you can hit a time standard. So I went in like I'm going to hit the time standard, let them know they're wrong, that I deserve to be on the team. Now, I didn't hit the time standard. But as it happened in that race, I had four teammates and I beat all of them. I wound up finishing third in the race and really just kind of showing everyone that I deserved to be on the team and got my roster spot from that."
Something I'd still like to do
"When I graduated from high school, I said I wanted to do the 50 marathons in 50 states challenge. I'm reevaluating that: Fifty 50 marathons is a lot. But I see the point where it's like you run a marathon in Fargo, or you can go to Berlin to run the marathon. I'm going to choose the Berlin Marathon in that case. These days, I'm just enjoying going race to race, running in cool places and getting cool experiences. I'll worry about my bucket list later."
Up next
Words to the wise
"You gotta want to do it for yourself. You're probably the only one that's going to care about what times you run or what you accomplish in this sport. So if you're not doing it for yourself, you're not going to find it worth it and rewarding. You're going to learn to enjoy the sport, when you do it that way, whether it's running great PRs or finding a cool group of people to run with or running to lose weight. But if you're not the one that's really wanting to do it for you, and you're just trying to do it for comparing yourself to others, you're not going to get the enjoyment out of the sport that way."
Contact Eddie Wooten at (336) 373-7093, and follow @EddieWootenNR on Twitter.
Be the first to know
Get local news delivered to your inbox!