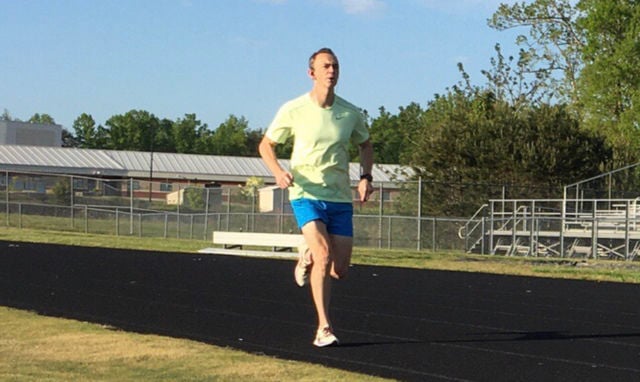 Nothing good happens after 2 a.m., right?
Not unless you're chasing a world record in a relay run.
About 50 runners, mostly from Guilford County, are teaming up at a distance to cover a great distance, 5,000 miles, on the track at Northern Guilford High School. One runner has been circling the 400-meter oval continuously since 8 a.m. April 15, each stride putting the 5000 Mile Run Club closer to its goal.
"At a time when we are so isolated, it is nice to feel a part of something," says Greensboro's Elle Ellender. "The camaraderie this event has created is just what I have needed, even if it is just virtually. All participants have been so supportive and encouraging. This event has given purpose to so many people's training at the moment when all of our races have been canceled."
The relay, which was the idea of Rich and Libby Swor, Danny McCormick and Jody Nelson and which carries the blessing of Northern Guilford High School and law enforcement officials, is a quest to surpass the longest distance documented by a team: 4,014.52 miles by a team of 2,000 runners in London, taking more than 30 days in 2018. Guinness acknowledges a team in Ireland running 3,504.28 miles in 2012 as the world record.
The team's pace of nearly 200 miles a day is putting 5,000 miles well within sight at perhaps 26 days, or the second week of May. Because Guinness records require video evidence, the Run Club is running largely for the health benefits, the virtual camaraderie achieved through a stat-tracking team app and some COVID-19 coping.
"I personally am OK with knowing that we as a team did this, under crazy conditions, as a group of around 50 people," Swor, a former Northern Guilford teacher and swim coach, wrote to his teammates.
Gov. Roy Cooper's state-at-home order during the COVID-19 pandemic allows for exercise but prevents gatherings of 10 or more people. Gatherings aren't an issue for this team.
Only two people are permitted at the track at any time: The runner being timed, plus the next runner in the relay order can get into position 10 minutes before his or her start time.
The relay also does not include a baton handoff but is scored with timing chips worn on runners' ankles. Any fist-bumps or high-fives are virtual as team members – in disclosure, including this writer – observe proper social distancing. When a runner finishes his or her shift, they exit the track.
Greensboro's Anna Spivey agrees with Ellender on training and team spirit. During this era of online learning for school students, the mother of two young boys has found another benefit.
"It gives me a little break to be away from my house and from my new-to-me title of homeschool teacher," she says. "Which I don't hate; it is just hard."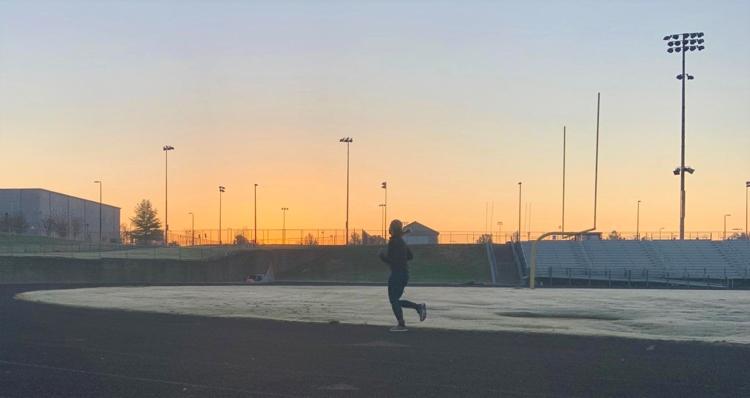 The Swors' race management company, like too many others and certainly some that cater to runners, has shuttered because of the pandemic. In their case, races they own or would have timed have been canceled or postponed, allowing the Swors time to do something unusual with their timing equipment. The 5000 Mile Run Club keeps the Swors running and enjoying time, at a distance, with the running community they love.
"It's important to continue to have goals and to have things to push for and things that motivate you to keep going," Swor says. "Having other people relying on each other to keep running is helpful. When we can't be together, this still adds a little bit of community to running, even though we're running separately the entire time."
Contact Eddie Wooten at (336) 373-7093, and follow @EddieWootenNR on Twitter.
Concerned about COVID-19?
Sign up now to get the most recent coronavirus headlines and other important local and national news sent to your email inbox daily.