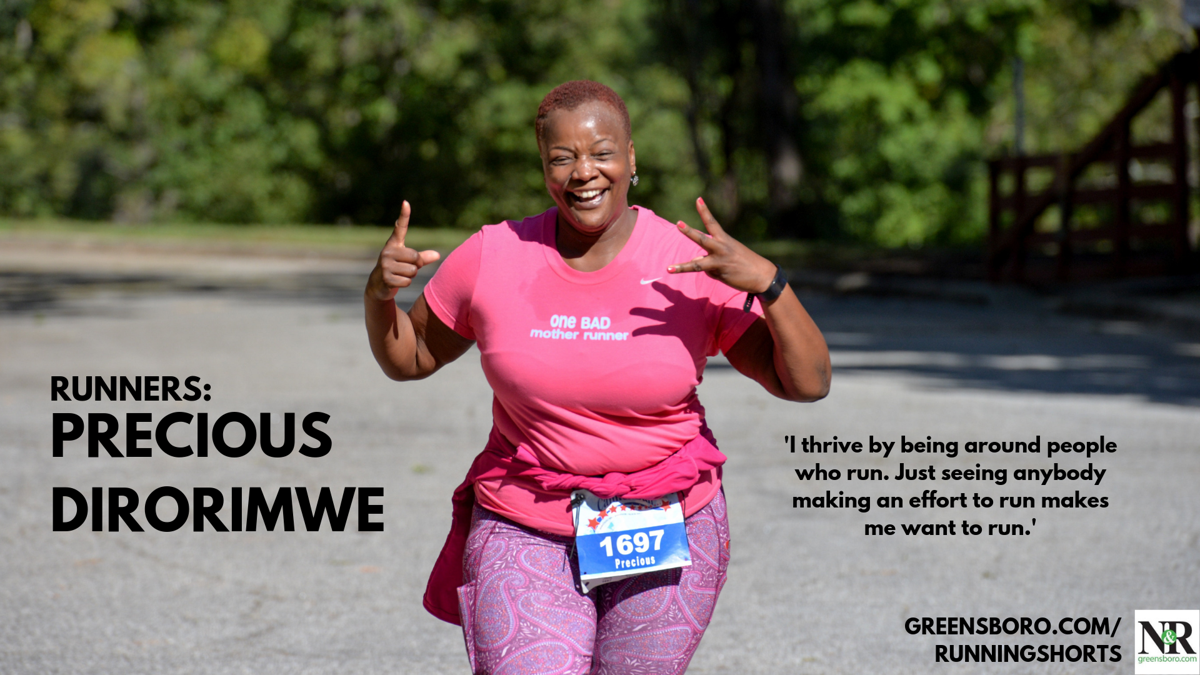 PRECIOUS DIRORIMWE
Age
Residence
Day job
Why I run
"I like to say running chose me, and that's how I started. In high school (in Zimbabwe), I hated running so much, I found an excuse to not run. In four years of high school, I never ran a day. But in May 2005 (now living in the Triad), a friend of mine said, 'Let's go to the Susan G. Komen Breast Cancer Run (in Winston-Salem). I said, 'No, I don't run, but I can walk.'
"My heart just melted. After that I would go to races just to be around the people. Each time I went to a running event, I just fell in love with the sense of community and camaraderie around the running people. I would probably jog 10, 20 feet, and then walk. But I said, 'If I'm going to enjoy this, everyone who is running (at the finish line) looks so happy.' They're crying because they've achieved something. That's got to be amazing. So I said, 'OK, I'm going to start running.'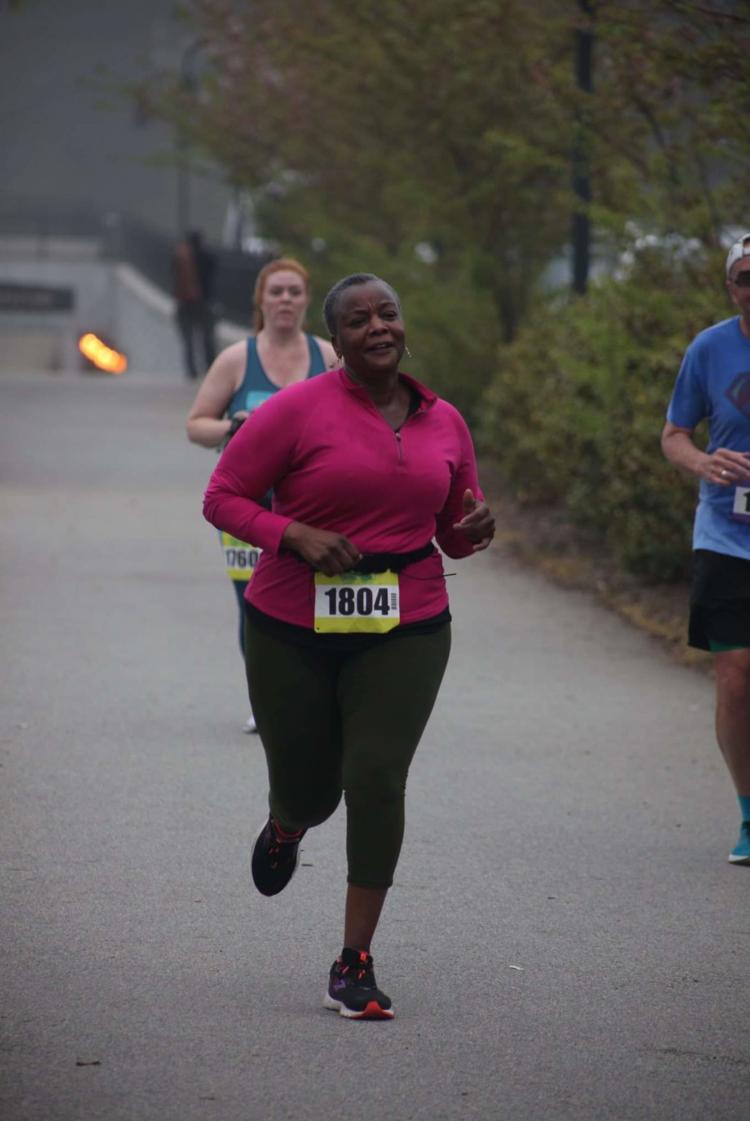 "In 2017, I said, 'You know what, Precious? You just have to try to do something, you look like you enjoy this running, but do something more than just a 5K.' I ran my first 10K in February 2017, the RunnerDude's Challenge. I cried at the end of it because it was the first time I'd done a longer distance. I was so excited; I want to see what more my body can do. Running was hard: I didn't have the right form, I didn't have the right posture. But being around Thad (McLaurin, owner of RunnerDude's Fitness) ... I said if I'm going to do this, I'm going to have to do it the right way: Proper coaching, proper training, and with the right shoes. I got all of that through Thad and I signed up for a training session with him in the later part of 2017.
"The idea of doing a half marathon was floating in my head. 'Could I really do that?' I'd never done anything more than 6 miles, and that's double that, and then some. December of 2017, I lost my father (Zacharia Dirorimwe). I had to go back home to Zimbabwe. It's a long trip, and having to deal with all of the estate issues after his passing, running was the time I would sort the issues in my head. One day I found myself just jogging out there, 8 miles, and I didn't even realized I had gone for 8 miles. 'What do I do? I'm not home; I'm here.' I realized running can actually help me solve other things. It's my time to sort out the things I need to sort out, to get myself organized. Most (of my) running is early in the morning. I've reorganized my day to how I'm going to be productive.
"In 2018 I ran my first half marathon, the Cannonball. It was amazing. I had the support of an amazing group of friends. Not only my friends, but the running community in Greensboro is incredible. Everybody's just there. They just want to holler, give you cheers, and I'm that runner who is always giving commentary. If we are running up a hill, I'm the one who gives commentary. In most of my race pictures, I'm laughing, yelling, jumping, screaming, hollering. I've done two half marathons (also Women's Half in Durham). This year, I plan on doing the Cannonball again. I did three hours and 16 minutes my first race; I'm not a fast runner. That's almost walking it. This time, I have a time goal because I now know what my body can do. I'm hoping to get a better PR. With my Durham race, I did PR by 11 minutes. I'm getting stronger and using the tools I've learned from runners around me, from all the coaches, and I'm in better shoes, which makes a big difference. I know how to hydrate and fuel my body. I'm amazed that I'm actually doing this."
A typical week
"I run mostly with groups. Along the way, I've found buddies from different groups who run different distances. I am with the RUNegades with RunnerDude's Fitness, and I'm so grateful I did that program. I love to run hills now (laughs). I love to run hills. We do a lot of strength training, speed work. On Mondays, I do the RUNegades, about 4 miles. I'm also a Zumba instructor, by the way. Zumba is my first love. I chose Zumba, but running chose me. Tuesdays, I try to find a Zumba class. Wednesdays, I do Thad's run group, about 4-5 miles. On Thursday, I do Tabata with Thad's group and, if I can, get in 2 miles. On Friday, I swim. I use swimming as cross-training. Zumba and running are high-impact for my knees. My physical therapist, Jordan McAmmond – she's amazing – said, 'Let's get you in the water.' Saturdays, I do the group run, and I'm so excited for Run the Boro. I do a bit of a longer run, 6-8 miles. And on Sunday, I teach Zumba."
Favorite place to run
"I love the greenway (Atlantic & Yadkin). It has everything. It's shaded, it's hilly, you have some flat areas. Greensboro is blessed with the greenway. I can start in Summerfield, a little bit after Strawberry Road and, if I just want to forget about everything, go all the way into Country Park. It's good training."
Faster, higher, stronger
"I can always do Zumba after running because it doesn't feel like a workout. I know that's double cardio. After Saturday's run, I'm going to a Zumba event for an hour and a half. There's always time for Zumba, and there's always space for Zumba in my life. When it comes to Tabata, I've learned so many exercises he makes us do. Leg workouts: I like them because they help me on my Saturday runs."
Life passions
"I enjoy time with my son (Mukundi Massena, age 11). He loves basketball."
On growing up in Zimbabwe
"It's very different now. I went back in 2017, and I almost felt like 'this is such a foreign place now' because of the economic situation and the government and political things. It just breaks my heart now.
"But growing up, life was so easy. We went around, played in the streets, with nothing to worry about. I was in boarding school most of my life, from second grade through high school. I learned to live with people I had never met. Maybe that's why it was so much easier for me to move to the United States and transition into meeting people and just being me.
"In Zimbabwe, the 'better schools,' it was believed that in a boarding school setting, that's the best. ... It's more for a better education because it's strict. Zimbabwe is a former British colony, so it still has that British feel to everything, where when it's time to eat, we don't sit until everybody sits down to eat. It's timed within five minutes, we line up, we're all in uniform from head to toe, we do inspections, maybe similar to military style, but it's normal for everybody.
"It encouraged us to be better in school because everything was competitive. I came to the United States in 2001 to go to college (High Point University). In Zimbabwe, after high schools, there are two additional years of advanced level. You have to qualify to go to advanced level. I barely missed the mark, and I would have to retake the last year of high school. Coming to the United States, my grades were good enough."
A trip to Toronto
"My friend (in Toronto) is married to a beautiful lady, Linda. She always liked my running and Zumba posts on Facebook. I mentioned to her husband, 'I really don't know her well enough on how I can talk to her.' He said, 'Just call her up.' She said, 'Oh, if you were here, maybe I could do Zumba with you.' I was like, 'Sure, always.' I found a Zumba class close to where they live, and I told her, 'Try this Zumba class. They offer a free one. Go, and you might like it.' And she enjoyed it.
'Then I said, 'Would you like to run?' And she said, 'No.' A month later, I called her up. I said, 'You know, if you do decide to run your first 5K, I will come and run with you in Canada.' She said, 'You wouldn't do that; we've never met.' I said, 'We don't have to have met. You are married to my friend. You are my friend's wife. You are family to me, as I see it.' Christmastime, I called her up. 'My offer still stands, just so you know. I will come; I will run with you.' In February, she found a race. I said, 'What do you know about running? Just try and go running for 10 minutes and see how you feel, and then we'll talk about it.' She said, 'It was painful.' I said, 'We'll start off with the running shoes, and maybe your form.'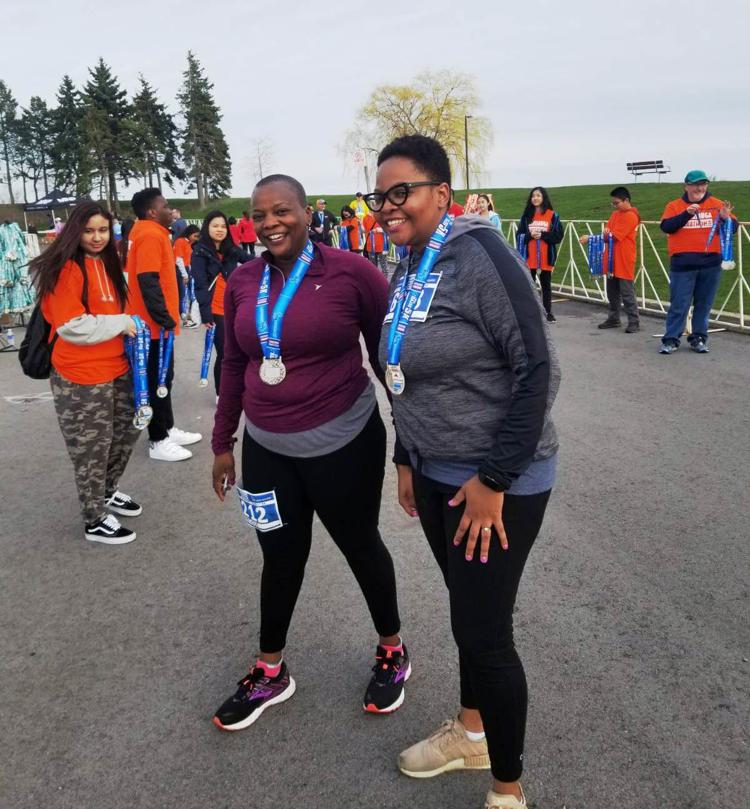 "Each week we would talk about running, what she could possibly do, and I ended up being in Canada last weekend (for the 5K that was part of Toronto Marathon race weekend). We did a 90/30 (90 seconds running, 30 seconds walking) the whole time. We did it. We crossed the line together: We hugged, we cried. It was emotional for me because I realized that it's helping me, but some people are watching and I've motivated somebody to actually do something that can benefit them. That was emotional for me. It also challenges me and keeps me wanting to be a better person."
My biggest running inspirations
"I don't have a particular person. Anybody who runs, and does distances, that's inspirational to me. I thrive by being around people who run. Just seeing anybody making an effort to run makes me want to run.
"I have a friend, Brian, he has a breathing issue. He struggles to breathe, but he loves to run. In early 2016, when I tried to run, we went together, and he was doing better than I was. He said to me, 'What is your limitation?' I said, 'Oh, my back.' I knew about his breathing issues. But when I went home, I thought, 'What is my limitation?' My back is an excuse; it's not a limitation. I sometimes use that – 'What is your limitation?' – when I'm struggling with a run. There are times I'm about to hit a wall, and I say, 'Precious, what is your limitation?' I really don't have one. My mental state is the limitation in most cases."
Look what I did
"My half marathon. 13.1 miles – to me, that's a very long distance. A friend said, 'No, 13 miles; my car can do that; my legs will never do that.' But I did it. I have no desire to anything more than a half marathon. Later, two halfs and registered for a third."
Something I've not done yet
"My goal would be to run the whole time in a half marathon. I know that is not in the near future."
Up next
"I've planned to run a race every month (of 2019). I have done that so far. I've not signed up (for more); they're within sight. I know I want to do the Fun Fourth in July. In June, I'm still debating which one to do."
Words to the wise
"Just go out there and try it. Just do it. Once you've done it, you can always improve. Find out what works best for you. But you don't know unless you try."
Contact Eddie Wooten at (336) 373-7093, and follow @EddieWootenNR on Twitter.
Be the first to know
Get local news delivered to your inbox!