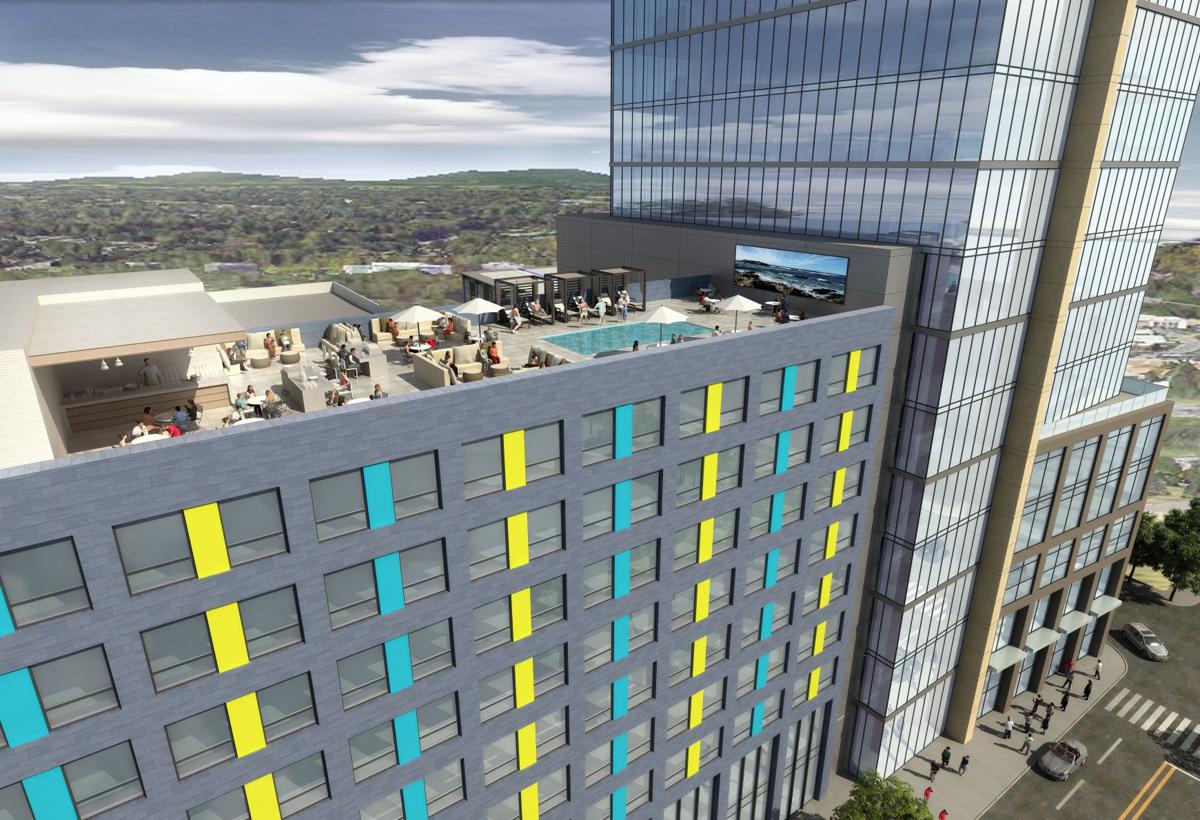 GREENSBORO — Developer Roy Carroll announced Wednesday his latest development will be a "game changer" for the city.
The Carroll Companies will make a $140 million investment in a hotel, office and retail complex — nearly twice what the company spent on its most recent downtown project, Carroll at Bellemeade, a hotel and apartment project that dominates its own corner of Bellemeade and Eugene streets. 
The new development will double the number of hotel rooms and apartments that Carroll owns at that intersection and add a second office building as well.
Carroll announced what he is calling Carroll South of Ballpark just weeks after his company opened the Hyatt Place hotel, which is within a stone's throw of the planned development.
When this latest project is completed, Carroll will have two major properties across from First National Bank Field, home of the Greensboro Grasshoppers baseball team.  
"I think this corner is well-suited for development, surrounding the ballpark," Carroll said in an interview in the ballroom of the Hyatt Place, where he made the announcement at the spring meeting of the Downtown Greensboro Inc. economic development group. "I like creating synergy, kind of a micro community, in our downtown."
The new development will dramatically increase growth in the northern end of downtown, which will also see the $84.7 million Steven Tanger Center for the Performing Arts open next year.
Components of Carroll South of Ballpark include: 
• A 150-room Aloft Hotel, bringing to 260 the number of hotel rooms the developer will own at the Bellemeade-Eugene intersection.
• There will be 280 luxury apartments in addition to the 289 apartments Carroll is already opening there.
• A 20-story office tower. 
• A 13,000-square-foot meeting space. 
Construction is expected to begin in late 2020 after the city completes a planned 945-space parking deck. 
Carroll said the project is designed to wrap around the parking deck, which will have entrances on Eugene and Bellemeade streets. 
"The great thing about this city garage is you don't see it. It's buried in the back," Carroll said. "That allows the city to build a less expensive garage instead of trying to make a garage pretty."
Carroll's Aloft hotel will be one of several new hotels that are being built downtown, and among the first in decades since the downtown Marriott opened in the 1980s on Greene Street. 
Greensboro-based CN Hotels is building a Hampton Inn at South Greene and West McGee streets. Another development group has planned a Westin hotel between Elm and Davie streets at February One Place, where the city is building another parking deck.
All the hotels could be open within the next several years, leading some to wonder if they can coexist.
But local business leaders say companies and nonprofits are clamoring for meeting space downtown — and lodging for those meetings. 
Carroll said Wednesday that his small conference center will be an integral part of his new Aloft hotel, which is designed as a no-frills place for young professionals to stay. 
"I think it's pretty critical," Carroll said. "We're not Koury Center ( the state's largest conference center). Koury Center does a great job. We're not going to try to compete with them. What we're gonna do is have more conference space because of demand we've seen with our Hyatt Place conference space."
The project is being built on land currently occupied by Guilford County operations that include the Sandhills and Monarch mental health agencies, which will continue to have up to two years to lease their building on the south end of the property.
Carroll, the county and city have worked out a deal where he would acquire the land and sell a portion of it to the city for the parking deck. 
Meanwhile, another development group is planning to build "Project Slugger," a 75,000-square-foot office building situated on a corner of the ballpark property owned by the Grasshoppers. 
It will be directly across from Carroll's proposed 180,000-square-foot office building.
Carroll said Wednesday that Project Slugger is almost fully leased and that leaves him clear to begin searching for tenants of his own. 
He explained that his office project will be different because of its proximity to restaurants and retail. 
"You've got to have people that appreciate being involved in a project like this," he said. "I believe that having not just an office tower standing alone but as part of a mixed-use project, that there'll be office users out there that'll see that value and be willing to pay what we need to make that office project move forward."
Contact Richard M. Barron at 336-373-7371 and follow @BarronBizNR on Twitter.