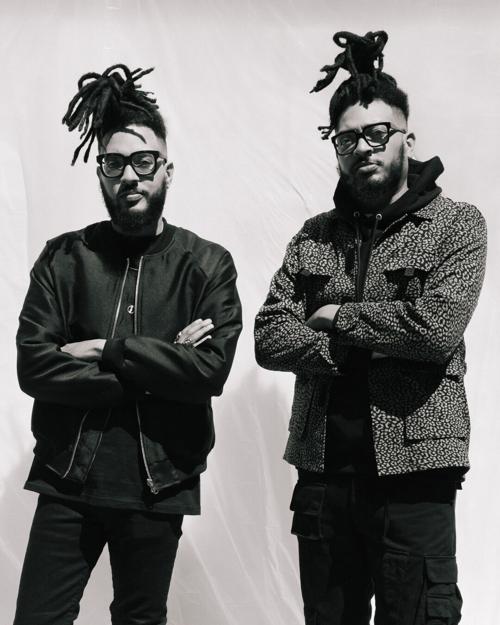 DANVILLE, Va. — It's 2,489 miles to Los Angeles, one of the fashion meccas of the world and home of the Brownstone clothing line, an emerging clothing brand with roots in Danville.
Brothers Waverly and Warner Watkins are the twin sons of two supportive parents, Waverly Sr. and Kimberly, who encouraged them to figure out what they wanted to do and pursue it with everything they had.
Waverly was a "sneakerhead" at 14 years old and had already compiled an impressive shoe collection by the time they graduated from George Washington High School in 2007. Sneakers were the "rabbit hole" for the brothers' passion for fashion, which developed in stride with the internet.
As it evolved, so did their research. They explored websites of national and international clothing lines. Offline, they visited exclusive brand stores and asked employees about different collections, brands and anything else they wanted to know about their merchandise. However, the clothes were just part of the experience.
"There were some stores that left us thinking 'Ah, man, that place was so cool," Waverly said. "If we wanted to start our own line, we wanted our customers to feel the exact same thing we did."
By the time the Watkins brothers graduated from Atlanta's Morehouse College in 2011, they knew they wanted to start their own line. They moved to New York to get their feet wet in the fashion world and it was there that their brand name came to them.
Brownstone
Brownstone is architecturally famous in New York for its sandstone exterior and color. However, you don't get the full experience of the house until you walk inside. That's what the Watkins brothers want with their brand: a sleek, unpredictable fashion line that tells a different story with each collection.
While New York gave them their name, it wouldn't give them success. Los Angeles provided a better infrastructure for their business model and, in 2015, the brothers moved cross-country and established Brownstone as one of the emerging fashion lines in the industry.
They've been featured in GQ and Hypebeast magazines, awarded Complexcon's "Brand to Watch" and recently partnered with Nordstrom to have their most recent collection showcased in seven stores across the United States.
The latest collection, set to release in April, was designed in Danville when the Watkins brothers were visiting family for the holidays. It draws heavy inspiration from David Stone Martin, an artist who designed cover artwork for mid-century jazz musicians and architect Charles Eames.
Roots in music
Paying homage to previous generations can be traced back to their creative process. It starts with the scratch of a vinyl record in the early hours of the morning or in the twilight of the afternoon. The brothers' collection ranges from the entire M.F Doom discography to classic punk rock to soul jazz to South African rock bands that "no one's ever heard of."
"Music plays such an influential part in our process," said Warner. "Not only is our taste eclectic, but it's what makes Brownstone unique."
From there, the brothers draw inspiration from uncompleted projects, clothing that was meant to be included in the previous collection but wasn't finished. Then the fabric must be approved. In their upcoming collection, most of their fabric was imported from Japan, a country and market they're trying to break into.
Then the brothers work to meet their deadlines. They have two annual collections and four annual fashion capsules, one for each season, and whatever isn't finished serves as inspiration for the next capsule.
"We're always trying to meet perfection," Warner said.
Four years into its business, Brownstone's story continues to tell itself, much like the Watkins brothers themselves.
"People are always intrigued about how we got from Danville to Los Angeles," Warner said. "We did our research and built our plan. We found people that knew more about fashion than we did. And most importantly, we didn't quit."