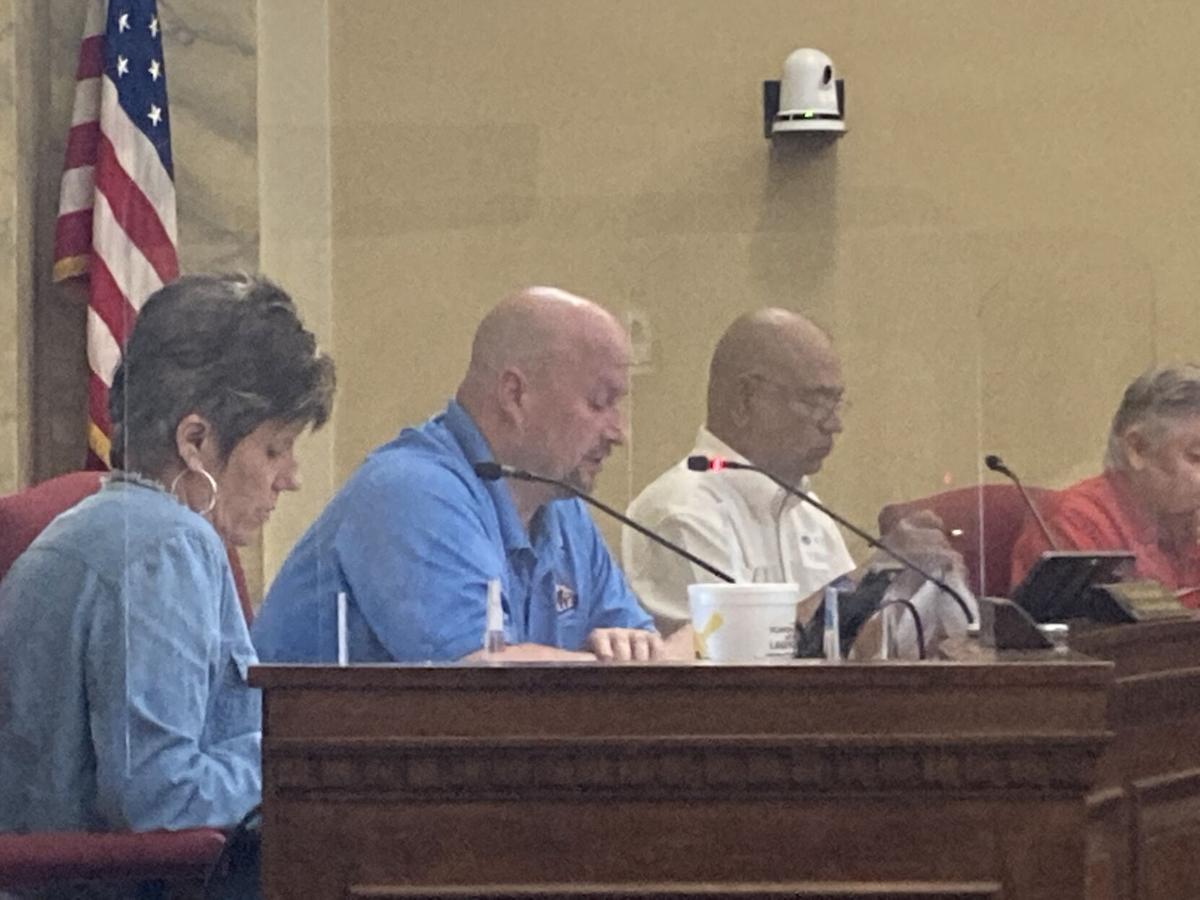 Danville, Va. — A Caesars Virginia casino in Schoolfield and zoning that would allow medical marijuana dispensaries got recommendations from the Danville Planning Commission Monday afternoon.
Planners voted 6-0 in two separate votes for both items to head to Danville City Council for consideration during their regular meeting.
"We feel that a cannabis dispensary is something that will benefit the community and the citizens of Danville," Planning Director Doug Plachcinski told the Danville Register & Bee Monday morning.
No one spoke during the public hearing on the proposed zoning ordinance amendment for medical marijuana dispensaries. Planners voted to recommend approval without discussion.
Planning commissioner member Art Craft was absent.
The commission's vote recommends that the city's zoning ordinance include a definition for a cannabis dispensing facility and amend the neighborhood retail commercial district to add cannabis dispensing facilities as a permitted use.
The city currently has no provisions in its zoning ordinance for cannabis dispensing facilities, Plachcinski noted during the meeting.
He pointed out the facilities would not offer recreational marijuana.
"These facilities provide specific products to medical patients," Plachcinski wrote in a staff report to the commission. "Cannabis dispensing facilities are not adult-use cannabis stores."
State code defines a cannabis dispensing facility as one that:
Has obtained a permit from the Virginia Board of Pharmacy;
Is owned, at least in part, by a pharmaceutical processor;
Dispenses cannabis oil produced by a pharmaceutical processor to a registered patient, their registered agent, or, if such patient is a minor or an incapacitated adult, such patient's parent or legal guardian.
Medical marijuana became legal in Virginia last July and is used to treat pain, nausea and other symptoms. It is used by patients with Alzheimer's disease, HIV/AIDS, cancer, Crohn's disease, epilepsy and seizures, glaucoma and other conditions.
Possession of up to an ounce of marijuana in Virginia will be legal for people 21 and older beginning July 1.
Casino zoning
As for the casino agenda item, the commission voted to recommend rezoning the former Dan River Inc. site at Schoolfield to allow a casino there. If approved by City Council, the property would be rezoned from industrial manufacturing to casino entertainment district.
"The proposal speaks for itself," said attorney Steven Gould, who spoke on behalf of Caesars Virginia during the public hearing on the item.
The city, through a vote by Danville City Council, established permitted uses and regulations for the zoning district in May.
If approved, the casino entertainment district would cover the north side of West Main Street from Bishop Road to Baltimore Avenue.
Caesars has been in the conceptual design phase of its planned project at the former Dan River Inc. site, trying to determine where the pieces of the casino resort will go at the property.
Caesars Entertainment's architect for the $400 million casino project is Las Vegas-based Marnell Companies. The firm has been behind casino/hotel and other projects including the famous Bellagio Las Vegas, the Caesars Palace convention expansion, Park MGM, Wynn Las Vegas Hotel, Haus of Gaga-Park MGM and numerous others, according to the company's website.
Rules within the district — which must be at least 75 acres in size — include a 70-decibel limit on outside noise between 9 a.m. and midnight, and a 50-decibel limit between midnight and 9 a.m. when measured at the property line of a residential zone.
Also, a 25-foot landscaped buffer must be provided along any property line abutting a residential zoning district.
The casino resort is expected to include multiple restaurants and bars, a hotel with 300 four-star guest rooms, a 35,000-square-foot conference center, a 2,500-seat live-entertainment venue, a pool and a spa. It would also have 2,000 slot machines, 75 table games, 16 poker tables and a sportsbook to wager on various sports competitions.
It would bring 1,300 full-time jobs once operational, in addition to 900 jobs during construction. The casino positions are expected to pay an average between $35,000 and $47,000 annually.
Groundbreaking on the project is expected by casino officials take place in December.
Hiring for Caesars should start in the fourth quarter of 2022 or first quarter of 2023. Construction should be complete in the second or third quarter of 2023, with the casino opening in the third or fourth quarter.