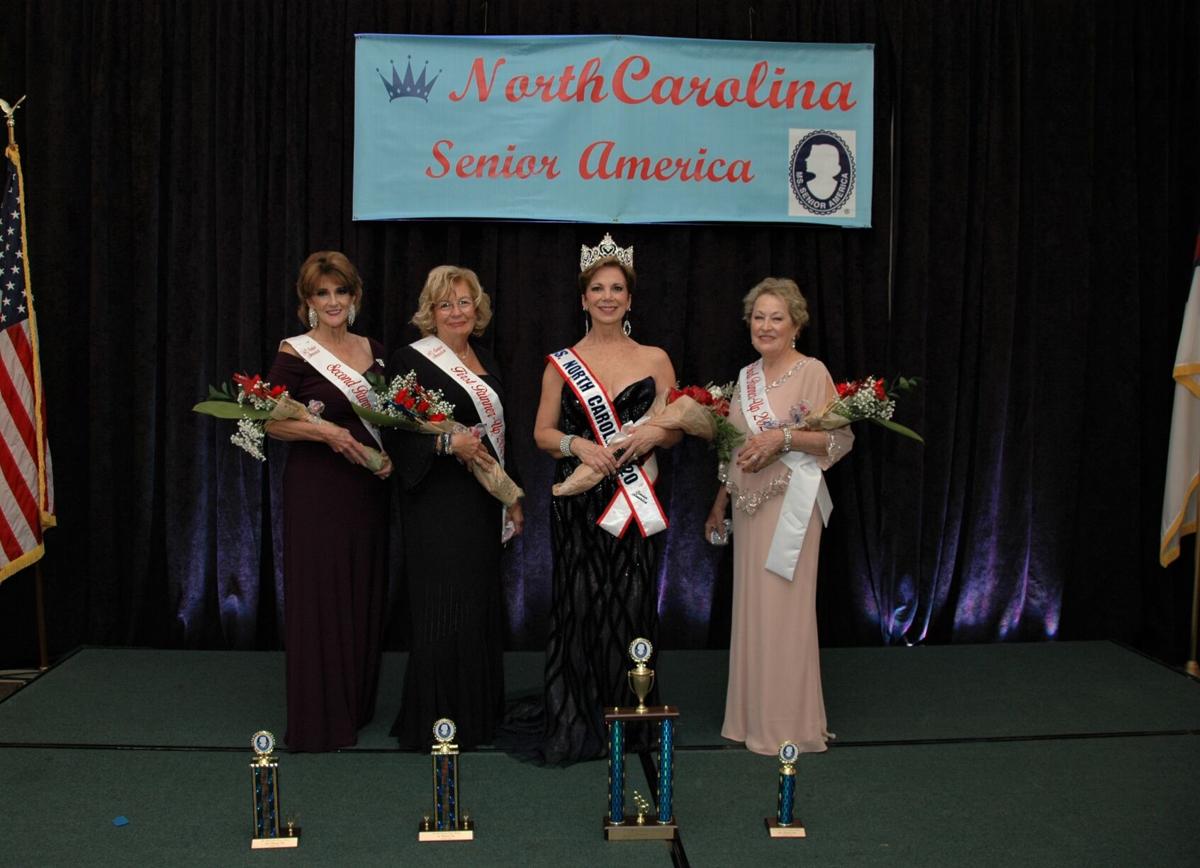 REIDSVILLE — Angela Staab didn't win the 2020 Ms. North Carolina Senior America Pageant held last month in Pinehurst.
No, the Rockingham County resident finished as first runner-up, which is perfectly fine by her.
"My friends say I get all the glory, but none of the work," Staab said, laughing.
Staab is a Reidsville resident. She and her husband, Tom, live off N.C. 65 near the Bethany community.
Staab, 77, a Pittsburgh native who has called Rockingham County home for more than 40 years, lives off N.C. 65 with her husband Tom near the Bethany community.
She's well-known to many locals for the work she's performed over the years.
A former dean at Rockingham Community College, she also served as a vice president of Annie Penn Hospital.
And until six years ago Staab worked as a nurse practitioner with the Rockingham County Health Department, seeing patients on a daily basis at an age when many of her peers had retired.
Last year, Staab first competed in the Ms. Senior Rockingham County Pageant where she also finished as first runner-up. That qualified her for this year's state pageant.
This year, Staab was one of 10 women who competed for the state crown and a chance to vie for the national title.
"Oh, it was a wonderful time," Staab said of the pageant. "It was the most fun."
Competitors must be at least 60 to qualify for Senior America pageants.
The organization seeks to enhance the image of women who have reached the "Age of Elegance." 
The Ms. Senior America Pageant gives special attention to women who best exemplify dignity, maturity and inner beauty.
Competitors are judged in areas such as talent, personal philosophy and evening gown. Staab said the pageants are much like Ms. America competitions, with the biggest difference being the age requirements.
Because of COVID-19 restrictions, there were a few changes to this year's state pageant. Competitors were only allowed one family member as a guest. All other spectators had to watch via livestream.
Contestants were also required to wear face masks (each was adorned with a big smile), except when they stepped to the stage microphone to address judges during the full-day competition.
Staab was the oldest of the competitors and said she fully agreed with the decision of the judges to name Pinehurst's Laura Morgan the winner.
"She definitely deserved to win," Staab said.
Staab's professional achievements are rivaled only by her athletic prowess.
She's a U.S. Track and Field Association master's champion, having won 13 national championships in addition to placing in hundreds of races.
Despite her age, Staab can still run a half-mile in about 5 minutes, a mile in a hair over 10 minutes and a 5-kilometer (3.1 miles) race in about 40.
And when she runs, she often wears a T-shirt bearing the words: "I may be old, but see if you can catch me."
If she could have, Staab would have showcased running as her talent portion of the state pageant. But since that was a little impractical, she performed a Tai chi demonstration.
Tai chi is a Chinese martial art that Staab practices regularly. She wore her World's Masters Games track and field uniform for the demonstration.
These days, Staab has a number of friends and teammates she runs and trains with on a regular basis. Several such buddies livestreamed the state pageant, marking the first time some had seen her wearing anything other than her running attire.
Staab said they kidded her after seeing her in her evening gown.
"They called me Ms. Fru Fru," Staab said, laughing again. "They teased me."
The decision to compete in Ms. Senior America pageants is a means by which Staab continues to challenge herself, she said.
In fact, she never ran until she was 50 years old, describing herself until that point as "basically a slug."
Staab said she took up running at the encouragement of her three children – Tom Sr., Jennifer and Thea – who told her, "Mama, we want to see you live to be a little old lady."
Now, in addition to running, Staab also cross trains in walking, swimming and pickle ball.
"I believe the way to stay healthy is to exercise in some way," Staab said.
She said her life motto is: "Getting older is not for sissies. It's not how old you are, but how you are old."
"I truly believe that," Staab said.