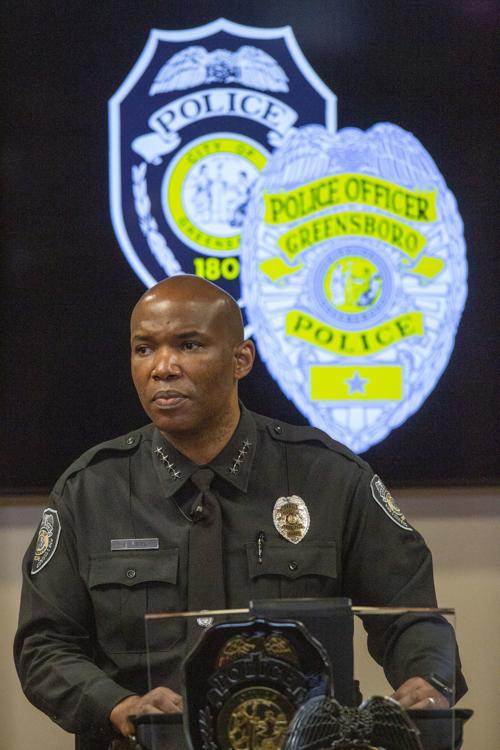 GREENSBORO — Facing a troubling surge in violent crime and a growing population, city officials have suggested that the police department add 16 more sworn officers to its ranks.
It's just one of many suggestions being bandied about to help Greensboro police fight what seems, at the moment, to be a losing battle. Homicides are at a record level, and officials are grasping for ways to stem the tide of violence.
More officers on the street would be a start. The department is short about 40 sworn officers at the moment.
Just one problem, according to a new city report: It's not easy to find people who want to be police officers.
That's but one observation from the city's Budget & Evaluation Department, part of a more complex study of police staffing that will be available in the coming weeks.
The report reaffirms what is starting to become obvious across the country: A career in law enforcement isn't as attractive as it once was. Especially after a litany of high-profile, and some argue racially motivated, killings of Black men and women by police.
"Public perception of the law enforcement profession can have an effect on application rates," city budget officials wrote. "In the last year, there has been a downturn in applications to GPD, as well as police agencies nationwide. Some possible reasons for the low rate of applicants is the COVID-19 pandemic and the 'defund the police' movement following the death of George Floyd."
The City Council has been paying special attention to police matters in recent weeks, holding a work session last month to hear a presentation from Chief Brian James about his strategic plan to fight crime and boost staffing.
Council will hold another work session on Tuesday to talk about the report on police staffing.
Elected officials have told James they would be receptive to giving the department more money for staffing and other needs so it can have more resources.
But that will be moot unless there are recruits.
It's been a problem facing many police departments in cities large and small as they compete against each other to attract top talent and retain current officers.
At full staffing, the Greensboro police department is authorized to have 313 officers on its staff. And while the suggested increase would boost that to 329, the department has 273 active officers. Most of them are working overtime shifts to keep enough patrol officers on the street.
While Greensboro's salary ranges are comparable to other cities such as Winston-Salem, Durham and Charlotte, benefits can sometimes lag, making Greensboro less attractive to potential recruits, the report says.
According to the report, police in those cities earn a base salary range of $38,000 to $45,081.
Greensboro's starting salary is $38,987 and prospective candidates are offered a one-time incentive for educational attainment.
Other police departments, however, offer benefits for military service and an automatic pay increase upon completion of academy training.
It's not easy to come up with a recommended staff increase when the police department faces such challenges, the report's authors say. While recommending more officers is reasonable, challenges toward that goal are mounting.