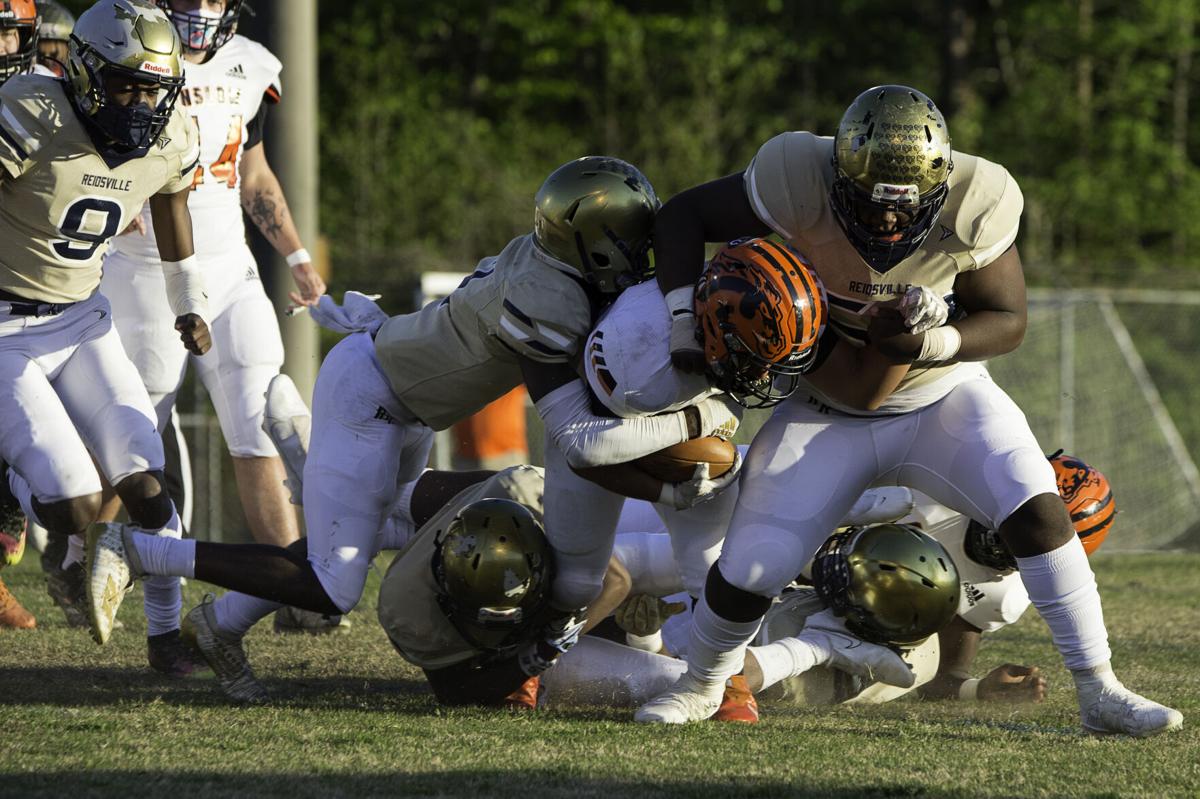 No. 1 seed Reidsville is ready for a showdown with No. 4 Wallace-Rose Hill this Friday night in the second round of the 2A NCHSAA state playoffs.
Several key Rams players were just freshman when RHS lost a heart-breaking thriller, 35-28 in overtime to the same team in the Dec. 9, 2017 NCHSAA 2A state championship game, but even though four years have passed, the loss still stings to players, coaches and fans.
No one in blue and gold will likely admit this Friday's match-up is a revenge game, because we are talking about two completely different teams.
But it is a pretty good bet no one associated with the 2017 game at Kenan Stadium in Chapel Hill has forgotten the outcome.
Taking a look back
Reidsville is not only hoping for a different result in this Friday's rematch, but a better start to the game as well. In the 2017 match-up, on the Bulldogs first play from scrimmage, former running back Javonte Williams got around the right corner, and no one laid a glove on him as the future Tar Heel star raced 73-yards for a touchdown to give WRH a 6-0 lead.
RHS responded with a methodical drive that culminated with a 14-yard scramble for a score by quarterback Titus Jones, followed by the P.A.T by kicker Zach Baber to take a 7-6 lead.
Wallace-Rose Hill then seized the momentum with back-to-back scores. The first by running back Desmond Newkirk, followed by a dramatic 97 yard interception return for a TD by Quavion Basyden to give the Bulldogs a 21-7 advantage with under two minutes to play in the first quarter.
The Rams got back in it after stringing together a 14-play 84-yard drive to chip into the Wallace-Rose Hill lead when Jones connected with running back Travion Canada on an eight-yard hook-up pass for a score with 16 seconds to cut the lead to 21-14 at the half.
Reidsville later tied the game on a 1-yard run by Canada on their opening drive of the third quarter, and after trading paint once again, Williams scored to give the Bulldogs a 28-21 lead on another rushing touchdown with 10:20 to go in the game.
Following a few possession changes, the Rams tied it on senior running back Jalen Easley's score at 28-28 with just 37 seconds left in regulation setting up the wild finish in overtime.
But after a great initial defensive stand by Reidsville in the opening moments of the extra period, a devastating RHS penalty on a hit out of bounds gave Wallace-Rose Hill a fresh set of downs with the ball in the red zone.
The Bulldogs capitalized when Newkirk found his way to into the end zone to go up 35-28 following the P.A.T.
Reidsville had a chance to even the score, but a fumble at the goal line forced by Rarkell Simmons and recovered by his younger brother Elijah, sealed the win.
The jubilation of Wallace-Rose Hill was matched by complete-and-utter heartbreak on the Reidsville sideline for a team dreaming of another title that likely would have went for the 2-point conversion and a chance for the victory in the overtime period if not for the game-changing turnover.
Fast-forward to Friday
Reidsville (7-0) hosts Wallace-Rose Hill (5-3) this Friday night at Community Stadium with kickoff set for 7:30 p.m.
The Bulldogs earned their spot in the second round following an impressive offensive display in a 65-28 win over Red Springs in their first round game.
WRH has averaged 38.6 points per game and given up 27.9 defensively per contest in eight games.
Featuring a run-focused offense that has amassed 2,722 yards rushing in and an average of just over 340 per game, has only managed an a meager 380 yards passing over the entire season.
If Reidsville can shut down the run featuring leading rusher Kamond Farrior, that is a sizeable advantage for the Rams who are extremely balanced at every position on both sides of the football.
Defensively, the Bulldogs are led by senior Nehemial Williams on the line who has a team-best 54 tackles and junior linebacker Octaveion Murphy who has 34 take-downs.
The Rams have certainly have an advantage in regards to experience. WRH is a relatively young with 12 seniors as compared to 18 for Reidsville, but the Bulldogs are a bit of an enigma however as to which team will show up at Community Stadium Friday night.
A 9-point loss to Clinton April 9, followed by another 28-23 L March 19, aren't particular head scratchers, but the 56-7 loss to perennial power Havelock makes you question how tough the Cougar defense really is?
No doubt, three-time the defending 3A state champions in Havelock is a tough team, but that's an awful lot of points to give up. On the other side of the coin, Wallace-Rose Hill has scored more than 50 points in three games this season, while averaging 38.6 over the course of 2021, but they are allowing almost four touchdowns per contest.
On the other side of the card, the undefeated Rams football team dominated in a 50-0 shutout win over No. 8 Southwest Onslow in the opening round of NCHSAA state football playoffs April 16 at Community Stadium.
Reidsville is averaging more than 51 points per game through seven games so far this season and have their collective sites set on yet another title run.
RHS has made an appearance in the last four-consecutive state championship games, winning three. The Rams won 58-12 over Edenton Holmes in 2016, lost 35-28 in overtime to Wallace-Rose Hill in 2017, then defeated Elizabeth City Northeastern in back-to-back seasons in 2018 and 2019 by margins of 31-28 and 14-0 respectively.
The winner of Friday's game will face either No. 3 Northeastern versus No. 7 Eastern Randolph in the East Regional Championship April 30.