ROCKINGHAM COUNTY — The two oldest WWII veterans in Rockingham County, both age 101, died within 12 hours of one another early this week.
William L. "Bill" Higdon of Reidsville, a former U.S. Army staff sergeant, died Sunday night, and Paul Prewitt of Eden, an Army technical sergeant under Gen. George S. Patton, passed away on Monday afternoon, family members announced.
Prewitt, who was knighted by the French government in 2020, had fought a year-long battle with cancer, his family said.
A Jonesboro, Ark., native and longtime Rockingham County resident, Prewitt, who fought in the European theatre, was awarded the French government's highest honor in January 2020 — knighthood and induction to the country's National Order of the Legion of Honor.
"You illustrated with your courage the friendship and shared values that so profoundly bind our two nations,'' Vincent Hommeril, French Consul General for the American Southeast, said during the 2020 NOLH ceremony in Reidsville.
Hommeril outlined Prewitt's valor as a member of the 749th Tank Battalion and as a clerk and military driver during five military campaigns in Europe.
Prewitt spent three years and nine months in Central Europe, Rhineland, Rome-Arno, Sicily and saw the invasion of Southern France at Marseille. The U.S. government awarded Prewitt five Bronze Stars and the Good Conduct Medal, among others.
"You are a true hero,'' Hommeril said. "You will be our hero forever. We, the French, will never forget what you helped do to restore our freedom. And today we remember the ultimate sacrifice of so many of your comrades who rest on French soil. They will remain forever in our hearts. Your example gives us inspiration for the future and your legacy provides a moral compass for generations to come.''
"I want to thank the French government,'' Prewitt said during the ceremony, during which he was toasted with champagne. "I didn't feel that I was any more entitled to it than many, many others ….''
Prewitt began working with the Office of Workers' Compensation with the U.S. Department of Labor in Washington, D.C., in 1940. Drafted in 1941 after the bombing of Pearl Harbor, Prewitt returned to work with the USDL in 1945. He ultimately became Deputy Commissioner Office of Compensation Programs.
For a second career, Prewitt managed a bowling alley in northern Virginia for 10 years. He moved to Eden in 2009 where he was active with community and veteran's groups, the First Baptist Church in Eden and helped establish a senior center in Wentworth (WeCARE).
In order to protect Prewitt from the threat of COVID-19 on his 101st birthday, his longtime companion Susie Prior of Eden, along with friends and family, honored Prewitt with a parade on March 23. Cars full of well-wishers streamed past his Eden home throughout the day, honking horns, dropping off gifts and holding signs to herald his special day.
Higdon urged young to enlist
Higdon, who was honored in 2016 by former U.S. Rep. Mark Walker with a flag flown over the nation's Capitol to herald his service, "changed the course of the world's future. You are the Greatest Generation," Walker said during a flag ceremony that year at the Rockingham County Judicial Center.
"It's a small token of our appreciation of all the different things, paving the way for many different generations in the future to come,'' Walker said, presenting Higdon with the flag. "We want to say congratulations for the great work, for the great service. You're a hero."
A staff sergeant in Company A, 1261st Engineer Combat Battalion, Higdon served three years and 10 months in World War II.
During the flag ceremony five years ago, Higdon sported the "blouse" of his restored WWII uniform and regulation pants from the era that his son Billy, a Vietnam veteran, helped find at a military surplus store.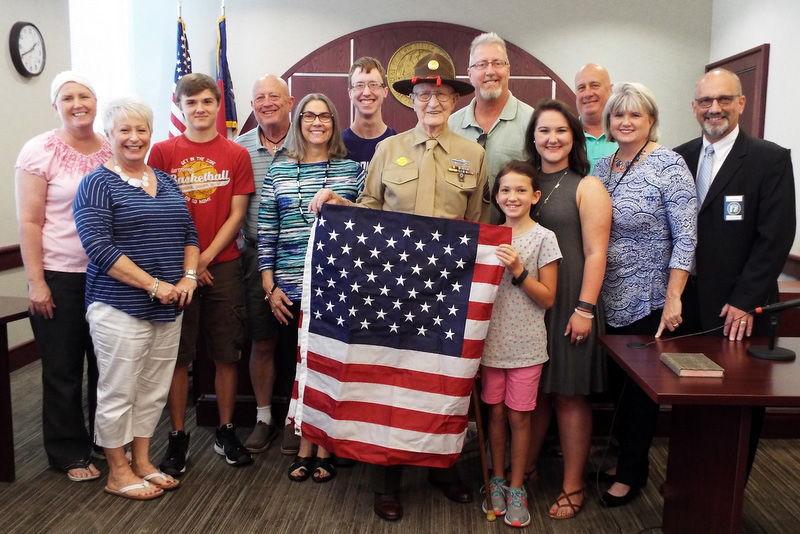 Born in 1919 in Owensboro, Ky., Higdon worked on his family farm as a youth. Drafted into service at 23, he completed basic training at Fort Leonard Wood before being shipped to Vancouver Barracks in Washington State.
In 1942, Higdon went to Alaska, where he worked on the 1,700-mile Alaskan/Canadian (Alcan) Highway for 13 months. The road, built mostly by the U.S. Army Corps of Engineers, was a vital supply route during the war. Higdon was one of more than 10,000 men assigned to the project.
"It was so cold up there," Higdon recalled in a 2016 interview, explaining that he spent time in Alaska well before it became a state in 1959.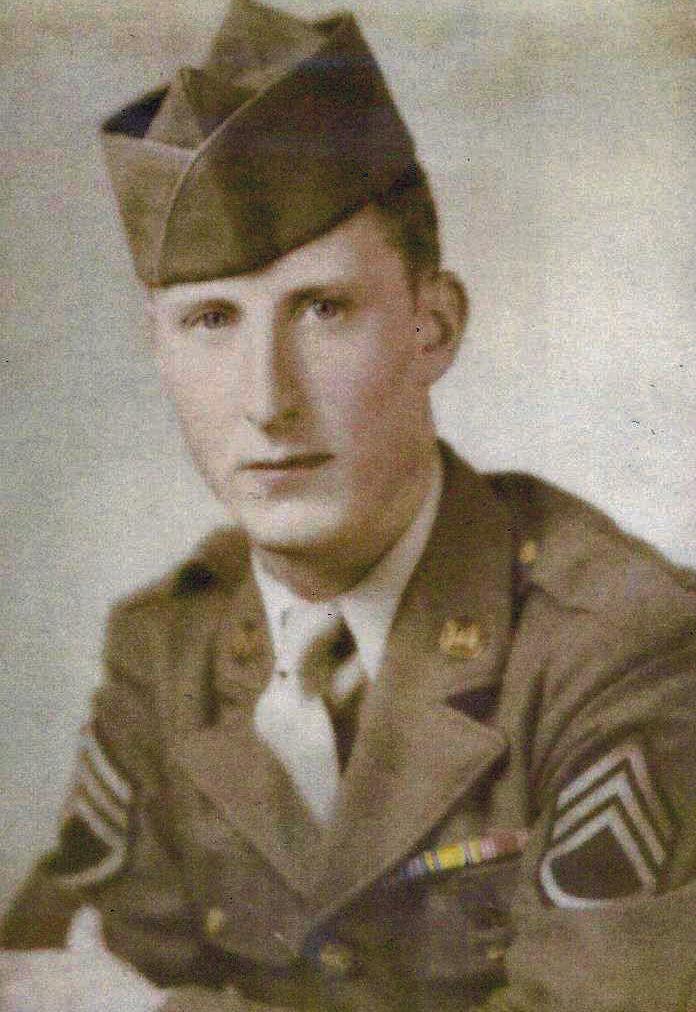 Higdon's battalion returned to Fort Lewis in Tacoma, Wash., where they exchanged "all our arctic clothes for new outfits," but were shipped back to Skagway, Ala., for several months before boarding a ship bound for Liverpool, England, Higdon said in 2016.
"That's when the Germans were bombing London," Higdon said, adding his unit repaired buildings and roads and helped people whose homes had been destroyed.
Three months later, Higdon was in Germany and "helped push back the Germans" before going into France, Holland and Belgium, where he and fellow soldiers cleared a big mine field at Antwerp, built floating bridges and roads, the veteran said in 2016.
"The war was just beginning to get pretty rough," he said.
His battalion eventually returned to Epperly, France, a big wine district where the grapes were just getting ripe, he said.
Higdon, who always loved to dance, especially enjoyed his time in Paris where plenty of girls could be found to partner with at the big dance halls, he said.
Higdon returned to the U.S. in December 1945, was discharged at Fort Knox, Ky., and got a job in a vinyl-making plant in Louisville, Ky. That's where he met his future wife, Mildred Wells, he said.
"It was love at first sight," Higdon said.
Higdon eventually went to work for The American Tobacco Co. in Louisville where he worked as a supervisor until the plant closed in 1970.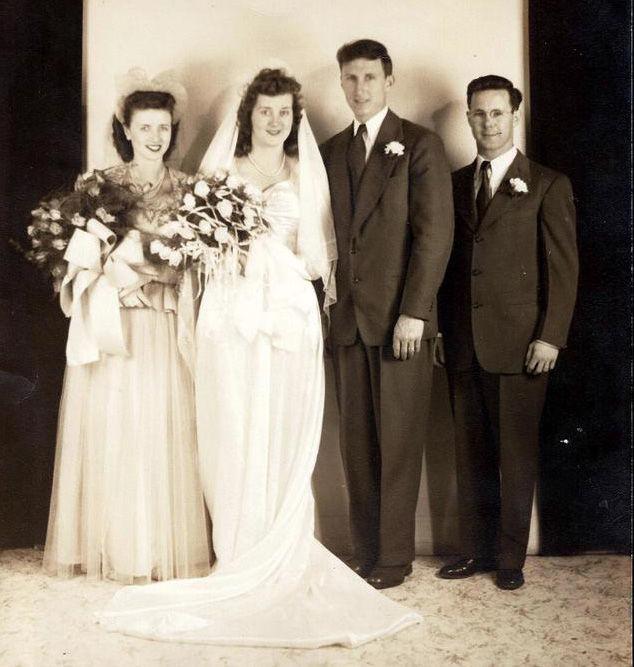 At the age of 51, he and his wife transferred to the American plant in Reidsville and built a home on Irvin Farm Road.
"We done pretty good," Higdon said. "I'm the luckiest man that ever walked."
With more than 36 years of service, Hidgon retired from American in 1982.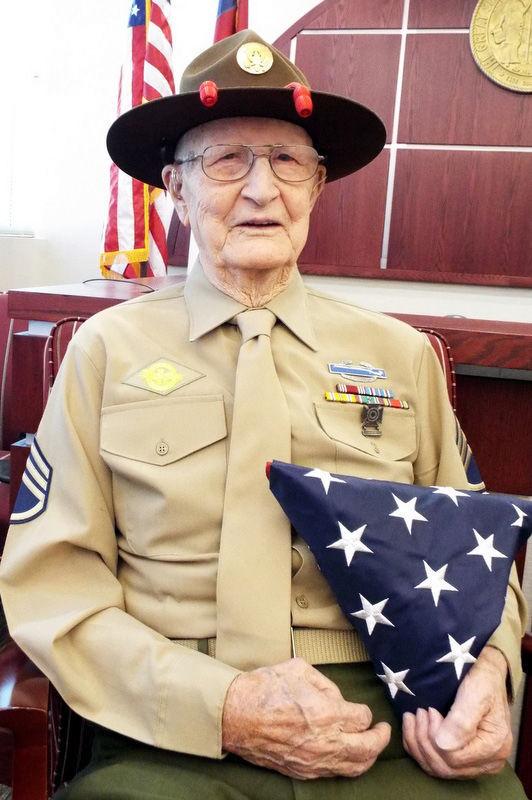 A member of Holy Infant Catholic Church, Higdon said in 2016:
"I don't think the world is easy today. I get choked up thinking about it," Higdon said, adding that he urges young people to enlist in the service.
"You can make it easy on yourself, or you can make it rough on yourself," he said. "I take the high road. I always look ahead," Higdon said. "I don't look back.
"I've been real lucky. I've been really blessed."
Citty Funeral Home in Reidsville is handling funeral arrangements for the Higdon. Fair Funeral Home of Eden is handling Prewitt's obsequies.