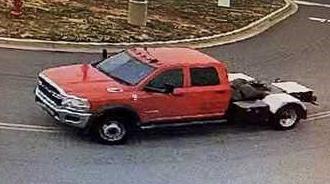 WENTWORTH — Authorities on Thursday identified the two motorcyclists killed last month in a shooting on U.S. 29 bypass in Reidsville as Virginia residents.
Kwandre' Marcell Carey, 24, of Montross, Va., and Haneefa Fitzgerald, 42, of Fredericksburg, Va., were shot and killed as they rode along U.S. 29 on May 24, a spokesman for the Rockingham County Sheriff's Office said Thursday.
Carey was pronounced dead at the scene and Fitzgerald died at an area hospital, the spokesman said in a news release.
Fitzgerald served in the U.S. Marines for 15 years before her retirement in 2015, according to a resume Fitzgerald published online via wordpress, describing herself as a freelance journalist. An administrative assistant who dealt with human resources issues within her branch of service, Fitzgerald was awarded three U.S. Navy and Marine Corps Achievement Medals and a Navy and Marine Corps Commendation Medal for her work, the resume said. 
Another person riding with Carey and Fitzgerald was shot and is being treated at an area hospital. Sheriff Sam Page did not disclose the survivor's name out of concern for the rider's safety, the sheriff's office said.
On Wednesday afternoon, shooting suspect Martin Cox Jr., 41, of Browns Summit, who authorities said targeted the motorcyclists, was extradited to Rockingham County from a Kentucky jail to face charges in the shootings.
Cox, whose last known address is 7704 Landis Drive, is charged with two counts of first-degree murder in the slayings. He is being held without bail at the Rockingham County Detention Facility after a first court appearance here on Thursday, the sheriff's office said in a news release. More charges are likely, and the investigation continues, according to a news release from the sheriff's office. 
The North Carolina State Bureau of Investigation's Flight Team assisted in bringing Cox from Kentucky to North Carolina, officials said in the release. 
Cox, who allegedly committed the shooting crimes while driving his red Dodge dually truck, waited for Carey, Fitzgerald and the unnamed motorcyclist to ride away from a Reidsville gas station, arrest warrants detailed.
Cox then followed the riders onto the highway and shot them, according to arrest warrants.
The suspect fled the crime scene and drove eight hours northwest to Kentucky where he was apprehended on May 25 by a sheriff's deputy in Bullitt County, Kentucky, near Sheperdsville, just outside Louisville, authorities said. 
The surviving victim, who a 911 caller described as a woman, was in critical condition at Moses Cone Hospital in Greensboro in late May, according to a Cone Health staff member. No updates on the victim's condition were immediately available.
Cox has a criminal history involving the sale of drugs and other offenses.
In 1999, he was charged in Guilford County with possession of drugs with intent to sell.
His next arrest came in 2011 in Guilford when he was charged with possession of a controlled substance, trafficking and maintaining a place for a controlled substance.
By 2013, Cox faced charges in Guilford of drug possession with intent to sell and selling a schedule IV controlled substance. He was charged with misdemeanor wanton injury to personal property that same year in Forsyth County. 
Page has not disclosed investigators' theories about a motive in what he terms "targeted" shootings. 
Asked if the shootings were a "revenge crime" related to rival motorcycle gangs, Page said he could not discuss the ongoing investigation. He further declined to discuss whether investigators are seeking other suspects in the crime, such as a possible passenger in Cox's truck.
The riders, traveling on two motorcycles, were shot May 24 around 4:45 p.m. as they headed northbound along the U.S. 29 bypass between Barnes Street and N.C. 14, officials said.
"This type of crime is horrific. It's not something we see here in Rockingham County. In fact, in my more than 30-year career in law enforcement in this county, I don't think I've seen anything like it,'' Page said in an email.
"Our team at the Sheriff's Office is working hard to identify the shooter(s) and bring them to justice. At this point in the investigation, we do not believe this was a random act. My top priority is and always will be protecting our citizens and keeping them safe.''
Motorists alerted authorities that two victims were lying along the highway with calls to 911 around 4:45 p.m. May 24.
Deputies and other first responders found a third victim shortly after arriving on the scene, sheriff's officials said.
A caller to 911 can be heard describing a woman who told him she'd been shot. He said he'd found the woman near Exit 153 on U.S. 29.
"She's yelling, 'Help Me.' She says he's been shot. That's what she just yelled when I pulled up and said, 'Are you OK?,''' a motorist witness told a 911 operator shortly after 4:30 p.m.
"I thought I seen her motorcycle fly off into the woods,'' the witness told the operator.
Anyone with information should call 911, the sheriff's office at 336-634-3232 or Rockingham County Crime Stoppers Hotline at 336-349-9683.