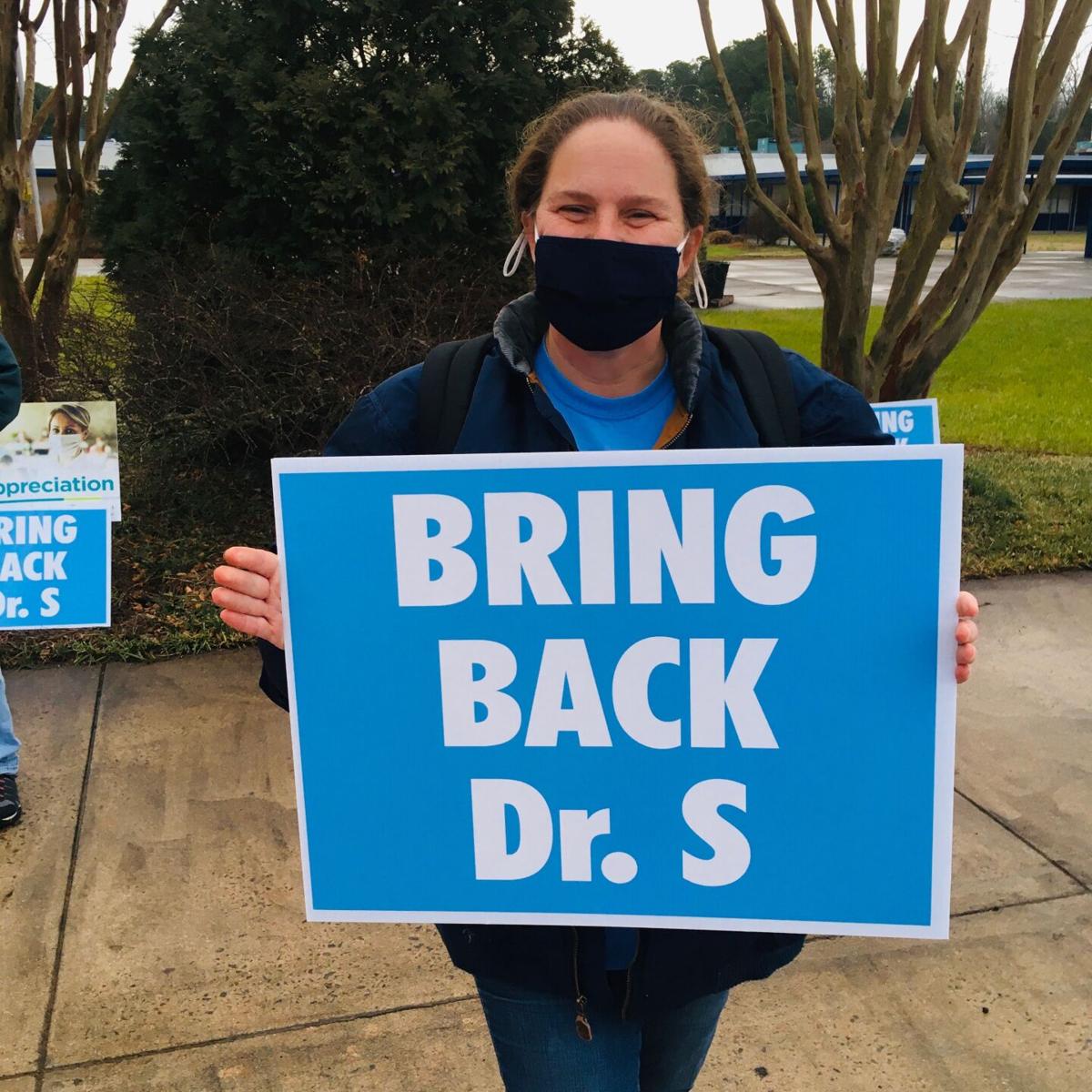 REIDSVILLE — Monday night's Rockingham County School Board meeting may have drawn the most public comment of any in its history, with scores of parents, teachers, students and members of the NAACP demanding reinstatement of Rockingham County Schools Superintendent Rodney Shotwell as opponents insisted the county needed a new direction.
The board heard nearly four hours of three-minute public remarks before it recessed at 10 p.m. Monday with plans to resume for regular board business on Wednesday at 6 p.m. at Reidsville High School Auditorium.
Firing Shotwell constitutes "reckless endangerment to our staff and students,''  said Penny Anderson Caple, a RCS teacher for 34 years, emphasizing the need for consistent leadership during the height of the pandemic.
And the board owes the public an explanation for discharging Shotwell, Caple said during the board's regular monthly meeting held at Reidsville High School. 
The board's surprise Dec. 14 dismissal of Shotwell, who has served as the district's top administrator for 15 years and was named North Carolina Superintendent of the Year in 2015, has made teachers fearful of the school board, Caple said.
"You have teachers who are afraid to speak,'' Caple said, calling the board's  firing Shotwell without explanation unethical.
A common complaint from speakers: the four board members who voted against Shotwell have not returned phone calls to citizens seeking an explanation for why Shotwell was let go.
"I have called all of you more than 100 times,'' said Caple, noting taxpayers deserve a response and justification.  "You work for us.''
At least a dozen people in favor of Shotwell's firing spoke, including the head of the county's Republican Party, Diane Parnell.
Dr. Shotwell "is a very charming man, I have no issue with him, '' Parnell said. "I'm sure everyone loves him, but we need to move in a different direction.''
The 4-3 vote to fire Shotwell, just days before Christmas and with 90 days notice, shocked the community.  Shotwell supporters responded over the last month by organizing three news conferences, uniting parents with the NAACP and the county Democratic Party, putting up social media pages and lawn signs with the slogan, "Bring Back Dr. S,'' and gathering more than 1,600 petition signatures from those who object to the dismissal.
The vote to discharge Shotwell
 After a closed session during its regular December meeting, board members voted 4-3 to fire Shotwell, who oversees the district's $130 million budget.
The board gave no notice or explanation for Shotwell's dismissal, and members have declined to speak to the press about their justification in the weeks since the vote.
Board members Doug Isley, Brent Huss, Bob Wyatt and newly-elected Vicky Alston voted to oust Shotwell, while Kimberly McMichael, the board's chair, and members Paula Rakestraw and recently-seated Vickie McKinney voted against the move during the meeting at Rockingham County High School.
Alston, the board's vice chairman, was elected to the board's District 1 seat in November and cast her vote against Shotwell during her first meeting.
Before public comment began Monday night, Wyatt made a motion that the board shorten public comment time from three to two minutes per person, due to the high number of citizens seeking to have their voices on record.
The crowd in the auditorium objected to the move and the board voted against it by 4-3, with Alston siding with McMichael, Rakestraw and McKinney in favor of preserving the full time.
The superintendent's firing will likely cost the rural county of 91,000 about $300,000 in payouts — money the county can't spare, Shotwell supporters insisted in their speeches Monday night. His contract extends through June 30, 2022.
The superintendent's current annual salary is $161,795, as specified by his Aug. 13, 2018, contract. The contract also includes a $300 monthly allowance toward life insurance and eligibility for state-approved annual pay increases, as well as 13 extra days leave each year.
Shotwell has consistently awarded his annual bonuses to students in need of financial assistance for college.
Marjorie Bell Williams, an officer of the Rockingham County Reidsville Chapter of the NAACP and a county teacher for 40 years, said her organization was in solidarity with Shotwell supporters. "We step up and not one step backward.''
Williams called Shotwell a man "of great integrity'' who has "done his homework.'' She ended with, "Change your vote and reinstate Dr. Shotwell as superintendent of Rockingham County Schools!''
And the NAACP's Malcolm Allen of Reidsville said he doubted strong replacement candidates for Shotwell would want to work for a board that ousts employees without providing a reason.
"What superintendent would come, knowing what this board is capable of?''
The school board's attorney Nick Herman of Chapel Hill has said he is not authorized by the board to discuss details of the vote or Shotwell's contract.
Beginning in 2018, Huss, Isley and Wyatt began their objections to funding for equity training for teachers and staff in the system that employs 2,100 and ultimately blocked to funding completely. Shotwell had long been an advocate of the training, which is nearly universally sought by districts across the state and nation.
With a poverty rate of 20.4%, the county's  public schools educate thousands of low-income students from at-risk backgrounds, equity training proponents remind.
And without proper training about the specific needs of various minority groups, the district's teachers are handicapped and out of step with the state's most progressive districts, proponents said. RCS minority enrollment stands at 40% and 60.7% of the district's 11,691 students are economically disadvantaged, state statistics show.
But equity training for teachers and staff is an "assault on our values,'' said William E. "Bill" James, who told the board he was in favor of Shotwell's dismissal, adding RCS, "crucially needed fresh leadership.''
The retired Reidsville educator with 40 years of experience made an unsuccessful bid for the board in 2020 as a Republican touting a platform of conservative values. " ... I will never permit such a thing as "equity" training, which was code for a racially divisive, socially and psychologically destructive, and immoral program,'' James wrote in a candidate profile questionairre published in RockinghamNow before the 2020 election in November. 
Shotwell supporter Melanie Hearp Morrison told the board of Shotwell's successes at dramatically increasing the county's graduation rate. Indeed, since 2006 when he was hired, the school district has seen its high school graduation rate climb from 66.9%  to 89.1% in 2020, a rate that exceeds the state average of 87.6 % for 2020, state education statistics show.
And under Shotwell's guidance, the graduation rate for economically disadvantaged students has more than doubled, data shows — a jump from around 41% in 2006 to just over 80% in 2020, Morrison said.
The mother of two RCS students, Morrison told board members they had "failed" the community and that she was "dismayed'' by the removal of Shotwell. "I've asked why, and 28 days later, I'm still asking why.''
But Parnell of the Republican Party, said, "I have statistics, too, (and) they don't match,'' referring to the graduation rates Morrison cited. "Something has to change.''
Parent and school volunteer Christopher Woods thanked Shotwell in his comments to the board, praising the superintendent for making cultural arts a a top priority within the district. 
"He is a very involved superintendent,'' Woods said. And for teachers who are struggling through the pandemic with shifts to virtual learning, Shotwell is "the strongest teacher advocate they have.''
Ron Crowder spoke about the importance of prayer and Christian faith in schools. 
Former RCS administrator Diane Hill appeared via Zoom and said that during her six years working with Shotwell she "achieved more than at any other time my career.'' He's "the best superintendent I've ever worked with,'' she said, adding Shotwell's emphasis on preparing kids with technology and career training showed wisdom.