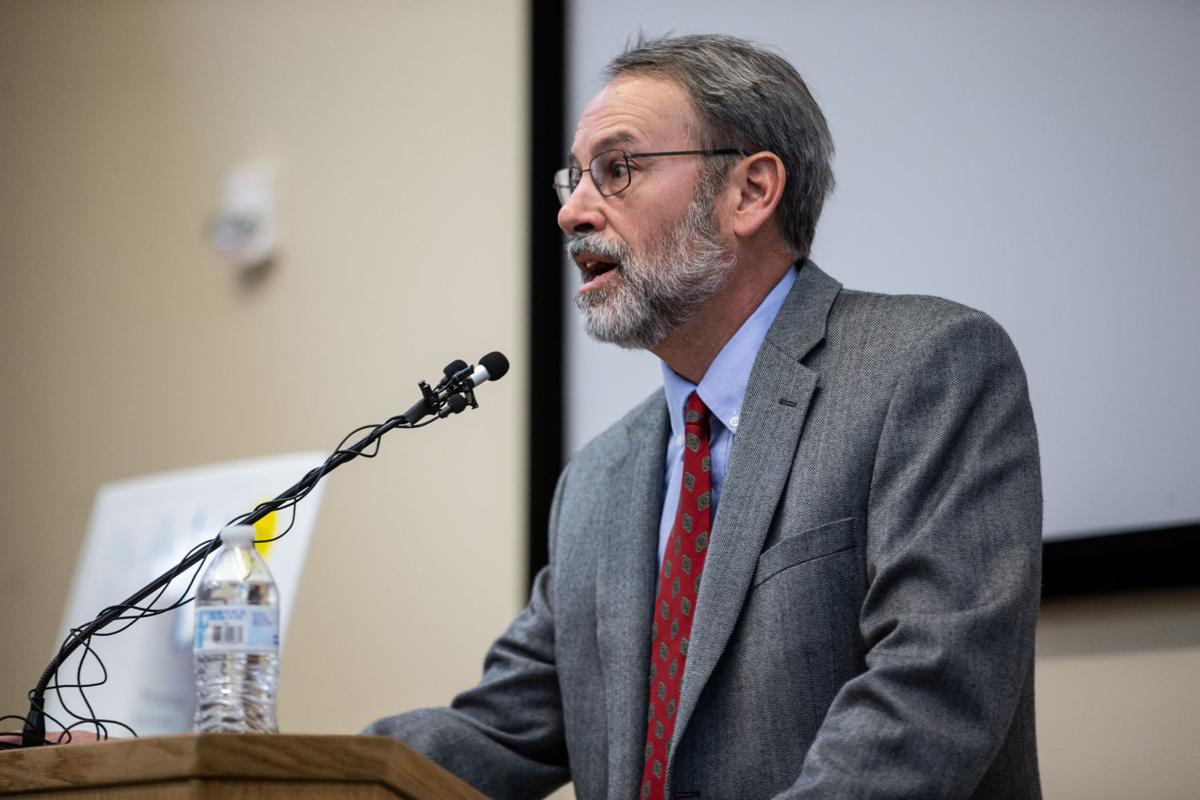 Longtime family practioner Stephen Luking, M.D. of Reidsville lays out COVID-19 risks, what you need to know about the vaccine, and stories from the front line.
REIDSVILLE — It's time for another pandemic update. When I last wrote in late October, I cautioned the community that it appeared we were at the start of the winter surge. Now, it's full-blown.
At that time, the Cone Health system had 70 patients hospitalized with COVID-19; the patient count today is 277. Just 40 days ago, we saw approximately 2,500 newly diagnosed patients per day in North Carolina. Yesterday's count exceeded 10,000. I'm very concerned that Conehealth, which owns and operates Annie Penn Hospital here, now projects up to 600  hospitalized with Covid-19 by the end of March. Our system will be stretched to a dangerous brink.
In the next three weeks alone, the CDC predicts more Americans will die from this disease than Americans who perished in the Vietnam War. We are truly in a nationwide crisis.
Vaccines are the most crucial issue. A better understanding of the COVID-19 vaccine improves the likelihood you and your family will choose to be immunized. Choosing to be vaccinated improves your likelihood of avoiding hospitalization or worse.
I realize folks are inundated with all kinds of theories and, frankly, crackpot ideas regarding the COVID-19 vaccines and vaccines in general. Take a few moments and educate yourself. You need a few tools to push back folks who can harm you with bad advice.
HISTORICAL CONTEXT
Walk the graveyards of the oldest churches dotting our countryside, typically you'll see tiny gravestones clustered around family plots. They represent children. My grandfather, who grew up in rural Georgia, had 17 brothers and sisters. Seven of them died in childhood of "fevers." Imagine what my great-grandmother went through.
Early in my career I did a year of volunteer work overseas, including a half-year stint in Zimbabwe. I watched non-vaccinated children die in our hospital from diseases unheard of in the United States—diphtheria, measles, tetanus, dysentery, etc. It was painful to experience, but a stark reminder of the value of vaccines.
You can think of childhood infections in old days as slow-rolling pandemics that decimated generations of families.  Nowadays, it's thankfully rare for American children to die of infection. Why? Vaccines. Simply put: vaccines are one of the greatest inventions of the modern medical era, and they save countless lives.
The COVID-19 vaccines are now here, and if utilized by most of our citizens, will help deliver us from this pandemic and save many lives in the process—maybe even the life of someone you know. 
WHY VACCINATE?
There is a lot of baloney going around that this disease causes only serious illness or death in folks who already have serious chronic illness or are at death's doorstep.
My brother, Scott Luking, M.D., and I both have had patients die from COVID-19 who would still be strong and a part of their families if they had not died from this virus.
We've had patients suffer strokes or go into kidney failure from COVID-19. We've seen perfectly healthy patients in their 20s and 30s develop life-threatening clots in their chests, life-threatening pneumonia, and viral myocarditis, which causes inflammation of the heart muscle.
One such patient has permanent heart damage from COVID-19-related myocarditis — equivalent to damage you'd see in someone who had suffered multiple heart attacks. We have numerous patients who continue to suffer from a variety of prolonged symptoms.
This "they were gonna die anyway" attitude we hear insults families who lose older loved ones, and it's wrong from a moral standpoint.
A recent study showed the average patient who died of COVID-19 would have had an average of thirteen more years of life ahead of them!
The Navajo Indians call the oldest members of their community the "knowledge-keepers." They revere them from a cultural standpoint; and fight like heck to keep them around. The naysayers amongst us should reconsider their sorry attitude.
Yes, if you are young, you likely (and hopefully) will have milder disease. But, if you get immunized, you will be less likely to give the virus to someone who might just die from it.
The only way we will get through this pandemic is by our community and nation reaching herd immunity—that's when 75-80% of a population develops antibodies to COVID-19. When we reach that point, the natural spread of the virus will burn out.
To achieve that, most of us will need to get vaccinated. Only then will our lives get back to something approaching normal. It's our civic duty for the country; it's our best way to keep our loved one's safe.
ARE VACCINES EFFECTIVE?
Both the Moderna and Pfizer vaccines are very effective. When I heard that both demonstrated nearly 95% reduction in COVID-19 illness, that blew me away. That is incredibly protective. Many of the vaccines we routinely recommend do not even approach that level of protection.
Let's break this down. Say you have two communities roughly the size of Rockingham County. One group of 100,000 decides to thumb their nose at vaccines and refuses immunization.
The second group of 100,000 plays it smart and 75% of their population gets the vaccine.
The first group must watch 75,000 of its citizens get sick with the virus before it reaches herd immunity. At the current estimated mortality rate of 1.0 percent, that means many hundreds die, and far more are hospitalized. The immunized citizens, however, reach immunity with far fewer deaths.
That is the choice that faces our county.
ARE THE VACCINES SAFE? SIDE EFFECTS?
Both approved vaccines are very safe.
First, you cannot get COVID-19 infection from the vaccines. It's impossible. Unlike older vaccines, you do not have killed virus or weakened virus injected into your system.
The COVID-19 vaccines utilize a new clever method which introduces a temporary bit of RNA into our immune cells. This triggers the development of proteins which cause other immune cells to develop disease-preventing antibodies.
Then, when this virus comes into your body, your protective antibodies latch on to those funny-looking spikes you see in drawings of the virus. Bam! Virus dead! Human fine!
Studies show most recipients of the vaccine get symptoms of tenderness at the site of injection, and some experience mild achiness, headaches, or fatigue for a day or so. This is just a sign that your immune system is kicking in with the appropriate response.
Scientific trials of nearly 100,000 volunteers revealed no serious complications from either vaccine. Since the vaccines have been released in the U.S., an additional nearly 6 million Americans have taken the vaccine. There have been only 7 or 8 adverse reactions. This is why all recipients are observed for fifteen minutes after taking the vaccine.
Let me get this right: six million people get a 95% protective vaccine, surely saving many thousands of lives with the current observed mortality rate, and only a handful develop an allergic reaction? I'll take the shot any day!
My brother and I both received our first shot this past week. My brother had a sore shoulder along with a little body achiness; I had a bit of aching in my  shoulder. A couple ibuprofen tablets each, and we kept working. I would take such a shot every day of the year if I had to in order to avoid this serious disease. But I don't have to. One more shot in three weeks, and I'm 95% protected.
ADDITIONAL CONCERNS
Until 75-80% of our community receives the vaccine, we are all vulnerable to illness.
Unfortunately, families continue to drop their guard, and so more are getting sick unnecessarily. Nearly 50% of transmission now is occurring from folks who have zero symptoms.
So you must consider anyone who does not live currently under your roof as potentially actively infectious and treat them accordingly.
This is not about fear. This is about common-sense respect of a disease that could seriously harm your family members. Folks, PLEASE follow the rules!
You've likely heard about the new strain of COVID-19 breaking into our country. Fortunately, it appears the vaccine is effective against it. But the strain is even more contagious than the one we've been dealing with. I am concerned this will eventually accelerate the spread statewide. We are literally in a race to get people vaccinated before this new strain becomes widespread.
Unfortunately, there is not enough vaccine available for everyone to receive a dose yet.
The CDC has developed a recommended roll-out based on risk to specific groups, and N.C. has pretty much adopted it. Get on the NC coronavirus website to learn more about this phased-in rollout, and you can see where you and your family qualify at: https://www.ncdhhs.gov/.
Studies are still pending regarding safety and effectiveness in children, so for now there are no vaccines available for young children.
The Pfizer vaccine is approved for ages 16 and up; Moderna's vaccine is approved for 18 and up.
Contrary to what some may say, I have seen illness start with the youngest children in families, then cascade on up through multiple generations and cause serious disease in older patients.
This, along with the fact that some children suffer serious consequences, means vaccination for kids will be crucial. Pediatric vaccines will likely roll out later in the summer.
LOGISTICS
These vaccines require very high-tech freezers to keep the product extremely cold, thus limiting those who can store and administer it.
The health department will start offering drive-through clinics for citizens 75 and older starting Jan. 12 (see article on A2).  Conehealth will operate outpatient vaccine clinics soon for Rockingham Countians in the highest risk categories. Area pharmacies are also in the process of certifying to deliver vaccines.
Currently, our limitation in ability to get vaccinations into the arms of our citizens appears to be the low supply of vaccine. The hospital systems, the health department, the pharmacies, and individual doctor's offices are busting it with the demands of caring for those with covid-19 illness.
CAN WE SPEED THINGS UP WITH CREATIVE PLANNING?
As more vaccine becomes available, I am quite concerned in the coming months that we will face difficulties in our community regarding inadequate infrastructure to deliver available vaccine quickly enough. Time is of the essence. Any delay locally will translate to more sickness and death.
Perhaps a consortium of county and city-leaders, the health department and other healthcare entities, RCC and schools, hospital systems, churches, and volunteer organizations could convene urgently and address this? On the weekends, our county has enough available manpower from doctor's and dentist's offices, hospital personnel, church parish nurses, RCC health programs, assorted licensed healthcare workers, that I am certain we could gather enough clinical volunteers to do mass-vaccination clinics.
We could recruit also many capable citizens who would be willing to volunteer their time with administrative and logistical support. Several schools, strategically chosen for best access, could offer their facilities as sites for these mass clinics. Yes, there are bureaucratic barriers to such cooperation, but I am sure they could be overcome.
Please, please, when your time comes, get the vaccine. Encourage your friends, co-workers, and loved ones to do the same. It's the wise thing to do.
Stephen Luking, M.D. is a Reidsville family practitioner and former chief of staff at Annie Penn Hospital in Reidsville.