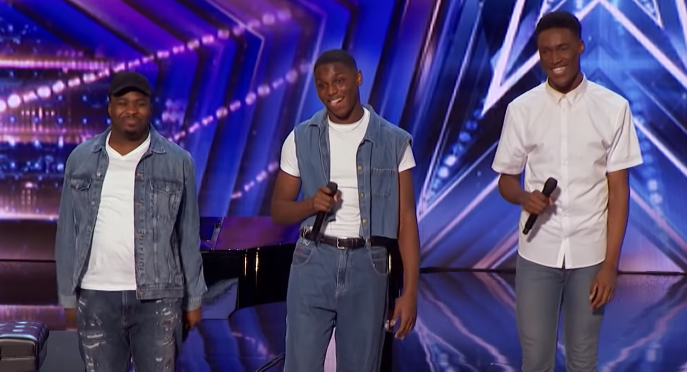 GREENSBORO — A UNCG singing trio has made it to the semifinals on the NBC competition "America's Got Talent."
Audience voting advanced the trio 1aChord on Wednesday night's show. It became the first of the seven to advance among 12 acts.
It followed Tuesday night's performance by the trio of Tavis Cunningham, Christoff Hairston and Julian Kennedy of the song "Everybody Hurts" by R.E.M.
"You have an amazing talent," judge Simon Cowell said during Wednesday's telecast, after the trio was selected to move on.
In "America's Got Talent," acts from across the United States and abroad show a range of talents such as singing, dancing, comedy, magic, stunts and variety.
They compete in front of judges Cowell, model Heidi Klum, comedian Howie Mandell and actress Sofia Vergara.
Those that make it into the live episodes compete against each other for both the judges' and public's vote in order to reach the live final. The winner will receive a $1 million annuity.
All three in 1aChord are enrolled in UNCG's College of Visual and Performing Arts.
Cunningham is originally from Raeford. Kennedy is from High Point. Hairston is a Greensboro native.
They all sing, and Kennedy plays the piano.
Aug. 31 is the earliest that they are expected to be seen performing again, UNCG said.
"Do something that we haven't heard before," Cowell advised them Wednesday.
In late May, the trip was featured in a video to promote the upcoming season, which began June 1.
They performed Coldplay's "Fix You."
Before their performance, the trio told the judges they had met "by happenstance" in UNCG's cafeteria six weeks before they appeared on the "America's Got Talent" audition show. It turned out that they share similar musical interests.
"We were like, OK, let's think about some songs that we know," Hairston said. "And because we're all church babies, one came up. We said, let's sing a little bit out of that."
"Listen, we're from the South," Cunningham added. "The lunch ladies came out and they said, Sing, baby, sing!"
UNCG has been sharing updates with the campus and encouraging its community to vote via its social media channels.
Musical Theatre also hosted an Instagram Live Q&A with Cunningham.
"1aChord is incredible!" UNCG Jazz Professor Steve Haines said via email.
"They are the kindest, most talented, hardest-working students, and they represent us so beautifully," Haines said. "I hope that we can have a voting campaign for our students, faculty, staff, administrators, and alumni for voting. And maybe a big welcome party at the airport when they come home from the final round? Because they are going to be in the final round!"