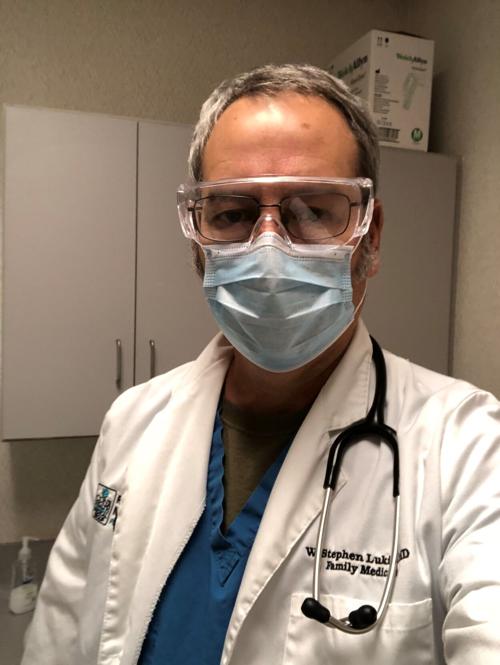 As a family physician, I'm compelled to write another update for our community regarding the coronavirus pandemic.
Frankly, I wish I had better news.
In this piece I will discuss some of the latest scientific findings, and some recommendations on how we can and must do better to protect our vulnerable loved ones and fellow citizens.
Yes, I do have opinions, but they are firmly grounded in scientific fact and a desire to see our community win this fight without unnecessary loss.
Each morning as I head to the office around 8 a.m., I glance over to the line for the Covid-19 testing center at Annie Penn Hospital to see how many cars are waiting for the site to open.
It's a rough measure of the viral load in our community. It runs Tuesday through Friday, and most mornings there are six or seven cars waiting.
This past Tuesday I came upon a traffic jam with police guiding traffic. I counted 34 cars in the line for testing.
So far this month, my brother and I have diagnosed multiple patients with Covid-19 on most days. A couple of them are currently hospitalized, facing daunting health challenges.
On Thursday and Friday, North Carolina reported the highest numbers of positive tests (roughly 2,500 per day) since the pandemic started in March. This will surely translate to rising hospitalizations and deaths in the weeks and months ahead.
Rockingham County's percent positivity (what percentage of tests return positive) remains stubbornly high, averaging near 7% most days. Health experts recommend a community reduce the rate to around 5% or below.
It appears the fall surge predicted by most experts is underway. Unfortunately, the same experts predict it will be more difficult and widespread than what we've seen thus far. 
TEST RESULTS AND PROTECTING VULNERABLE LOVED ONES
Once again, positive tests are generally reliable (if the test says you've got it, you've nearly always got it.) Negative tests are not so reliable. In fact, 20-25% of the time, folks who actually do have the virus get a negative test result with their first nasal swab test.
Take home message? If you or your child are exhibiting signs and symptoms of a viral infection, please do not allow a negative test to give you permission to visit an elderly or immune-compromised loved one.
This could have terrible consequences if you or your child are a false negative patient who truly has the disease.
Also, if you test positive, please don't ask your doctor to repeat a test to confirm. Even if a second result is negative, clinicians would be wise to trust the positive result—whether or not you have any symptoms.
As a family doctor who has cared for four generations of many families in Rockingham County, I am still struggling with all of this.
It is not business as usual — we cannot simply reassure parents of little ones who have mild symptoms that they have a simple viral infection with no ramifications for the family.
Covid-19 often causes relatively mild illness in children and young adults, while it can take the lives of relatively healthy older folks with diminished immune systems.
Where possible this winter, we must separate the vulnerable from the younger sick within the community.
HOLIDAY GET-TOGETHERS?
Not this year, at least not without serious modifications.
The whole point of holiday get-togethers is to gather with the ones we love. Most of the patients I have diagnosed in recent weeks have caught this virus from friends or family — often before they even knew anyone was sick. Think about that.
The CDC now states this is the most common manner of spread, exceeding workplace infection and public event infection.
Planning a holiday get-together anyway? Make it outdoors with 10 people or fewer. Wear a mask. Practice 6-foot mandatory distancing from anyone who does not already live under your roof.
And seriously consider asking older loved ones and those with chronic illness to stay home. Instead, offer to drive by their house or visit from the yard while they stand on the porch.
Do you have a cousin who still rejects masks and thinks it's a joke? —disinvite him to the reunion. Awkward, maybe even overprotective? Maybe. It might just keep someone out of the hospital, too.
Come on folks, 30-40% of those infected with the virus and capable of spreading it have zero symptoms.
I love a good Thanksgiving get-together as much as anyone. I love my relatives more.
We've not seen our son for a year, and hopefully he's coming home from Alaska for a few days in December.
He will stay in the camper in our driveway. He will not enter our house. We will visit and dine on the porch at a safe distance.
SCHOOLS MOVING TO PLAN A?
This is a tough one. I know the school system has worked hard to adopt all safety measures where possible. I have watched as some of my pediatric patients struggle with virtual learning or face challenges maintaining internet connectivity. And it's a major strain on families.
But I have also already seen sick students bring home the virus, with spread to some family members.
The CDC earlier this summer recommended no expansion of onsite school presence for schoolchildren if the 14-day percent positivity rate in a community is 5% or above. Rockingham County unfortunately fails this criterion, so I agree completely with the recent Rockingham County School Board's decision not to expand to Plan A.
Many kids in our county rely upon grandparents to provide after school care and many have full custody.
Many kids are taught by older teachers with chronic risk factors for serious Covid-19 infection.
Most kids have relatively mild illness, but some encounter serious complications. I worry that full Plan A implementation, without the pandemic under better control, would lead to a super-spreader process with serious consequences.
RESTAURANTS and BUSINESSES
Eat out? For now, not me or my wife, unless they build a safe mask you can eat through.
Recent studies confirm the virus spreads on micro-droplets that eventually diffuse through an entire room. Someone laughing or sneezing can leave infective droplets in the air of a room that linger long after they have left.
Take-out is felt to be generally safe, so do it. In fact, please patronize our local restaurants as they are hurting. And, tip.
But, indoor eating in a community with endemic viral presence such as ours is a risk.
A recent study showed hospitalized patients with Covid-19 are twice as likely to have eaten out in recent weeks. Long before this study came out, I was asking sick patients about their dining habits as I tried to predict whether or not they had the virus.
Business owners need to step up here also. I asked a pharmacy employee recently what percentage of their customers are still not wearing masks. She said 10%. She said no-one speaks up because they are afraid to lose business.
If every pharmacy in town declared a "No mask, No service" policy and enforced it, this would lead to a safer environment for pharmacy staffs and the fragile patients who require their services. Other businesses could do the same.
If your physician or dentist allows a full and crowded waiting room without safe distancing, you as a consumer need to challenge that.
If your doctor's nurse comes out to call you in with their mask under their chin, call them out.
Ask your physician if they will provide a telehealth visit if face-to-face evaluation is not necessary and you are not comfortable going to the office.
MISBEHAVIOR DURING A PANDEMIC
Wear your masks, please. This is a respiratory virus spread mostly from the mouth and nose. Reject plainly wrong statements from politicians and other so-called leaders dangerously downplaying mask effectiveness. You will protect yourself; you will protect others. Wear it above your nose.
There are a few notorious physicians who currently endorse no masks. Every profession has its charlatans who will say and do anything for their moment in the limelight or to earn more dollars.
Unfortunately, some politicians have showcased these doctors and revealed their own ignorance by embracing them.
I have encountered some patients with symptoms highly suggestive of Covid-19 who have refused to test, and then returned immediately to their jobs at daycares, industries, etc.
I have evaluated kids who I thought may have the disease, only to have parents dodge the recommended testing and send their kids back to school or daycare.
I have diagnosed a young adult with the virus, only to have the parent call days later, sick and learn their own child failed to share their  diagnosis with them. Geez. If your doctor recommends a test, take it seriously and get the test.
CAN YOU GET COVID-19 TWICE?
I'm going to go out on a limb here and say possibly, though very unlikely. If this were a common event, we wouldn't still be reading articles about specific patients who claimed this happened (it would not be news.)
Back in the pre-chicken pox vaccine days, I'd see a rare unlucky kid get it twice. I imagine repeat Covid-19 incidence will be similar.
In addition, though experts are disappointed that the blood antibody studies are showing declining and even disappearing antibodies in many of those confirmed with infection, we have other immune system protections.
Without getting too deep into the immunology, some of our white blood cells are T-cells which retain a lifelong memory of prior infections; they stand "at the ready" to crank out antibodies in event of re-exposure. They can prevent or make the second infection less serious. This could all change if the virus mutates significantly, something that has not happened so far.
WHAT ABOUT VACCINES?
I do think effective and relatively safe vaccines are in the pipeline. I am optimistic we will have encouraging news from the Phase Three trials in the coming months. However, though some vaccine may be available midwinter to frontline health care workers and the highest risk patients (such as nursing home patients), it will be a major operation getting enough vaccine produced and delivered to most of the population.
Most experts think we will not have enough vaccine for widespread administration to the general public until spring. When it happens, this will be a game changer, reducing incidence and severity—assuming we can get the public to sign on.
HERD IMMUNITY?
Herd immunity, if naturally acquired in our country by two-thirds of us contracting the infection, would be a terrible thing.
A million Americans could die from widespread disease and health systems would be overwhelmed, a devastating scenario.
On the other hand, herd immunity artificially acquired from an effective and safe vaccine would be a very good thing.
We're in for a great challenge this winter, one that will test us in many ways. The virus will prove dangerous to some who catch this disease.
We are all tired of the pandemic, but we must not drop our guard. Wear your mask. Wash your hands. Maintain safe distances. Get a flu shot. Exercise regularly. Avoid unnecessary exposures. Limit get-togethers to the outdoors with small groups. Keep sick kids away from older loved ones if possible. Trust medical expert consensus and not politicians on this pandemic. Protect our older and chronically ill neighbors and loved ones.
Counting back to March, I think we are about halfway to a widely available vaccine, and it should be a game-changer. In the meantime, this second half will be more difficult than the first.
It's Sunday morning, and as I'm putting the finishing touches on this article, the testing center nurse has paged me with eight new positive patients from our practice who need to be notified. It's time for us all to get serious about this pandemic.
Stephen Luking, M.D. is a longtime family practitioner in Reidsville and former Annie Penn Hospital Chief of Staff. 
Catch the latest in Opinion
Get opinion pieces, letters and editorials sent directly to your inbox weekly!