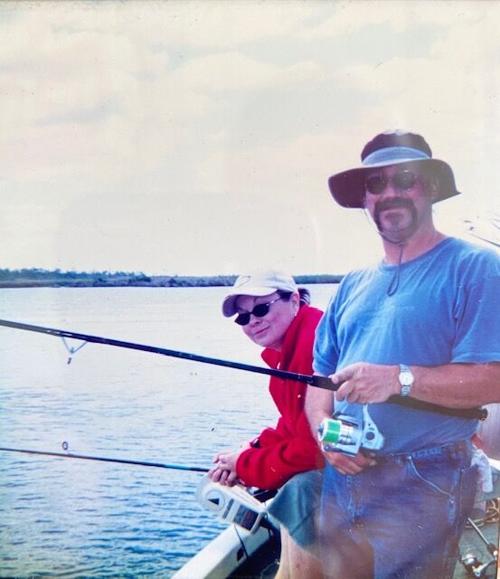 On April 17, 1980, Ron Farris was hired to help mow the lawns of Rockingham County governmental buildings two days a week.
But, shortly after beginning work, "they found out I could paint and I could kind of fix things and I could do some handiwork, and it just kind of evolved from that," he said in an interview last week.
Forty-one years later, on April 19, Farris was recognized by elected and administration county officials during the regular meeting of the Rockingham County Commissioners.
Many of his co-workers, along with his mother, Margaret, and wife, Cindy, were on hand when Commissioner Mark Richardson stated Farris had "saved the citizens a lot of money. You have done a lot."
Handing Farris a framed resolution, Richardson called Farris the "personal hang man" for the county, telling Farris he would have to "hang it in your own house," alluding to the fact Farris often was called on to hang pictures and award citations on numerous county office walls.
The resolution stated Farris was "an example of service, working many overtime hours, working, and serving equally alongside his staff and devoting his career to the betterment of Rockingham County."
"We miss him already," said Ronnie Tate, director of engineering and public utilities.
A native of the Shiloh community, Farris is the son of Margaret Roberts Farris and the late Bill Farris. Margaret ran the landfill gatehouse for many years before she retired. He is married to Cindy (Price), of Stoneville. Although he and Cindy were good friends in high school, they never dated. Twenty-two years ago, they had their first date, and were married Dec. 22, 2006.
After graduating in 1978 from Stoneville High School, Farris said he attended Rockingham Community College "on and off," and worked at Macfield Inc. before taking the mowing job with the county.
Initially, Farris said it was "just me and a custodian" mowing but then, Fire Marshal Jerry Wallace was overseeing the maintenance of the old courthouse and hired Farris "to help do stuff around there."
Gordon Manley was in charge of the maintenance of the old courthouse. When he retired in the late 1980s, Farris assumed Manley's position, eventually becoming the county's building and grounds supervisor.
At the time, everything except the health department and emergency medical services bases was right in Wentworth, and Numa Baker was the county manager, Farris said, noting "It was just the courthouse and two buildings near the courthouse."
It wasn't until Hugh P. Griffin became county manager that everything was centralized in Wentworth.
"After everything was consolidated, we started helping the libraries, EMS bases and others," Farris said.
Thinking back, Farris — who is credited by those who worked with him as being able to "fix anything anywhere" — said the hardest part of his job was maintaining and/or replacing old plumbing, especially in the turn-of-the century courthouse.
The biggest project he undertook was as a member of the team that helped design the Rockingham County Judicial Center (the new courthouse) that opened in 2010.
"Once everyone was in there, things had to be adjusted, moved to suit the people working there," Farris said. "After that, that was one of our major buildings because it was large."
Another part of Farris' early responsibilities was being an election technician for the election board under Leona Dunn. Farris oversaw the voting tabulations.
He recalled a night in the early 1980s when it was "taking forever" with the machines; the staff ended up hand-counting all the ballots. The results finally were in the next morning when most other people were starting their work day.
"It (the county) was always a really interesting place to work," Farris said. "The job was diversified and as we added buildings, I would learn new stuff."
Dealing with the old 113-year-old courthouse and with new buildings going up, he had to learn to deal with old and new structures and "to be diversified in the way you had to keep them together."
Modestly, Farris credits his father, Bill, a diesel mechanic with Sam W. Smith Inc. with influencing him in his career.
"He could fix things. He had a very mechanical mind and was a very good mechanic," said Farris, who admitted he was never a mechanic, but "sort of shifted to the upkeeping of buildings."
Predominant among the county buildings he oversaw were the Rockingham County Judicial Center (new courthouse), 911 Operations, Madison/Mayodan Public Library and the Western EMS Base.
Most of his career, Farris was building and grounds supervisor for the engineering and public utilities department, successfully involved in the maintenance of 85% of county-owned buildings.
"Once they were set up, I had to make sure the lights, heat, and plumbing were working and everyone did their jobs."
When not tending to county buildings, Farris enjoys playing music. He became interested in playing guitar when he was 13 but also plays bass and the mandolin.
Right after graduation, Farris and some friends played music at the VFW in Stoneville. For six years, he performed with Bob Collins and The Fabulous Five, often at Deep Springs Country Club. He also played with Blackwater out of Madison; and Dazu with former county Health and Human Services Director Larry Johnson, now a full-time musician in Holden Beach.
Johnson said he met Farris when he first came from Durham to work in the county.
"Ron and his staff were at DSS at least once a week and they kept DSS going," Johnson said. "They took good care of us. We got what we needed. They were remarkable."
The two men began playing music together in March 2000, two months after Johnson came to work in the county. They performed at the Apple Festival in Eden that first summer. Their band, Stoney DeVille, played all kinds of music but basically was rock and roll, blues and country.
About five years later, they became Blackwater, opened for Three Dog Night and played several times for Reidsville's Fourth of July celebrations.
"My friendship with Ron was incredible," Johnson said. "We still are really good friends. He's been like a brother to me. He really helped me to adjust. He can do anything"
Prior to the pandemic, Farris was with Hokum Pokum. Hokum music is real old string band music played in honkytonks from the turn of the century until the depression, he explained. They have performed at the Arboretum and the Art Gallery in Greensboro. On June 12, Hokum Pokum will play from 2-2:45 p.m. at the Dunleath Porchfest, at 806 Cypress St., Greensboro.
Hokum Pokum members include Farris (mandolin, guitar, vocals), Steven Smith (banjo), Lisa Woods (washboard, percussion, vocals), Phil Sparks (Dobro, guitar, vocals) and Jesse Epperson (washtub bass).