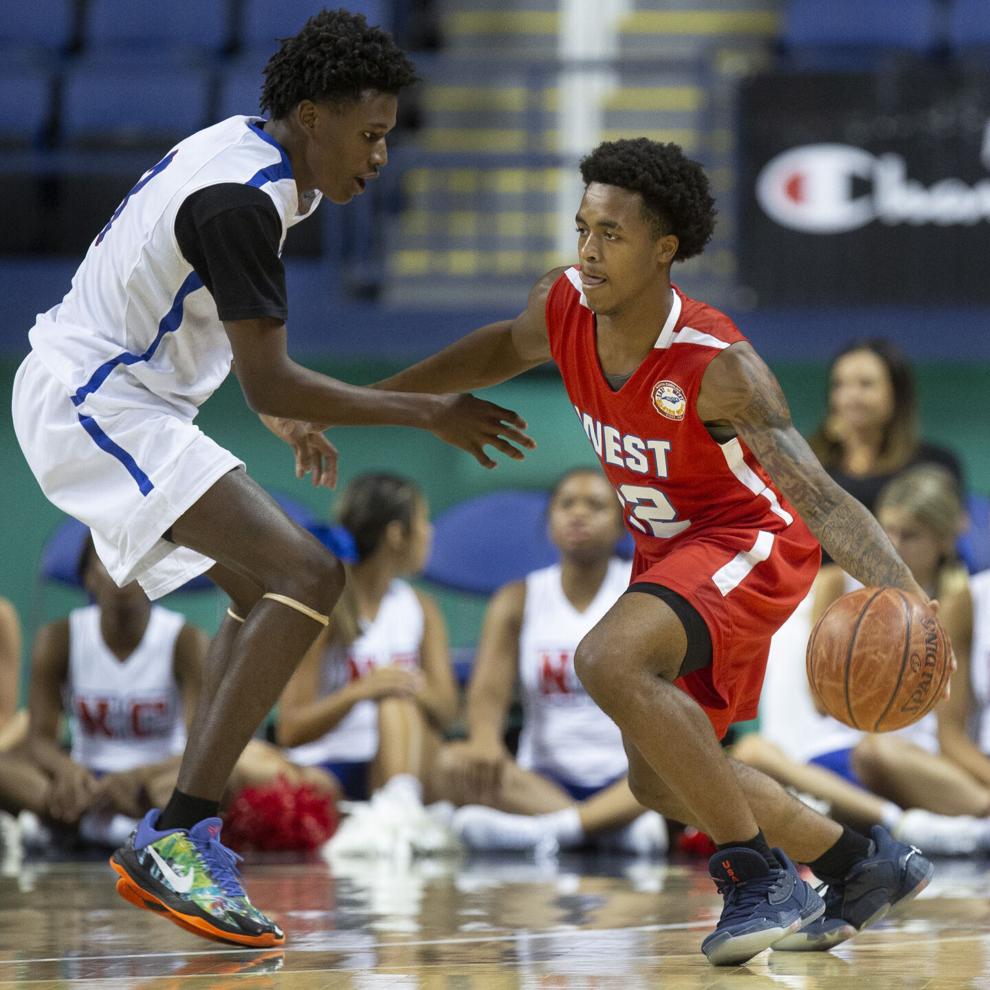 GREENSBORO — Before Breon Pass and Terquavion Smith embark on their college basketball career, the future N.C. State guards took one more ride as high school players.
They went from Raleigh to Greensboro for the N.C. Coaches Association East-West All-Star game, and Pass did the driving. The soundtrack for the ride was "The Voice of the Heroes," the album released in June by Lil Baby and Lil Durk.
On Monday night, Smith was the hero, scoring 30 points in the East's 116-92 win at the Greensboro Coliseum. He opened the game by hitting a 3-pointer that was launched from closer to the half-court line than the arc and followed up with another 3 and an emphatic dunk during a 20-0 run to start the contest. His quickness and explosive leaping ability were on display throughout the game.
Pass struggled at times, with 13 points (0-for-4 from 3-point range) and five turnovers for the West, but he had his own hero turn when he received the N.C. High School Athletic Association's Male Athlete of the Year Award at halftime.
Pass said he and Smith had talked about the East-West game for "a good week." But off the court, "we're best friends. In my eyes, me and T are the best backcourt in the world."
Wolfpack coach Kevin Keatts' future backcourt partners went against each other back in February, with Smith's Farmville Central Jaguars beating Pass' Reidsville Rams 83-57 in a NCHSAA Class 2-A regional semifinal. They were matched up a few times Monday night, with Pass even committing a hard foul to stop a dunk attempt by Smith in the fourth quarter, but "it's all love," the game MVP said afterward.
"Everybody wanted to see that matchup," Pass added, "but we were just having fun."
In between those two games, Pass and Smith have been having a lot of fun going at it in workouts at N.C. State.
"There's been a lot of time together, just me and him one-on-one in the gym to get each other better every day," Pass said.
But don't call it "competing" with each other, Smith said. That word doesn't respect the bond the two have shared since they met when they were in seventh grade.
"Breon is my brother, so all of that … we don't compete," Smith said. "I'm not trying to be better than him and he's not trying to be better than me. We're trying to push each other to get where we both want to be. It's more like family than anything."
Pass said part of his development has been learning "how to use my body to get to the rim" at 6 feet and 175 pounds. "I'm labeled as a short guard and there are 7-footers and 6-11 dudes in the paint, so I have to use my body. It's also adjusting to the game, because it's a faster-paced game in college."
Both guards have been hitting the weight room hard, although Smith is still a wiry 6-3, 170.
After heading back to Reidsville every couple of weekends, Pass said he's "really ready to get back and lock in and focus on growing as a player." He'll have Smith by his side throughout the process.
"Breon fuels my fire," the 2021 Class 2-A state champion added. "Once he's locked in, we're locked in. I can feed off him and he can feed off me."
With their last high school game behind them, Pass and Smith were ready to head back to campus.
"He's a good driver," Smith said with a smile. "We're chillin'. I trust him."
Pass said they have a simple message for Wolfpack fans and opponents:
Contact Joe Sirera at 336-373-7034, and follow @JoeSireraSports on Twitter.