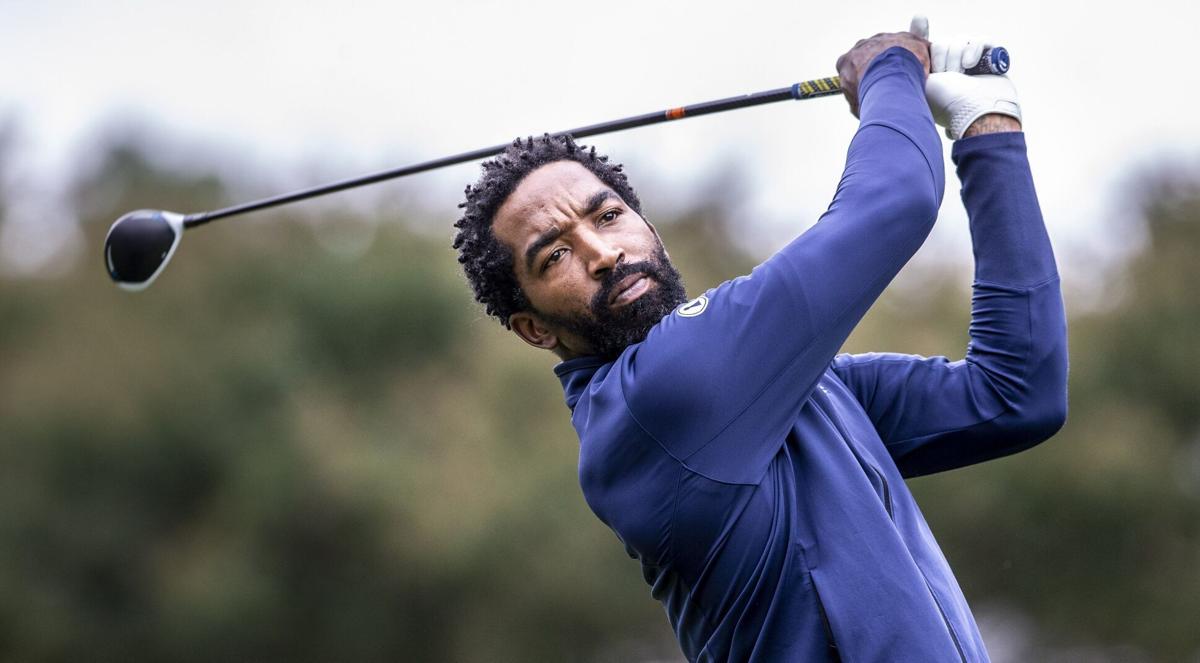 Maybe once J.R. Smith settles into a groove as a freshman college golfer it will be as smooth as his jump shot when he was starring in the NBA.
Smith, 36, completed a rather historic three rounds for the N.C. A&T golf team at the Elon Phoenix Invitational at Alamance Country Club in Burlington Oct. 12.
What was historic wasn't Smith's final score or where he finished but it was more about his goals on and off the course.
On Tuesday he shot 8-over 79 to finish his 54 holes at 27 over to place 81 out of the 84 golfers in the field playing the Donald Ross design that plays to a par-71 at about 6,800 yards. On Monday he played 36 holes shooting 83-78 and said afterwards he got his "butt kicked" and it was a humbling experience but he wasn't disappointed.
There were plenty of curious on-lookers with Smith trying another sport after his 16-year NBA career where he won two championships with LeBron James in Cleveland and Los Angeles. And James took to Twitter to make sure and give his former teammate some encouragement.
"HOW AMAZING IS THIS MAN!!! DAMN IM BEYOND PROUD OF MY BROTHER," James tweeted soon after Smith teed off in his first round on Monday morning.
James also sent a film crew to Burlington to chronicle the first college tournament for Smith, who enrolled at N.C. A&T in August.
After his first two rounds on Monday Coach Richard Watkins of the Aggies pointed out that Smith will have to learn as he goes.
"He found out today that collegiate golf is not easy," Watkins said on Monday. "I thought he did well. We are pleased, but we are not pleased to the point of satisfaction."
Smith qualified for the tournament as the fifth player in the Aggies starting five. The Aggies wound up finishing 11th out of 13 teams as Elon easily won the tournament.
"It was a learning experience for me learning how to play in competition and out of the rough and playing for a score instead of just ego and pride," Smith said on Monday. "It's a lot different than just playing with your buddies at a random public course."
Smith, who plays to a 5 handicap, hasn't played that much competitive golf but has had plenty of casual rounds with friends or playing in 'hit-and-giggle' events such as the Wyndham Championship pro-am where foursomes play for a team score.
"A lot more thinking and a lot more trying to land the ball in specific spots," Smith said about how it is to play competitive golf.
Watkins said after Tuesday's round that Smith getting that initial tournament out of his system will make him a better player.
"He's beginning to understand competitive golf and the differences between recreational golf and tournament golf," Watkins said.
Watkins said it's a matter of practicing more and hitting shots he may not have had to hit before.
"His skill level didn't rise this week, but his knowledge of what he can do with his skill level probably did," Watkins said.
Smith, who graduated from high school and went right to the NBA in 2004, had committed to North Carolina but never got to campus. Now, he's in college for the first time at one of the largest and most prestigious HBCU's in the country.