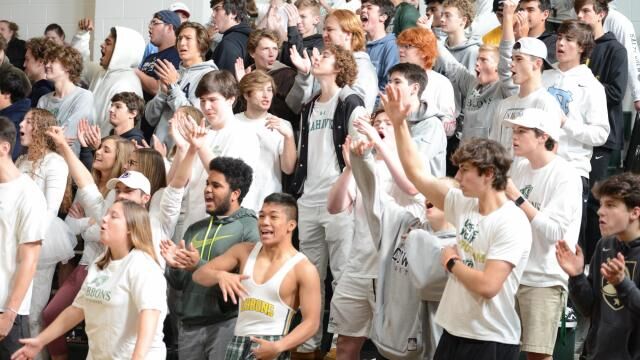 RALEIGH — Republicans in the N.C. State House filed a new bill this week that would require schools to increase the number of spectators allowed at high school sporting events.
House Bill 128 would require schools to allow spectators to fill at least 25% of a facility's capacity at indoor and outdoor sporting events, and would allow schools to option to increase capacity up to 50%.
The bill was sponsored by Rep. Kyle Hall (R-Stokes), Rep. Destin Hall (R-Caldwell), Rep. David Willis (R-Union), and Rep. Jeffrey Elmore (R-Wilkes).
"Just as getting back in the classroom is vital for North Carolina students, returning to athletic competition is also critical for their physical and mental well being," the bill sponsors said in a joint statement. "Our legislation gives families the opportunity to safely support the hard work of their young athletes, and also lets some fans support local teams as our education communities recover together across North Carolina."
The bill says "spectators" would not include athletes and their families, employees of a participating school, entertainers, and support staff. If passed, the standards would apply to all public and private K-12 schools, community colleges, and University of North Carolina system schools.
A second bill was also introduced on Tuesday morning. In the event House Bill 128 does not pass, House Bill 129 would allow the same standards to be applied, but only in Forsyth, Rockingham, Stokes, Surry, and Yadkin Counties.
Since House Bill 129 is limited to a specific area, it would not be subject to a veto by the governor if passed by simple majorities of the state House and Senate. It is possible additional similar bills could be filed if House Bill 129 sees movement.
Last week, a bill was filed in the N.C. State Senate that would increase capacity at outdoor sporting events to 40% of a facility's capacity. A group of 23 Republican senators also sent a letter to Governor Roy Cooper asking him to amend his current executive order to allow more people to attend high school sporting events.
During a press conference last week, Cooper said he would issue a new executive order this week and indicated that attendance limits at high school sporting events was one of things that could be addressed. The current executive order expires at the end of the month.
The N.C. High School Athletic Association declined to comment on the bill filed in the Senate last week. HighSchoolOT has reached out to the NCHSAA for comment about the new bills filed in the House.
NCHSAA Commissioner Que Tucker told member schools last week that the association has been invited to discuss attendance at events with the N.C. Department of Health and Human Services.
Currently, attendance at outdoor sporting events is limited to 100 people. Indoor sporting event attendance is limited to 25 people. The basketball state playoffs begin on Tuesday, the last indoor sport until wrestling in late spring. Lacrosse, boys soccer, and football seasons are currently underway as well.