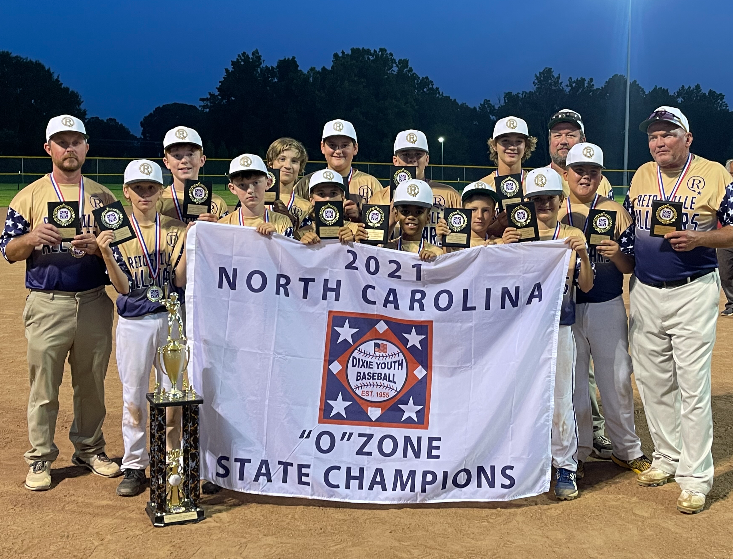 After capturing the North Carolina State Championship last week, the Reidsville All-Stars earned a spot in the Dixie Youth Baseball USA World Series, which will be held Aug. 6-12 in Laurel, Miss., where teams from 16 states will be represented.
The 12-and-under unit is an elite mix of recreation league and travel ball players.
The Reidsville All-Stars came alive in the state tournament last week as they earned a shot on a national stage.
Winning five of six games in six days, the team locked down the 2021 "O" Zone North Carolina State Championship at Freedom Park in Eden last week with a 13-1 win over the Chatham All-Stars.
"We've been through a lot, and we came through it and the boys performed to the best of their abilities. We had some tight games, but they made the right plays at the right time. We had good pitching and timely hitting, and now we are really excited to have this opportunity. We are going to do our best to represent Reidsville and our state and try to bring home a championship," All-Stars head coach Carl Stone said.
Although players, coaches and fans are excited for the opportunity to compete at this prestigious event, there is still plenty of work to do in preparation for the tournament.
Not only will the team be working hard in practice, but they also have the added challenge of raising the funds to finance the trip.
With less than two weeks to go, time is short, and Stone said he is hoping the City of Reidsville as well as several local businesses, which have supported them in the past, will lend a helping hand to help make this dream-trip for the kids possible.
In addition, Reidsville Luckies owners Scott Strader and Richie Pegram have worked alongside the coaching staff to help the team achieve their goals.
The team already has a strong start with the fund raising campaign following a generous $500 donation by the North Carolina Dixie Youth Baseball organization.